For more than five decades, Elizabeth Gage MBE has been designing bold and colourful pieces of jewellery that have attracted customers from Hollywood to Hong Kong. She exudes charisma and personality. Her presence fills the room and her inviting smile warms you like a gentle summer breeze.
I interviewed Elizabeth at her showroom in Belgravia, so I could admire some of the stunning pieces she has designed over the years, including a replica of her famous Agincourt ring, which earned her the coveted De Beers International Diamond Award in 1972 and is now part of the V&A permanent collection.
Her journey as a designer, she tells me, started when she was a child. "I was ill for a very long time with tuberculosis," she shares, "so I'd amuse myself by making clothes for my dolls and other bits and pieces."
The two pieces by Elizabeth Gage part of the V&A permanent collection: the Agincourt ring and the Kiss pin.
Her mother and grandmother were artists too and encouraged her to maintain her passion for crafts. Elizabeth's talent was obvious. However, her professional career in jewellery took a bit of time and a serendipitous event to take off. The story starts in her early 20s when her boyfriend wanted to give her a ring and asked her to choose it. She couldn't find anything that sent her heart racing until one morning when she was admiring an ancient boat exhibited at the British Museum, where she was doing some research. She turned her head, and sunlight came flooding through a window, focusing on a display of ancient Roman rings. "I realised there and then that these were the kind of rings I wanted and thought to myself that I should make them. I never did, but that was what started me off making jewellery."
History has long been a passion of hers. She traces this back to the time when she was confined to bed as a child due to her illness and spent her time reading for hours on end. "It is not just in history that I sought inspiration," she says, "but also ancient cultures, mythology and all the relics and artefacts connected with them, from fossils to coins, brooches, necklaces…"
The variety of sources from which Elizabeth draws inspiration shows in the creative diversity of her jewellery. Left to right: Rubellite and Diamond Persian Queen earrings (£21,720), Old Cut Diamond Tapered Templar ring (£33,720), and Gold Bark bracelet (£25,200).
Elizabeth chooses the different elements for each item of her jewellery for their individual beauty: precious stones, ancient bronzes, baroque pearls… and from there, she creates something unique and very personal. In diamonds, she favours old cuts because "they are calmer, richer and more beautiful". This preference is obvious in her popular tapered Templar rings, and in her bespoke creations. One could say that she uses all these pieces as a painter would use their palette, combining them with brightly coloured enamel and detailed goldwork (always 18K or 22K). An example of this richness is Elizabeth's Classic Collection, which consists of an incredible diversity of forms and materials that, forged together, create surprisingly original earrings, bracelets, rings and brooches. Elizabeth's intention has always been to create fine jewellery that can be worn "day into night". Her collections often develop from just one stone or one antique, in a way that she says is "probably more subconscious than planned".
Her work has attracted the attention of the rich and famous from the very beginning. As Elizabeth graduated as a designer and master goldsmith from the Chelsea School of Art (Sir John Cass College) in 1963, a wealthy father of a friend of hers commissioned her to create a piece of jewellery for his girlfriends. Recalling the episode with modesty, she says: "I think he was just being very shrewd. As a young designer fresh out of school, I was much cheaper than an established jeweller would have been. But for me it was wonderful. I got so many commissions!"
In 2015, this exquisite enamel, cultured pearl and diamond brooch from 1990 designed Elizabeth Gage was sold by Bonhams New York as part of the Lauren Bacall Collection in 2015.
In 1968, Cartier New York commissioned her to create a special piece for its new catalogue. Global celebrities such as Lauren Bacall loved her bold jewellery. The legendary actress bought her first piece from Elizabeth in 1985 and, over the years, acquired another 22. At an auction of jewels belonging to Lauren Bacall held by Bonhams New York in 2015, an Elizabeth Gage's piece – an enamel, cultured pearl and diamond "Camel" brooch – sold for $23,750, well above its $7,000 top estimate.
The United States have always been a great market for Elizabeth. She moved there during World War II and lived in Virginia for most of the 1970s, a time when her career as a jewellery designer boomed. In contrast to the conservative style popular at the time, the Americans loved her large rings, statements pieces and the elaborate craftmanship in them.
"I found early in my life that I could only do things that I loved, and I loved big jewellery. Also, I was not afraid of doing things differently." Her collections are incredibly diverse – something she attributes to how they originate. "More often than not, I just pick a particular stone that I intuitively know will be perfect for a piece of jewellery I have yet to design."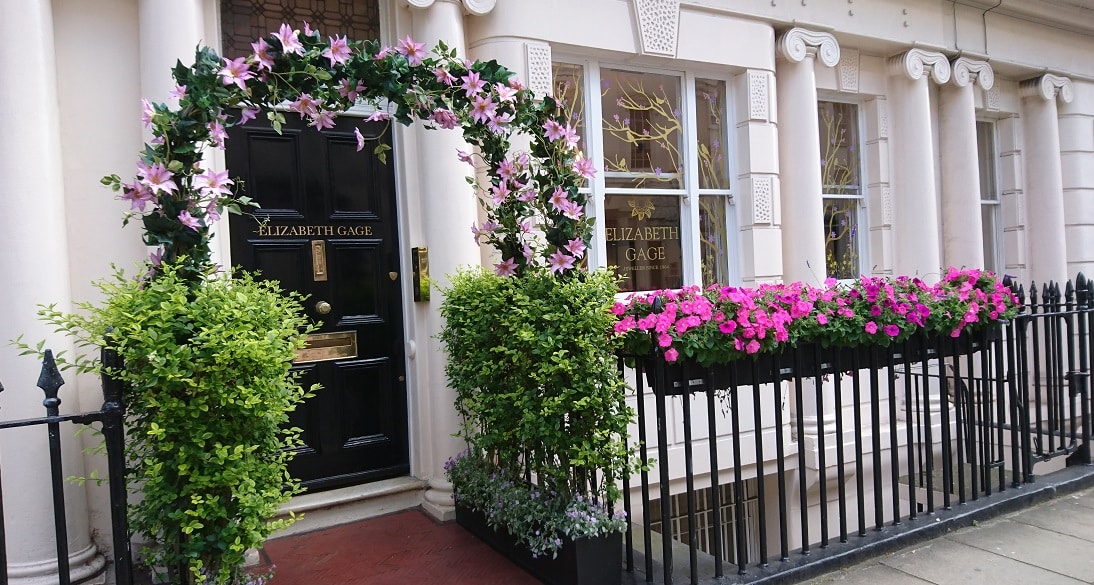 This elegant townhouse in the heart of Belgravia is home to all the Elizabeth Gage team.
While still running a successful business in the US, Elizabeth returned to London in 1979 to open a small studio in Beauchamp Place, Knightsbridge. In the mid 1980s she moved to Albermarle Street in Mayfair and 15 years ago, she established her showroom and studio in West Halkin Street, Belgravia, which had operated originally as just the production site. "I loved the idea of bringing everyone together under one roof," she explains.
Her clientele is as diverse as the sources of her inspiration. "Here in the UK, most of our clients are international," she points out, "from almost every nationality you could imagine." Bespoke pieces form a substantial part of Elizabeth's business. "Often, clients come here and have a look at my collections," she explains, "and then they show me a precious stone they have and they tell me what they'd like to do with it. Sometimes it is a design based on a piece from one of my collections and sometimes they have an idea in their mind that I help bring to life."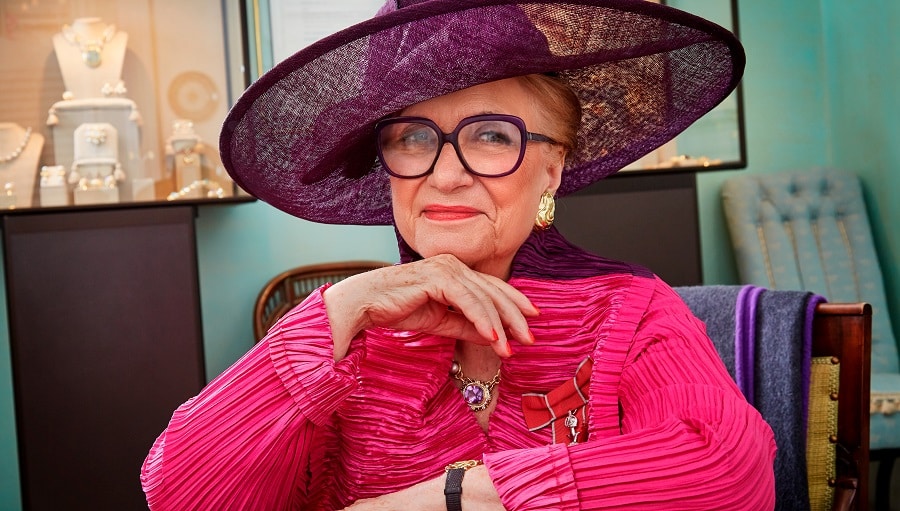 Elizabeth Gage was appointed Member of the Order of the British Empire (MBE) by her late Majesty, Queen Elizabeth II, in 2017.
Her work has been recognised with many awards and honours – from the pieces in the permanent collection of the Victoria & Albert Museum to her appointment as a Member of the Order of the British Empire (MBE) in 2017 for services to business. In 2015, the New Britain Museum of American Art held a critically acclaimed retrospective of Elizabeth Gage's work, entitled The Enchanting Jewels of Elizabeth Gage; and in 1989, she received the Queen's Award for Export Achievement. Elizabeth is modestly proud of all these accolades, which reinforces the opinion I've been building of her during our interview. She is a wonderfully talented, loving and energetic woman who is approaching the 60th anniversary of the launch of her brand with the same humility, passion and excitement as she probably did when she hung her name above the door of her first store six decades ago.
Words: Julia Pasarón