One of the many ways in which menopause can undermine a woman's confidence is in the way it affects the skin. Dry, dull and saggy skin is a direct result of decreasing levels of hormones that stimulate the formation of collagen, the protein that gives skin its strength, flexibility and support. Although there are many hormones that affect the production of collagen, the most important is oestrogen because of the abundance of oestrogen receptors in skin tissue. In addition, oestrogen stimulates the production of ceramides and hyaluronic acid, which facilitate the skin's natural hydration. As levels of these compounds decrease, the skin loses its firmness and begins to sag. Wrinkles appear the skin becomes prone to dark spots, and pores become more visible.
As women start menopause, they lose about 30 per cent of their collagen during the first five years. After that, the decline is gradual: around two per cent every year for the next 20 years. For months, our team has researched and asked a focus group to test several products that promised to improve skin affected by menopause. The four products presented here were tried over a period of 10 to 12 weeks with consistent results.
LA PRAIRIE WHITE CAVIAR PEARL INFUSION
With almost a century of skincare research and development, it is no surprise that La Prairie's new Pearl Infusion works. Issues like brown spots, redness, sallowness and greyness – all common in menopausal skin – are visibly reduced after six weeks (assuming you hide from the sun or use the highest possible SPF) of using this serum daily.
The secret to the visible effects of La Prairie White Caviar Pearl Infusion is the fact that it increased the density of collagen fibres in the dermis.
Three key compounds work together here: Lumidose, La Prairie's proprietary molecule, which inhibits tyrosinase (the enzyme responsible for the formation of the brown pigment melanine); Swiss Golden Caviar Extract, which helps densify the dermal collagen network; and finally, La Prairie's most guarded secret: Exclusive Cellular Complex, which gives new life and energy back to the cells, enhancing the skin's natural renewal process. White Caviar Pearl Infusion is recommended for use after White Caviar Essence Extraordinaire and before the eye and face creams. Buy it HERE.
DERMOI OSMOSIS AGEING KIT
Osmosis MD Skincare is a medical-grade, cosmeceutical skincare brand. Each product in the Osmosis Skincare range has been developed by the brand's team of doctors and medical experts. Their ageing kit has been specially conceived for ageing and mature skin – and the travel-size products are ideal for trying out the range. All its products help boost suppleness, reduce fine lines and wrinkles, and provide a healthy glow.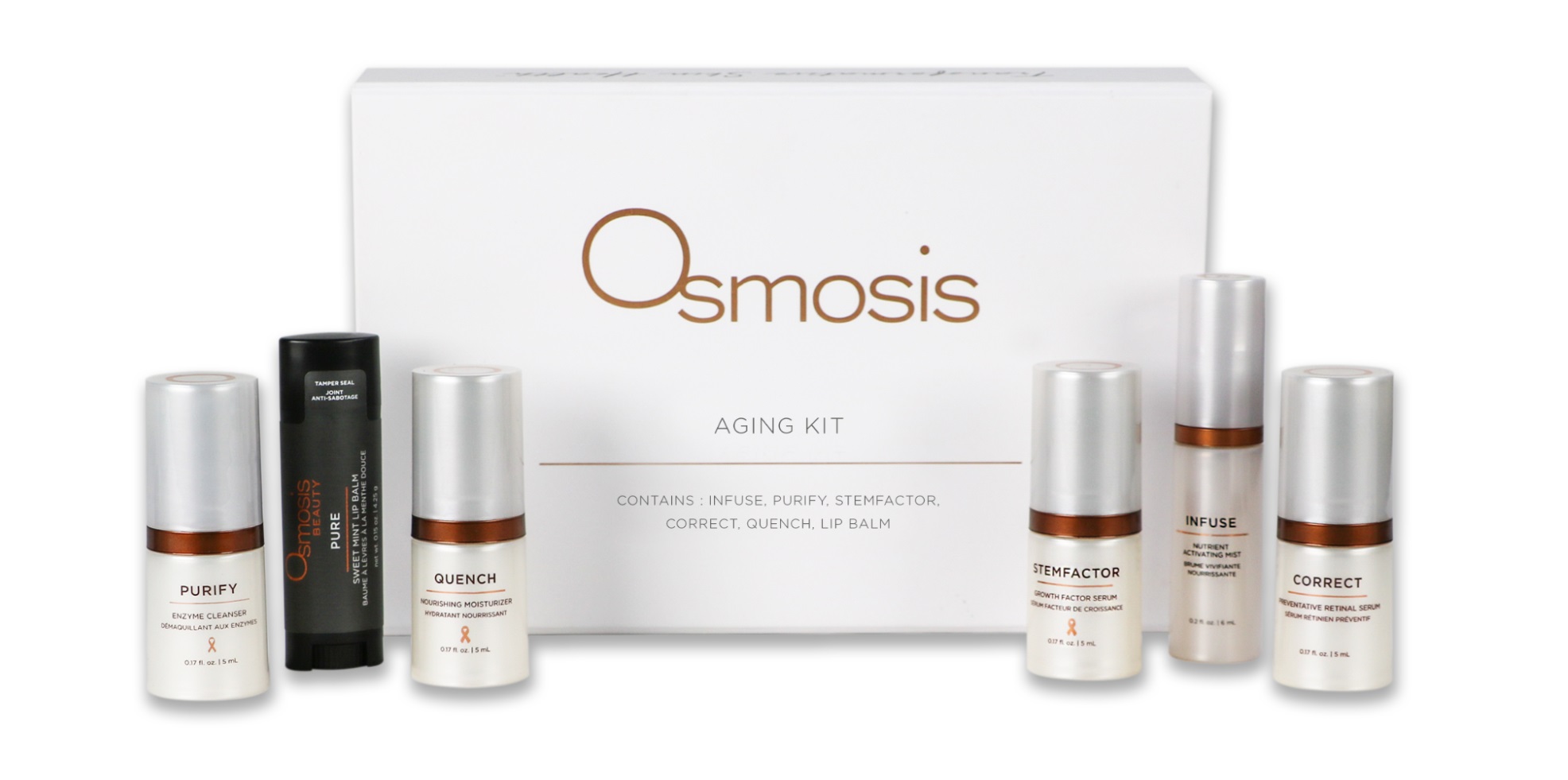 The Osmosis Aging Kit includes Purify Enzyme Cleanser, Stemfactor Growth Factor Serum, Correct Preventative Retinal Serum, Infuse Nutrient Activating Mist, Quench Nourishing Moisturiser, and the Osmosis Pure Sweet Mint Lip Balm.
The complete anti-ageing skincare routine provides 600+ growth factors and skin proteins to rejuvenate and protect. Fruit enzymes provide gentle exfoliation while Retinal, a gentler form of Retinol, reduces fine lines and wrinkles, simultaneously encouraging cell turnover. Buy it HERE.
GOLD COLLAGEN FORTE PLUS
You shouldn't forget to look after your skin from the inside. Gold Collagen Forte Plus is the new formulation by the company that brought liquid collagen to the West about a decade ago. Specially developed for women over 40, it helps significantly in challenging a whole spectrum of bad news that comes with menopause including saggy and drier skin, deeper wrinkles and hair loss. As a plus, it may increase your energy levels, and it supports the immune system.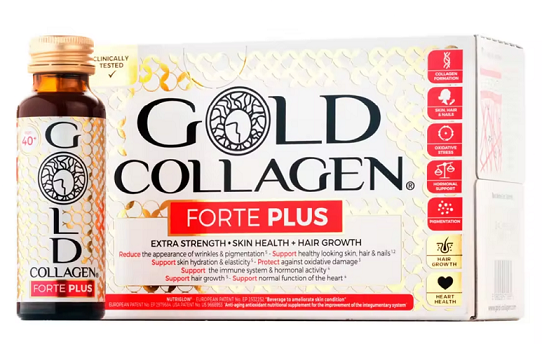 Forte Plus is the most complete age-defying product by Gold Collagen, clinically proven for women 40+. Specifically formulated to support hormonal balance, and stimulate natural collagen formation and hair growth.
Behind this magical drink lie a ton of research and clinical studies. And its unique combination of high-quality hydrolysed collagen, antioxidants, vitamins and minerals helps to maintain the structural integrity of skin, hair and nails and protect against oxidative stress. It also contains vitamin D to encourage calcium absorption for strong bones, and help fight osteoporosis and vitamin B1 for heart health. The way the product is formulated magnifies its absorption by the small intestine and encourages the fibroblast cells on your skin to produce new collagen, hyaluronic acid and elastin. Buy it HERE.
EOSTRE
Also taking care of your skin from the inside is this hormone-free vegan supplement, which can be taken alongside HRT. Formulated by a leading consultant dietitian and nutritionist, Eostre is hormone-free and needs to be taken only once a day.
Eostre's main ingredient, Pycnogenol® (pine bark extract), is an antioxidant with more than 40 years of research behind it.
Each capsule contains a combination of pycnogenol, obtained from pine bark extract, a natural compound thought to be an antioxidant that protects cells from damage; L-Theanine from green tea, a mood-boosting amino acid that also helps reduce stress; Ashwagandha, which is believed to assist cognitive function and reduce stress; vitamin D3 cholecalciferol for the maintenance of healthy bones, nails and teeth; folate to combat tiredness; vitamin B6 pyridoxine, which contributes to the regulation of hormonal activity; vitamin B12, essential for a normal energy-yielding metabolism; and iodine, an element that is key for the production of thyroid hormones and normal thyroid function. Buy it HERE.
Opening picture: Petra Bauman (@petra.Bauman30), Pexels.