These days, there is almost an infinite number of available spa treatments, all of which promise outstanding results. But unfortunately, very few deliver. Here, we present four very different approaches that really work, and that we feel we can wholeheartedly recommend.
111SKIN NON-SURGICAL LIFT FACIAL
The potency of the compounds in all 111Skin products provides the skin with vitamins and compounds that are easily absorbed, leaving it plumper and highly hydrated, while the massage technique focuses on lifting and tightening. The effects are visible immediately. 111Skin works with first-class spas all over the world – but I had my facial at the Bulgari Spa in London, where I was treated by Chief Therapist Jehvon Lennon.
For starters, he cleaned my skin thoroughly with Vitamin C Brightening Cleanser. Though many of us don't take this step seriously, Lennon explains that it's key to healthy, glowing skin. This cleanser has exfoliating properties and high levels of vitamin C, which contribute to the brightening effects of the facial.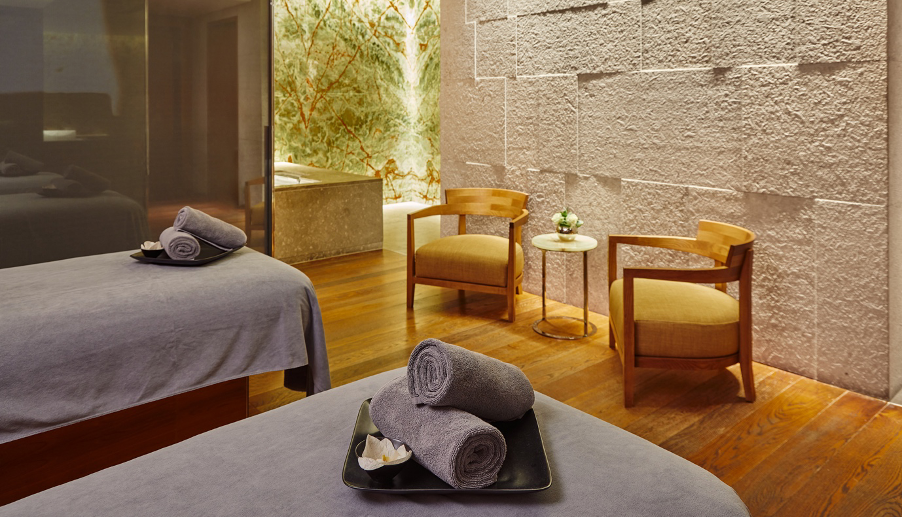 The Bulgari Spa in London includes 11 private treatment rooms and one double spa suite, complete with its own steam room, hydromassage and private treatment room.
Jehvon followed with Celestial Black Diamond Multi-Acid Accelerated Peel (exclusive for spa use), which gently exfoliates, buffing away dead cells and unblocking pores. Steam was then applied to open pores and facilitate the extraction of blackheads and other impurities; then Rose Water was used to soothe irritation, hydrate and combat underlying inflammation. Next came Antioxidant Energising Essence, a toner that balances the pH of the skin, tightens pores and helps maximise the absorption of other serums and creams. It was applied with a massage that was so divine, I think I fell asleep.
A Vitamin C Brightening Booster and Celestial Black Diamond Serum followed, providing an even more intense glow and bringing further brightness to the skin. Next was Celestial Black Diamond Contour Gel, which, in my opinion, is one of the most effective skincare products out there. The secret seems to be its potent combination of peptides and black diamond particles. Time for the 111Skin Celestial Black Diamond eye, face and neck masks; they're popular among those who, like me, have a job that often involves long days and short nights.
If you are not familiar with 111Skin products, The Dr Yannis Hero Edit is a great way to start. It contains many of their star products, such as Y Theorem Repair Light serum NAC Y2 and Celestial Black Diamond Eye Masks, the perfect holiday gift for your skin. £550. Find it HERE.
Finally, Eye and Day Cream Light from the Celestial Black Diamond range, with the company's unique formula NAC Y²™, which creates an optimum environment for collagen production and strengthens elasticity as well as boosting antioxidant protection. One strong word of advice from Lennon: always wear at least SPF30 on your face; if the sun is out, SPF50.
Frequency is the key to maintenance, so it is recommended to have this treatment monthly and keep a good daily skincare routine at home. £350/90 minutes. Book your facial HERE.
EVOLVEX BODY TRANSFORMATION
Developed by medical technology company InMode, EvolveX is the latest in body contouring. It combines the power of Radio-frequency energy (RF) for deep heating of tissue, High Voltage Pulse (HVP) for fat reduction, and electrical muscle stimulation (EMS) for toning. Together, they deliver results that would be nearly impossible to achieve by simply going to the gym. With EvolveX, you end up losing fat and gaining muscle – and your skin appears remodelled. The clinically proven treatments are pain-free and, as they don't involve any medical procedures, there is no downtime; the abdomen, waist, buttocks, arms and thighs can all be treated.
EvolveX is an all-in-one platform that delivers multiple technologies on one system to remodel skin, target adipose tissue, and tone muscles.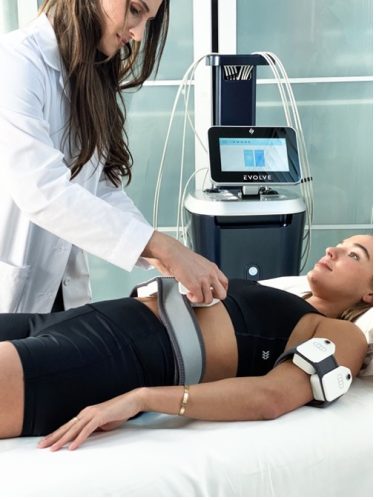 The first programme, Evolve Tite, harnesses the power of RF energy to tighten and improve the appearance of the skin. The applicators have sensors that make sure all areas are being heated to 43°C to trigger collagen stimulation without the risk of overheating. The feeling is similar to having a hot-stone massage. As with any RF treatment, it's important to drink plenty of water beforehand and afterwards; the more water molecules there are in the skin, the easier it is to prompt collagen stimulation and oxygen production.
Evolve Tone focuses on muscle definition and strengthening the core, which supports the lower back. It consists of electrical muscle stimulation (EMS), which causes muscle contractions. The machine achieves deeper contractions than you could ever do at the gym. The applicators target specific muscle groups to refine the appearance and strength of the muscles. As with any electrical stimulation, it's ideal to start slowly to build up your tolerance.
Evolve X is particularly efficient on buttocks and thighs (left) and on the abdominals (right), as the machine achieves deeper contractions than you could ever do at the gym.
Evolve Transform combinesRF, EMS and HVP, and can be applied on all areas of the body. The trio results in more effective fat loss to add to the benefits of the individual treatments. RF heats the skin and the adipose tissue; EMS stimulates muscle toning and encourages muscle growth; and HVP leads to the destruction of fat cells.
A course of at least four treatments – in one- to two-week intervals – is recommended. Results can be seen approximately eight weeks from the first treatment, but collagen production takes a bit longer – between six and 12 months.
I had my course at the Lanesborough Club & Spa in London, but EvolveX is also available at Perfect Skin Solutions Clinic, directed by Dr Dev Patel, as well as other locations in the UK. From £2,000. You can. Book your session at the Lanesborough Club & Spa or at Perfect Skin Solutions.
AYURVEDA AT KUDA VILLINGILI SPA ISLAND
Kaafu Atoll, Republic of Maldives
Ayurveda is a system of medicine that originated in India more than 3,000 years ago. It is based on the belief that health and wellness depend on a delicate balance of mind, body, senses and spirit. In the sixth and seventh centuries (known as the Samhita period), there is evidence of organised medical care and medical textbooks that discussed Ayurvedic treatments, accurate anatomy and blood-circulation treatments alongside surgeries such as skin grafting and renal stone removal. Ayurvedic medical understanding surpassed that of the West at the time; these days, we understand the benefits of integrating Ayurveda with modern evidence-based medicine.
Kuda Villingili's Spa boasts eight treatment villas over the water, the perfect space to put the mind and the body at ease.
The resort has its own Spa Island where guests can embark on wide range of treatments. I focused on those based on Ayurvedic principles, as it is generally agreed that they address ailments common to our stressful Western lives, such as stiff muscles and joints, high blood pressure and low immunity. The paradisiac environment of the spa, in the middle of a shimmering lagoon, is an added bonus.
The first therapy is the two-hour Jivantika treatment (£280), aimed at obliterating fatigue and restoring energy. It starts with a full-body massage and finishes with Shirodhara, an Ayurvedic healing technique that involves having liquid — usually oil, milk, buttermilk or water — poured onto your forehead. It is known to improve sleep quality and combat insomnia.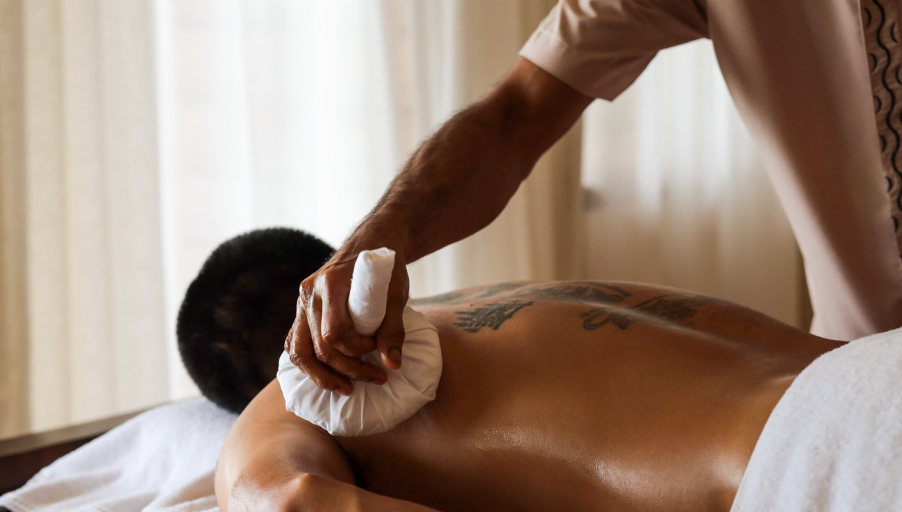 Prishtabhyangam is a therapy that involves hot compressions applied with an herbal poultice, followed by a massage.
The other treatment I selected is Prishtabhyangam with Kizhi, a therapy in which hot compressions are given with an herbal poultice (ingredients include tamarind, drumstick and neem leaves, ginger roots, sand and rock salt) followed by a massage with Dhanwantharam Thailam oil, traditionally used in Ayurvedic medicine for its anti-inflammatory properties. This treatment is particularly recommended for backaches and to improve circulation. Available as a 60-minute session (£190) or 90 (£234). Book yours HERE.
MAYR INTENSIVE WEIGHT-LOSS PROGRAMME
Based on the discoveries of Dr Franz Xaver Mayr in the last century, modern Mayr medicine is based on prevention and on correcting pernicious eating habits – habits that the demands of our hectic lives often lead to.
The Original F.X. Mayr clinic in Austria offers a range of medical treatments to help patients achieve optimum health. Their Intensive Weight Loss module is a great way to shift extra weight and, more importantly, give your digestive system a break and encourage the release of positive hormones. The module combines the best in fat-busting therapies, which move your body from sugar-burning to effective fat-burning, and detoxing protocols with endorphin-boosting activities around the stunning Lake Wörthersee.
The Mayr programmes include physical activities to stimulate your metabolism, muscles and coordination skills.
The weight-loss module is done in conjunction with either the Basic Mayr programme (one week), or the Classic (two weeks). The Basic is a fasting programme that helps you take the first step toward a completely new attitude about your health. On arrival, the medical staff performs blood, urine and other tests to help them accurately arrive at a diagnosis and treatment plan. In the initial consultation with your doctor, a bespoke plan is designed for you.
There are plenty of daily activities including hiking, paddle-boarding, yoga and meditation to keep you active and physically engaged. The weight-loss module is added to the Basic Mayr programme, so the positive weight-loss effect that occurs through fasting is intensified by a coordinated set of analyses, personal training sessions and targeted therapies that stimulate the metabolism and help break down fat deposits. Altitude training is also available, as is performance analysis for those who enjoy competing with themselves.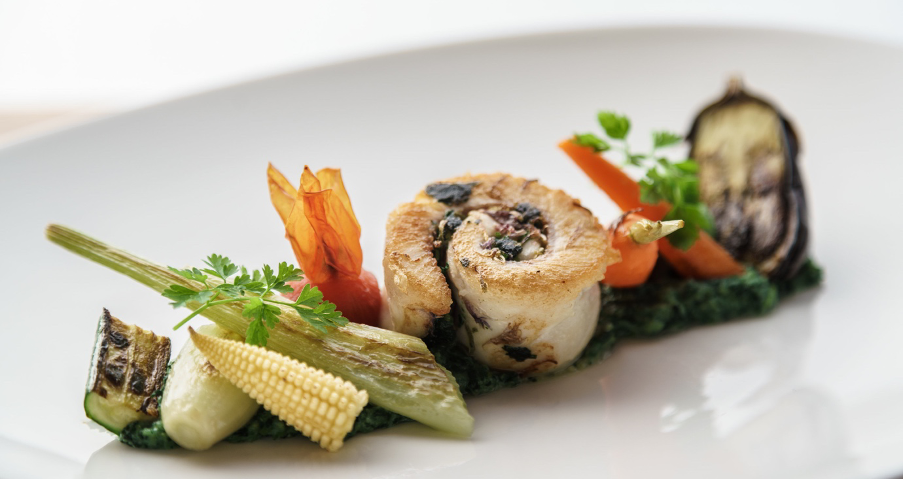 The nutrient-rich menus at Mayr provide your cells with energy and boost your metabolism. All dishes are sugar and gluten free.
All of the above is supported by a series of detox massages, including abdominal and lymphatic, and hay flower detox wraps; these are designed to assist the body in getting rid of waste products, which in turn contributes to weight loss. During your stay, you are monitored at all times. And before you leave you receive a full medical check-up, a medical abdominal treatment and a final consultation.
However, not everything is about losing weight; the spa also focuses on mental and emotional health, so changing attitudes is part of the strategy. Guests are encouraged to practice mindfulness and follow the Mayr team's advice about relaxation. You'll probably notice that on top of losing weight, you sleep better and have much more energy.
The price for the one-week Mayr Basic programme with the added Intensive Weight Loss module is £3,593 per person including Mayr cure, diagnostics, food, medical and detox treatments, and accommodation in a single room. Find out more HERE.
Words: Julia Pasarón
Opening image: Engin Akyurt, Pixabay