Austrian skiing legend Hans Gmoser got it right when he famously declared that "a person should have wings to carry them where their dreams go, but sometimes a pair of skis makes a good substitute".
Dreams can come true in magical Kitzbühel where the skiing is not just extraordinary but iconic. An Alpine experience like no other, this winter season looks set to follow in the tradition of the last 130 years offering visitors state-of-the-art slopes, amenities and lively apres ski. Known around the world as the exclusive destination for thrill-seekers, Kitzbühel is not just a community but a way of life.
Seeped in history, Kitzbühel dates back to 1100 BC when copper mines were big business. Much later, the Romans moved in followed by the Bavarians in 800 AD, and that's when a family called Chizzo built a castle in a settlement called Chizbuhel (sounds familiar?).
The town ultimately became part of Tyrol but it wasn't until 1893 that local resident and ski pioneer Franz Reisch became the first person to make Austria's first high alpine ski descent from the Kitzbüheler Horn.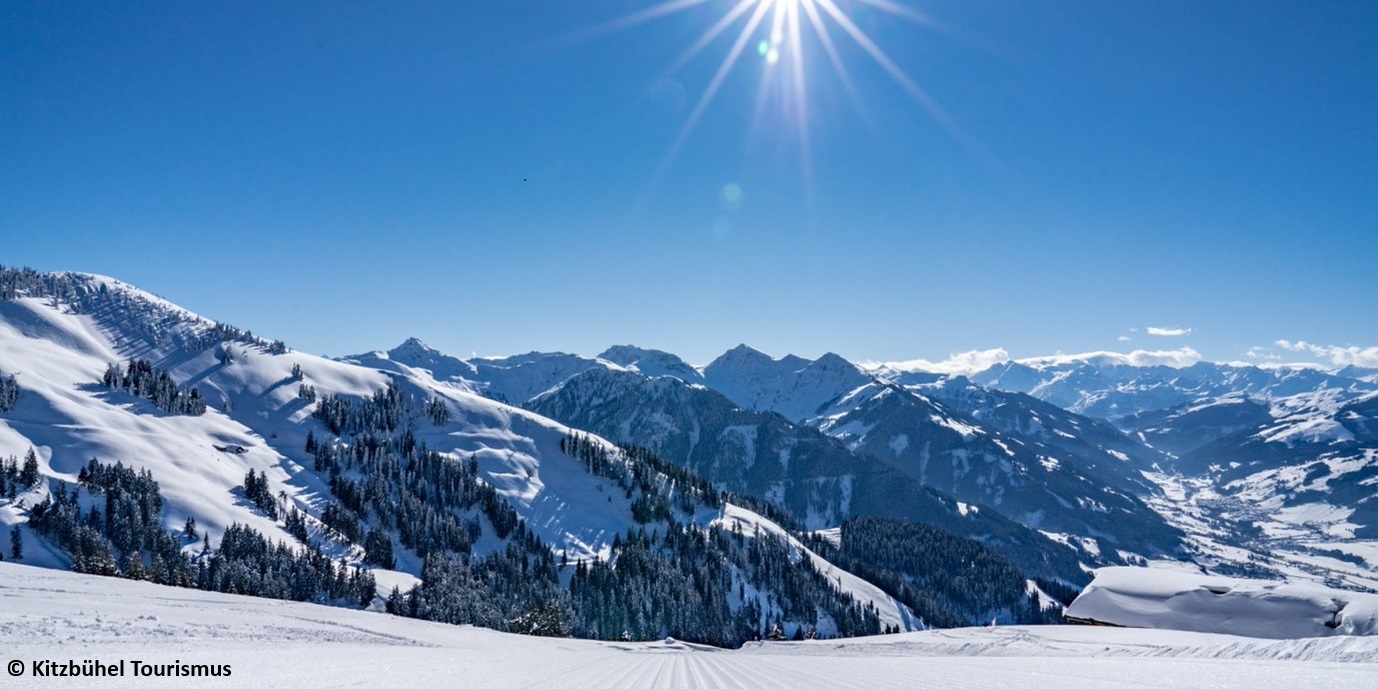 Kitzbühel's ski season is one of the longest in Europe, with enough snow from as early as November until after Easter.
With a longer-than-average season that spans from late November to early April, Kitzbühel has 96 ski slopes featuring 181 kilometres (112 miles) of perfectly groomed pistes and 52 kilometres (32 miles) of marked ski routes.
The three skiing areas are comprised of the mostly south-facing Kitzbüheler Horn, Kitzbühel over to Kirchberg, which offers a variety of pistes, and the mountains above the Jochberg region. There are also around 70 kilometres (43 miles) of cross-country skiing in the Gamsstadt, which is floodlit and open until 9 p.m.
In 2022, Dave Ryding won the Kitzbühel slalom on 'The Streif', the classic downhill racecourse, making him the first British athlete to win the World Cup at that level in Alpine skiing. Those who aren't as experienced can still tackle the slopes on the Hahnenkamm mountain, where the 'Family Streif' omits the most difficult passages.
Kitzbühel offers plenty of possibilities for beginners, from free practice lifts to easy slopes such as this blue, the '36 Hahnenkamm'.
Newcomers, specifically little ones, are well-catered for as each of the ski schools has its own children's area. Beginners in Kitzbühel and its vacation villages Reith, Aurach and Jochberg, and in nearby Aschau, also get to use 10 free practice lifts.
While 300 million people globally tuned in to watch the last World Cup (50,000 attended in person), non-skiers are also welcome. They can pick a variety of excursions to neighbouring towns such as Innsbruck or Salzburg, try winter hiking, snowshoe hiking and tobogganing. On two runners thrill seekers can speed downhill from the Kelchalm, the Trattenbachalm or the Gaisberg.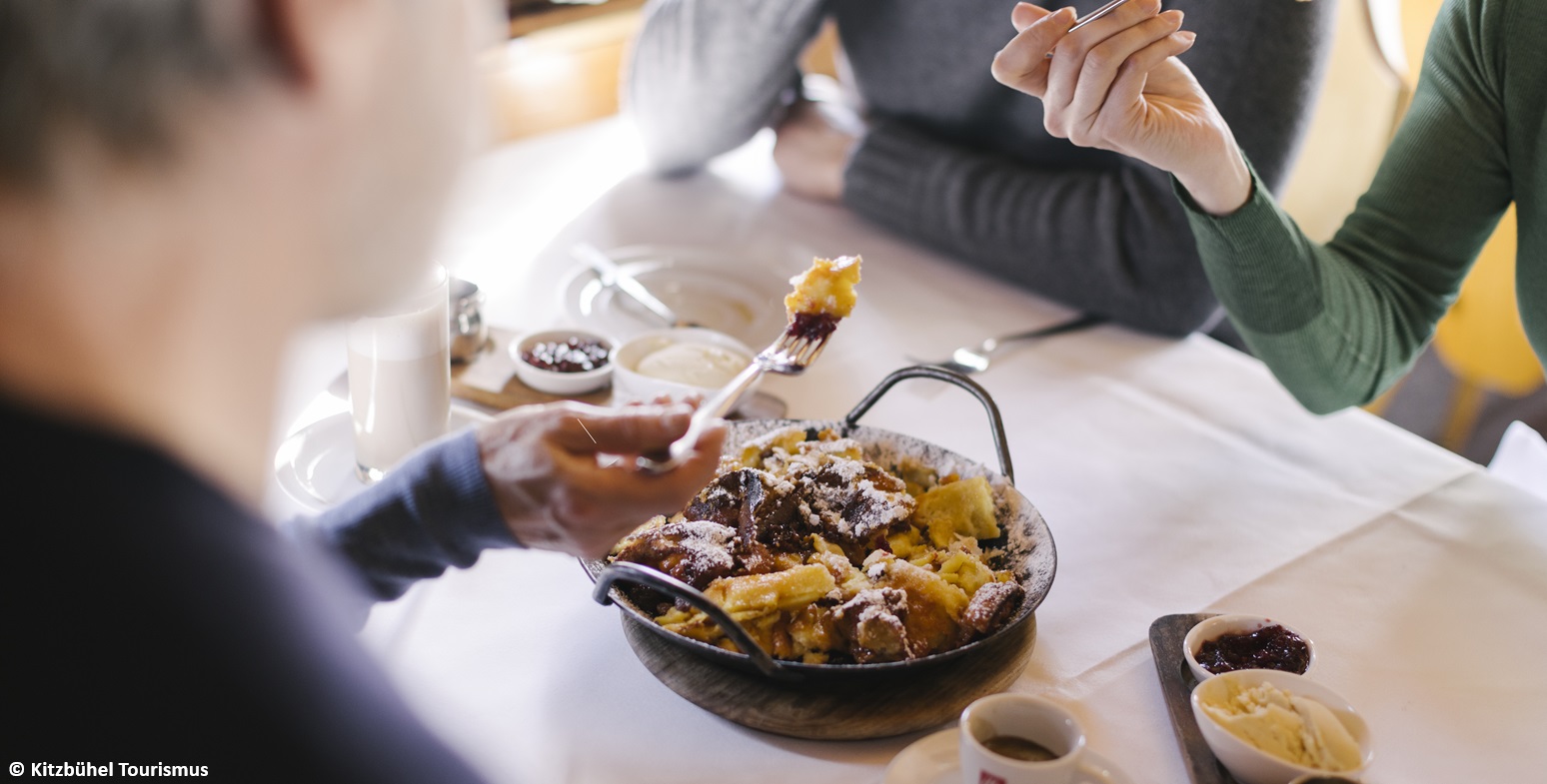 With hundreds of bars, huts, restaurants and inns, Kitzbühel is a gastronomic destination in itself.
Kitzbühel won't leave you hungry with a variety of huts, inns and mountain restaurants, serving regional delicacies such as Kaspressknödel (cheese dumplings).
For more contemporary dining, this December, Japanese kitchen ZUMA will once again be opening its pop-up restaurant at the five-star Hotel Weisses Rössl.
Equally diverse is the offer of accommodation. Examples of the beautiful places available here include the luxury Kitz Chalet located at the foot of the Kitzbüheler Horn skiing mountain, with capacity for ten guests; the Daskitz Jochberg chalet, which sits at an altitude of 1,000 metres and is reminiscent of an eagle's nest; the five-star Relais & Châteaux Hotel Tennerhof, a historic estate dating from 1679 with panoramic views of Kitzbühel; and the wellness-focused luxury five-star Grand Tirolia Golf & Spa Resort.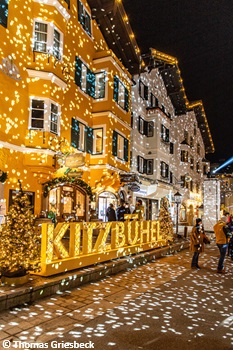 On New Year's Eve, street artists cavort in the alleys of the Vorderstadt and Hinterstadt, much to the delight of children and adults alike.
During the festive season, the Kitzbühel Advent runs until December 26 featuring local choirs, sleigh rides, regional delicacies, traditional handicrafts and the chance to sample their mulled wine. Listen out for the town's glockenspiel which sounds nightly at 8 pm.
New Year's Eve is a glorious explosion of light installations and colour with a breathtaking fire show in the city centre. And of course, the shops are open for those seeking a touch of high-end retail therapy.
During the festive season, the streets of Kitzbühel come alive with beautiful light installations and special window displays in all its boutiques and shops.
And when the snow melts this medieval town continues to delight with plenty of mountain hiking, swimming in Schwarzsee Lake, golf, biking, para-gliding and hang-gliding.
Kitzbühel really is a thrilling destination.
Whether from the airports in Munich, Innsbruck or Salzburg, by train directly to the heart of the Alps or a quick drive, reaching Kitzbühel is easy. The closest airport to Kitzbühel is Salzburg, followed by Innsbruck and Munich. For flight information visit Austrian Airlines.
www.kitzbuhel.com Email: info@kitzbuhel.com
Words:Lisa Marks
Opening image: © Kitzbühel Tourismus – Michael Werlberger