On the northeast of Mallorca, away from the noisy capital and the crowded beaches of the south and west of the island, we find the Grand Hotel Cap Vermell. Perched on the side of a mountain overlooking the Valley of Canyamel, Cap Vermell is a resort like no other in the Balearic Islands, a gastronomic destination of the highest calibre.
Designed and built in the style of traditional local villages, Cap Vermell offers guests a unique place where to unwind and relax in a luxurious environment that feels like home. Rooms and suites are built on the hillside, arranged on different levels, and each has either an ample balcony or its own garden, both fully furbished. Cascades of exuberant Mediterranean plants fall over terrace upon terrace, surrounding every path and every block, making it an absolute pleasure to walk around, although buggies are always available to take you anywhere in the resort.
Grand Hotel Cap Vermell is inspired by Mallorca villages and gardens, and surrounded by the exuberant Valley of Canyamel.
I recently visited it with a few friends and can't wait to go back. On arrival, check-in went smoothly and quickly, and the luggage taken to our rooms while we had a spot of lunch at the Tapas Bar, located on a terrace overlooking the pool area, with stunning views of the unspoilt valley of Canyamel. The menu offers a great variety of Spanish tapas, from fried calamari in the crispiest batter I've ever tried (and no greasy at all) to the legendary Ibérico ham, together with a selection of local wines that you will struggle to find anywhere else.
My personal recommendation is that you bring not only your swimming suit but your gym gear too, as there are six first-class restaurants in Cap Vermell. Besides the Tapas Bar where we had lunch, you'll find Balearic, specialised in Mediterranean produce and where breakfast is served, and Ses Oliveres, which brings together local and international recipes. These three are by the main building of the hotel, with impressive views of the valley.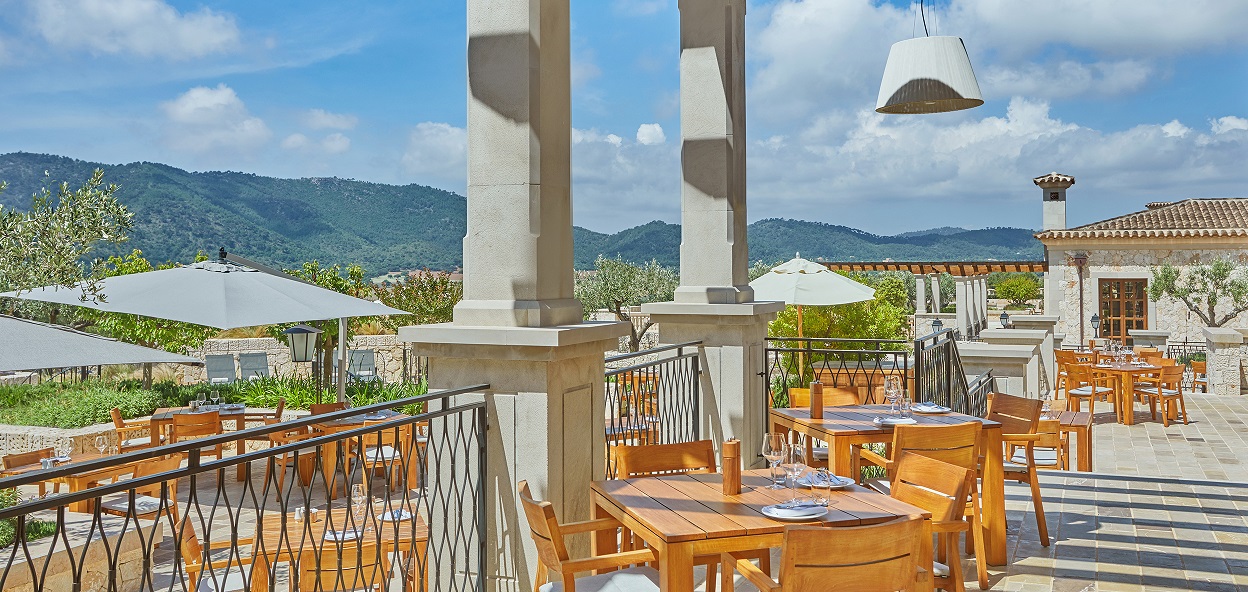 Start the day with a Mediterranean al fresco breakfast at Balearic, overlooking the Valley of Canyamel.
Just next to reception we find The Crossing, a dining proposition that takes visitors on a journey through the different cultures and cuisines that coexist in India, with dishes such as Patti Chaat, inspired by the traditional street food originally from the northern part of the country; Gunpowder Prawns from the south, which were just the right level of spicy despite the fiery name of the mixture of lentils, seeds and spices that make up the famous condiment from this part of the country; and Chicken Makhan Malai, which was incredibly succulent and tender, and the sauce creamy and beautifully spicy.
Three of the most popular dishes at The Crossing: Patti Chaat, Gunpowder Prawns and Chicken Makhan Malai.
And then we have Voro, the only restaurant in the Balearic Islands with two Michelin stars. Based on a philosophy of sustainability, the ingredients 99 percent local or regional. Head chef Álvaro Salazar, sous-chef María Cano, and their team have created two tasting menus like nothing you have every tried before. Voro consists of 17 dishes and Devoro, of 22. We obviously went for Devoro. Embarking in this dinner felt like embarking on an epicurean adventure that took us from sunrise (Albor) to the moment the last rays of the sun disappear behind the horizon line (Ocaso).
Chef Álvaro Salazar has created for Voro some of the most imaginative and technically accomplished dishes you'll find in any Michelin-starred restaurant.
First came the plant-based Umbellifers and Liliaceae, followed by the produce from the sea: smoked sardine, melt-in-the mouth-tuna and tender cuttlefish. Sommelier Carles Roselló paired these appetisers with a mineral, salty white from Andalucía, Mirabrás 2019. Then it was the turn of the meats: guinea fowl, duck three ways and black pork; the three were succulent and full of flavour, very umami.
Left, the "Piscívoro" appetisers: Sardine, Tuna and Cuttlefish. Right, the "Carnívoro": Black Pork,
As we approached the zenith of the menu, we were served three dishes surprising for the creativity involved and the mastery in combining techniques, flavours and textures. The first one, almonds with picual (a strong extra virgin olive oil) and caviar, is served as a kind of pannacotta with the caviar an oil on top; the second was a fresh seafood salad dressed with a cold consommé with Palo Cortado, a rare variety of sherry with some of the richness of oloroso and some of the crispness of amontillado; third and last of this series, a red mullet gazpacho with baby potato ice-cream and delicate tear peas.
Left, Almond, Picual and caviar. Right, Seafood salad with Palo Cortado.
The second part of the menu consists of the main courses and desserts. It starts with an eel pasty cooked al pil-pil, a traditional Basque emulsion based on garlic-infused oil, and marinated with a kabayaki prepared with Palo, a local liquor that dates back to the 16th century. Broken eggs with lobster claws followed and then more lobster, this time with dehydrated rice. So original, playful and delicious that my face split into an ear-to-ear smile.
More was to come, in the form of Salazar's version of duck Burguignon, with shitake and enoki mushrooms; Waygu beeft two ways – fillet steak with tendons and bone marrow and marinated; and grilled veal, with beetroot and herbs. That, my dear reader, is heaven for any meat-loving sybarite out there. The wine was fabulous too, a Guimaro from the Ribeira Sacra (Galicia), vibrant, full of fresh red fruit, rose blossom, and stony-minerality.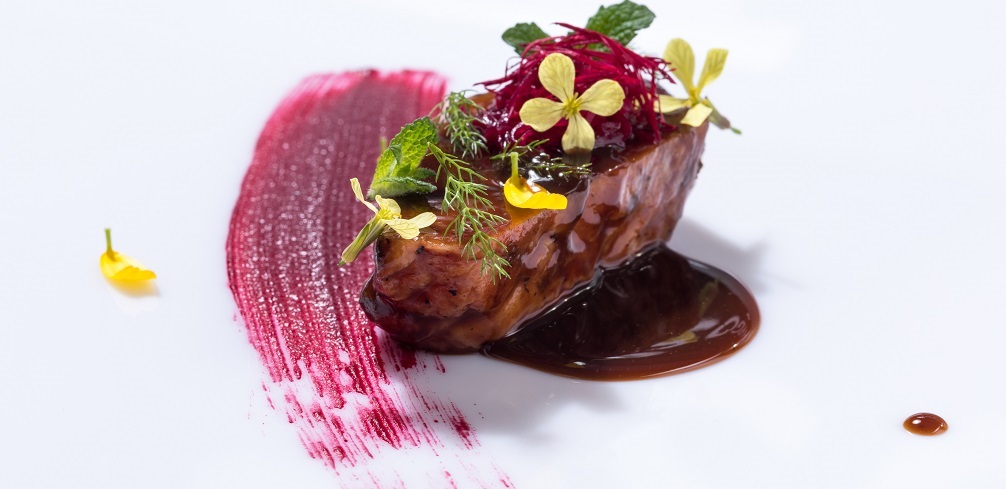 Grilled veal with beetroot and herbs, a dish Álvaro created back in 2018, one of the mains in the Devoro menu.
The three desserts were the perfect way to finish a most impressive tasting menu: pomade, citrus fruits and chili – absolutely spectacular, like fireworks in your mouth – then auntie Luisa's gachas (think porridge elevated to the highest level), and the final one, vanilla, apple and crème brûlée. Coffee is served with the best petit-fours you will ever have.
Black cod marinated in yuzu miso, one of the most popular robata dishes in Roka's menu.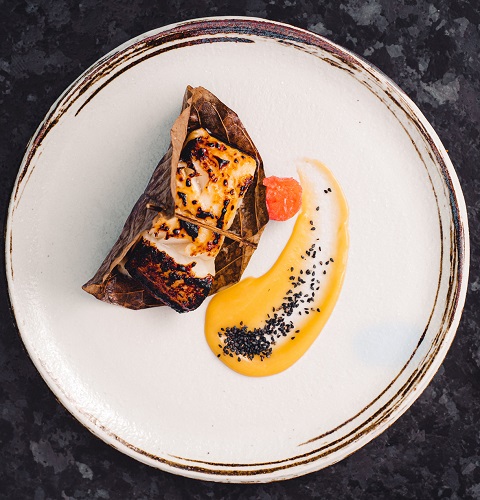 As if this was not enough, every summer, Cap Vermell hosts a pop-up restaurant by Roka, the global sensation in contemporary Japanese cuisine, (read our review HERE). My advice though is that you book well in advance. Last summer they were fully booked every evening.
Foodies of the world, I think we've found heaven for you. To learn more about Grand Hotel Cap Vermell and for reservations, visit HERE.