Over a century ago, two immigrant Armenian brothers opened in Paris their first shop at 18 boulevard de La Tour-Maubourg, selling caviar. A few decades later, they had established themselves as the purveyors of the finest caviar and other Russian specialties, such as Chatka crabs and vodkas. By the 1990s, they had incorporated smoked fish, scallops, foie gras, truffles and other delicatessen. Petrossian expanded internationally to Brussels, New York, Los Angeles, Las Vegas, Dubai and finally, a few months ago, to the heart of London.
Lead by Manager Loïc and his team, the luxury French establishment has become a favourite among local residents and visitors alike. Elegantly decorated with deep-toned wood, sumptuous teal-blue velvet sofas and crispy white tablecloths, the atmosphere is opulent, yet warm and welcoming.
The deli counter at Petrossian offers delicatessen from all around the world, from caviar to foi-gras, truffles and much more.
The menu is imaginative and playful. The Organic Soft-boiled Egg with Ossetra Caviar and The Petrossian Croque are a good example of how these classic delicatessen can be modernised and brought to everyday dishes. We were puzzled by the variety of caviars available, not only on the menu, but on the Deli counter. Once we had a glass of Louis Roederer Brut in hand, Manoline, our waiter, came to our table and suggested we had a caviar tasting platter. She kindly took the time to walk us through the characteristics of each of these delicacies. We started with the Ossetra, which she explains is the most balanced – so neither too salty nor too sweet – and has a bit of an earthy taste. The eggs are firm in texture, medium size and have a green-amber colour. Second was the Baeri Baïka, more intense in flavour, slightly lemony and with very small, dark grey eggs. In a way, this is the caviar for people uncomfortable with the idea of eating fish eggs. Next, the one we've all heard about: Beluga. This is the rarest, largest and most precious caviar. Very creamy, one could say even buttery, and very well balanced. After, we had Daurenki, considered the ideal caviar for beginners because of its mild creamy flavour, large eggs and firm texture. Last, Sevruga, very dark grey and very salty, a true mouthful of sea. If you are into oysters, this will probably be your favourite.
The five varieties of caviar offered at Petrossian South Kensington: Ossetra, Baeri Baïka, Daurenki, Beluga and Sevruga.
Manoline also explained other specialties available at Petrossian, such as caviar butter, the most luxurious ever dairy product, and pressed caviar, which looks like a thick paste and can be spread on toast with a bit of crème fraiche or use as a stock cube. How indulgent is that?
Other sophisticated foods available at the deli include six different types of tarama, all kinds of smoked salmon and a variety of dinner and picnic sets, to delight even the most demanding gourmet guest.
After our caviar extravaganza, we were served a Trio of Roe. This is a baked potato filled with silky mash, cream and chives, topped with three kinds of fish roe: trout, salmon and smoked pike. The melt-in-your-mouth mash contrasts with the firmness of the salty eggs, which play in your mouth as they pop and free their intense flavour. Loïc had earlier suggested we tried their salmon so we did, a Duo, which consists of a generous slice of Royal, and another one of Wild Baltic. The first follows the traditional Petrossian recipe from 1930 and is recommended to eat without any lemon, which allows you to taste all its subtlety in your palate. The Wild Baltic is much paler in colour, which comes from its diet of light-coloured fish. This is the tenderest salmon I've ever tried, salted by hand with sea salt, smoked over beechwood and hand sliced.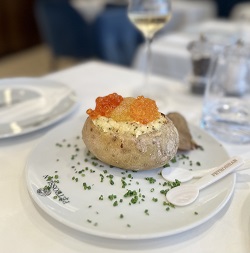 From the left: Trio of Roe, Duo of Salmon, and King Crab Salad.
Nordic Salad came next. This is a Russian crab – what we call Red King Crab, the largest living crab in the world – harvested in the cleanest waters of the Russian seas. The meat is firm and sweet with a salty finish, and goes spectacularly well with the sweet avocado, the crunchy lettuce and the grapefruit dressing.
As much as I would have liked to keep eating, both my companion and I were pretty full by that time, so for dessert, we shared a Paris Brest, the classic French pastry made with hazelnut cream in the middle.
With a belly full of naughty eggs and French bubbles, we said goodbye to our new favourite lunch haunt in Chelsea, promising ourselves to be back very soon.
Petrossian South Kensington
6 Fulham Rd, London SW3 6HG
Tel. 020 3158 0549
https://www.petrossian.fr/uk_en/
Words: Julia Pasarón