The grassy environs of the Honourable Artillery Company played host to one of the most intriguing collections of automobiles yet assembled by the London Concours in the service of City petrolheads.
Presented by Montres Breguet, around 80 cars were on display across eleven classes of competition over three days in what has established itself as the UK's most intimate four-wheeled garden party. The judging committee, which included trade experts, journalists, auto execs and motoring club grandees, declared that the 'Best in Show' was an ultra-rare Schuppan 962CR P1, a road-going machine based on the Porsche 962 Group C endurance racer – a timely decision given the event was held on the eve of Le Mans' centenary. Just six Schuppan 962s were built by Le Mans-winning Aussie racing driver Vern Schuppan between 1992 and 1994, including two CRs, and this one was the project's prototype and development car.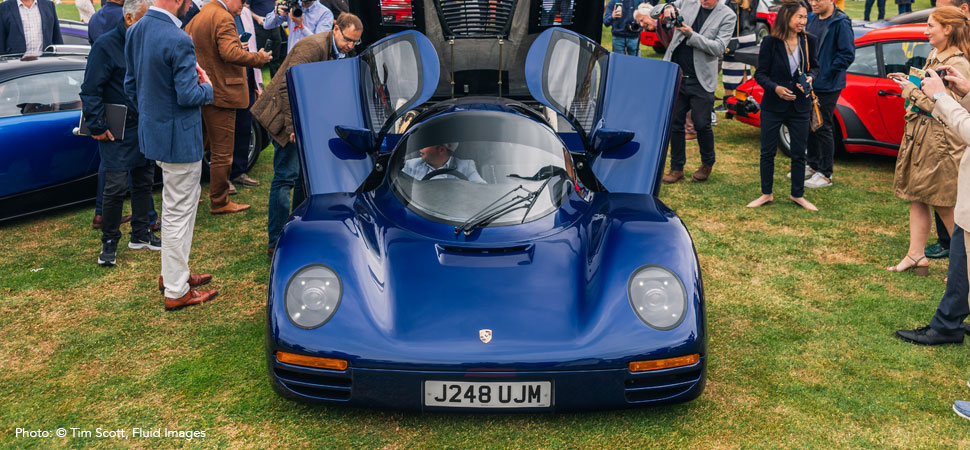 Declared 'Best in Show', this Schuppan 962CR P1 was the original prototype and development car.
Chairman of the Judges, Peter Read, gave the Chairman's Award to the car he'd most like to drive home himself, and it went to a rather dashing 1966 Jensen CV8 MkIII – a combination of British tailoring and American muscle, for under the gentlemanly body lurks a brawny Chrysler V8. This car was discovered in a barn in the Netherlands in 2015, and the work to bring it up to concours-standard has been extraordinary. Still, there was some heavy competition, including a Ferrari 250 GT SWB and a Mercedes 300SL Gullwing, either of which could've been our conveyance back to I-M Towers were we calling the shots.
The Chairman's Award when to a 1966 Jensen CV8 Mk III, discovered in a barn in the Netherlands in 2015 and lovingly brought back to peak condition.

Other winners included a Subaru Impreza WRC S12C in the 'Built to Race, For the Road' category, pipping a mighty white Ford Sierra RS Cosworth to the post; the 'Grand Tourisme' class was cleaned up by an elegantly avant-garde Facel Vega II; and a special 60-year celebration of Lamborghini was capped with a jaw-dropping Miura, in lime green with silver sills and black eye-lashes – in our opinion, the perfect spec.
Hot hatch lovers made a beeline for the pairing of a Renault 5 Turbo and Turbo 2 which were parked next to their spiritual successor, the Clio V6 Phase II. Other French masters included an otherworldly Citroen SM and a machine that might as well have a Gauloises hanging out of its front intake, an Alpine A310 with a dignified patina and a Delorean lump under the hood.
Contrasting classics to make you smile, a ruby red Renault 5 Turbo and a Lamborghini Miura in bright lime green.
In our eyes, the standout concept car was a treat from 1995: an Autech Gavia by Zagato that's sure to confound even the most die-hard anorak in a vehicular pub quiz. As for coachbuilt restorations, the recently revived Crayford screeched back onto the scene with a perfect beach buggy: a 1962 Mini Mojito that looked good enough to lick, in marine blue and with a detachable canvas roof and superyacht materials that include a teak floor. A land tender, if ever there was one.
There was also a coven of fabulous Land Rovers, which is exactly what one would expect to find on the lawn of an artillery barracks. Among them was a 1948 pre-production prototype which had gone missing in the 1960s and wasn't found again until 2016, and a 1954 Series 1 which covered 25,000 miles on the Oxford & Cambridge Trans-Africa Expedition. And elsewhere we found a Ferrari F40 and a 1970 Plymouth Superbird having a mine-is-bigger-than-yours rear-wing-off, and a roaring collection of motorcycles courtesy of first-time exhibitor Norton. Most eyebrow-raising? Potentially the Rolls-Royce Phantom wrapped in flames that had been delivered by luxury car storage facility Moss and might be better suited to a high-security car park somewhere in the underworld.
This very Land Rover Series 1, which covered 25,000 miles on the Oxford & Cambridge Trans-Africa Expedition in 1954 could be admired at London Concours this year.
While the main prizes were given out on Tuesday's preview day, Wednesday saw the attendance of 50 RS Porsches spanning 50 years – the perfect way to toast Rennsport's half century. The display included everything from the seminal '70s 2.7 RS and stripped-out 964 RS of the '90s to the modern 997 and 991 generation cars. The overall winner, judged by a panel of Porsche connoisseurs, was a modern classic – a 991 GT2 RS which delivers motorsport-honed handling and neck-snapping performance, while showing a clear bloodline with that of the era-defining RS beasts that were born as far back as '73.
Moss, a luxury car storage just a stone throw from London, brought this magnificent Rolls-Royce Phantom, which was commissioned to artist Marc Quinn to feature a child's iris.
The final day was 'Supercar Day', even though we'd already been treated to many. Members of car club Drivers Union saw 50 of its members rumble into the grounds with some extreme kit, including a McLaren Senna GTR which has been converted by specialists Lanzante for road use: pretty much the wildest thing you'll ever see with a number plate.
Once again, the London Concours brought the world's most buzzworthy cars – both old and new – to the capital.
Words: Adam Hay-Nicholls
Opening picture: © Tim Scott, Fluid Images