Having never heard of a "Sea-tox", I was intrigued. Will I be de-toxifying in the sea itself? Is the Spa made entirely out of seawater? Are the therapists animated Disney sea creatures and if so, will I finally turn into Ariel (my childhood dream…)?
These were my first thoughts on arriving at the Hotel Bellevue, Croatia, part of Lošinj Hotels & Villas, a member of Preferred Hotels and Resorts.
My second thought was that suddenly, I had the lungs of a superhero. This was the cleanest and sweetest air in the world. It turns out that the seawater here has an unusually high concentration of minerals, there are over 200 sunny days per year – something my London brain struggles to grasp, 1,200 species of plants – 230 medicinal – and Aleppo Pines emitting terpenes, all of which makes this the "healthiest air on the planet". And this is before you even get to the front desk of this spa resort which is destined to be known as the jewel of Croatia's wellbeing.
The Bellevue Spa Clinic offers a complete ecosystem of wellness, just steps from the healing turquoise waters of Čikat bay.
Stepping into The Bellevue several things immediately happen. It is like entering the "dream home away from home you always wanted" with the added feeling that you're about to be spoiled rotten. Expert Spa consultant Melissa Mettler greeted me, and my bags were immediately taken to my room, while I was whisked to a quick refresh and light Sea-tox lunch: tuna tartare with balsamic vinegar pearls and seed crackers for which you'd gladly commit crimes, followed by the freshest seabass and grilled vegetables with a side of rocket and cherry tomato salad with extra virgin olive oil. I seriously considered taking the chef back home with me.
My light Sea-Tox lunch started with tuna tartare, balsamic vinegar pearls and seed crackers for which you'd gladly commit crimes.
On to the Sea-toxing! I began with a Cryosauna Solo, the same gizmo used to create Captain America. This is a sub-zero cabin (-120°C) aimed at encouraging cellular rejuvenation, metabolism activation, immune system boost, increased skin collagen production and burning up to 800 calories in three-five minutes. Yes, it's sub-zero, but you stamp up and down, scream, swear, laugh, save a fortune on psychoanalysis, and then sleep like a baby that night – something I don't do easily.
Next came Dorotea, who put me on SECA, a bioimpedance body analysis machine. Suffice it to say that while Dorotea is delightful, SECA and I were instantly not on speaking terms. However, after telling her (the machine) right off, I appreciated her feedback and started work on getting my health back to its optimum level.
The Cryosauna can help with cellular rejuvenation, metabolism activation, immune system boost, increased skin collagen production and burn up to 800 calories in 3-5 minutes.
Enter Lucia, who gave me my signature Sea-tox Spa treatment – a detox massage incorporating vigorous, repetitive strokes, using hands and specialised rollers to break down cutaneous tissue, fibrous cellulite and all thoughts of the world outside. She deployed sea plant extracts, magnesium and some cupping – which is as mysteriously de-stressing as it sounds. Straight on to light tea, a fig snack and a curtained, white relaxation area where I promptly fell asleep for an hour.
Dinner – like all the food here – demands to be described: grilled baby squid, roasted peppers, courgette and aubergine in an olive oil vinaigrette, along with samphire salad and turmeric coconut chai. This, like the entire Adriatic diet, leaves me wondering, why don't I eat this all the time? And then I remember I'm not a Michelin-starred chef, unlike Lošinj's Michael Gollenz, who is. But I also remember that I have already decided to take him, along with the rest of his kitchen, home with me.
Apart from detoxing, there is a wide range of activities at The Lošinj Hotels & Villas, including cycling, sailing, snorkelling and morning yoga.
The next few days are a festival of toxin-ridding unwinding: magnesium baths followed by de-toxifying massages; tides fixer massage for the prevention of cellulite and reducing fluid retention; floating massage on a specially designed Aqua cushion; biking around Cikat bay; a day out sailing the Adriatic; forest bathing; snorkelling around the other islands; and morning yoga on the Alhambra beach deck. My highlight was the Qi Gong and cold water immersion in a jacuzzi filled with 300kgs of ice. I was taught a mind-over-matter breathing technique which allowed me to accomplish over 10 minutes immersed in ice (brushing my shoulder off as I write this) Also available at the Hotel Bellevue is tennis with expert coaches, personal trainers at the expansive gym, fishing, scuba diving and yachting. A new pattern of life evolves: detox, sleep (better than you ever have); eat, sleep (better than you ever have); play, sleep (better than you ever have).
During her stay, Nina Wadia enjoyed a day sailing on the crystal-clear waters of the Adriatic.
Lošinj Hotels & Villas are a hop and skip from London and most European cities. A short flight to Rijeka, followed by a taxi ride via a ferry and you are there. There are several other ways to get to the hotels that can be curated specifically for you, such as by catamaran, luxury car transfer, and private air transfer from many Croatian and European airports, including Venice and Zagreb.
My first few nights were at the larger, Bellevue Hotel, where I had a sea-facing, elegant and quiet room, and the latter few, at the wonderful boutique Hotel Alhambra, a few paces down, whose villas radiate old-school charm. The Villa Rouge in particular is occasionally inhabited by celebrity sportsmen and their families. It's covered in onyx walls, stunning Moreno chandeliers and is appointed with three different coloured kitchens over three floors, with a butler and personalised staff to cater to your every whim.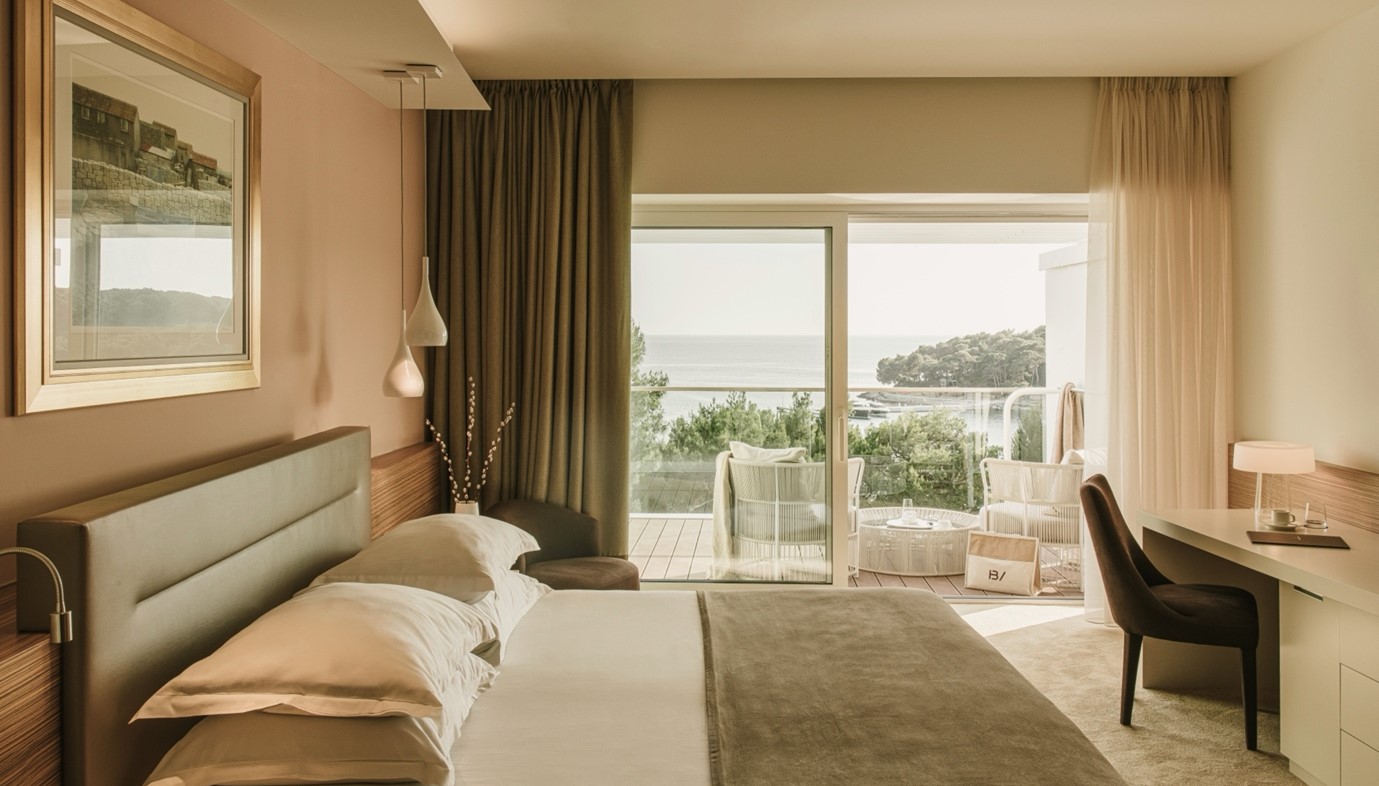 At the Bellevue Hotel, Nina Wadia stayed in a sea-facing room.
By the end of the stay I was detoxified, I was rejuvenated, I was lighter. I had been magically transformed from a land princess into Ariel the mermaid. Well, no, but I did go around singing "Part Of Your World" and also booked my return visit (if only because they wouldn't actually let me take the kitchen and chef home…)
I never believed there could be such a thing as a "Wellness Island" but I am a convert. Lošinj is a real find and I am now, part Ariel to say the least.
Words: Nina Wadia
More information about Lošinj Hotels & Villas HERE.
Opening picture: Hotel Alhambra, part of Lošinj Hotels & Villas.