As early as 150,000 years ago, humans started to wear jewellery. The first we have record of is a necklace made of seashells, found in Morocco. Gold jewellery emerged around 6,000 years ago among cultures such as Meso-America, Mesopotamia, Ancient China, Ancient Egypt, Ancient India, and Ancient Greece and Rome. Gemstones were incorporated by the Egyptians, around 4,000BC and diamonds started to appear in jewellery in the fourth century BC, first in India and spreading from there.
Every people in the history of mankind have felt a strong connection with the sun (except maybe the Inuit). The sun is the giver of life, symbol of energy, power, vitality and often, considered a deity. As such, we find jewellery influenced by the sun in the history of many cultures in civilisations to the present day. I've been having a look at sun inspired jewellery this summer and found some real gems (forgive the punt). I hope they'll inspire you too.
HARRY WINSTON MANHATTANHENGE SUITE
The House of Harry Winston introduced earlier this summer the Manhattanhenge suite within its New York Collection– an exquisite high jewellery necklace and earrings that celebrate the beloved Manhattan phenomenon. Coined by astrophysicist Neil deGrasse Tyson in 1997, Manhattanhenge is when the rising and setting sun peers perfectly through the city's east-to-west streets, casting a brilliant orange glow throughout the sky. It happens twice a year. A New Yorker friend of mine told me that the place to be is 42nd Street, near 2nd Avenue for one and closer to 7th Avenue for the other, that way you'll experience it from both the east and the west side of the Big Apple.
Harry Winston's interpretation captures the sun's beautiful golden hues in a necklace comprised of pear-shaped and round brilliant diamonds interlaced with pear-shaped spessartites in a fluid pattern that mimics the beams of natural sunlight. A pair of complementing diamond and spessartite earrings complete the suite. More details on Harry Winston's New York Collection HERE.
DIOR JARDINS DE LA COUTURE NECKLACE
In the Jardins de la Couture collection, Victoire de Castellane – Creative Director of Dior Joaillerie – pays homage to two of Christian Dior's sources of inspiration, nature and couture. As such, the pieces are structured, with motifs that appear architectural, almost abstract. Combining precious metals and gemstones, de Castellane plays with different finishes on gold plaques, such as glittery lacquer, to reiterate the sparkles of diamonds in a game of hide-and-seek around exceptional stones shining in the centre.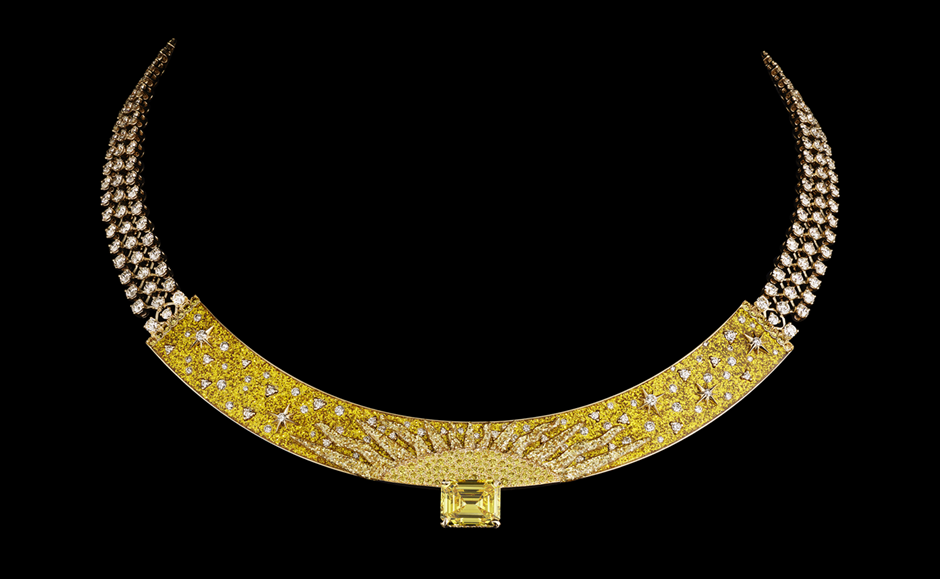 In this yellow gold necklace with white and yellow diamonds, a new lacquering technique with added sequins has been specially developed to make the Mini Milly Soleil Céleste set of jewels come alive. Dedicated to sunshine, the sun is pictured diffusing the warmth of a yellow central radiant cut diamond all over the pieces, where sequined yellow lacquer highlights the soft sparkle of the diamond stars. Find out more about Dior's Joaillerie Jardins de Couture collection HERE.
BULGARI HARRODS SERPENTI NECKLACE AND EARRINGS
Last November, a solar snake was seen slithering across the sun's surface just before a massive plasma eruption. The snake consisted of a stream of cooler plasma crushed between magnetic fields in the hotter surrounding plasma of the sun's atmosphere. The snakes featured in this suite are also made of an element crushed from millions of years, carbon, which resulted in glorious diamonds, here in a round mount and pavé setting, building the scales of the serpenti, alternating in every other with 18kt yellow gold.
Shedding its skin for three quarters of a century, Bulgari Serpenti celebrates its 75th Anniversary in London with the opening of an exclusive pop-up shop at Harrods during the month of July.
The Serpenti Viper suite is an ultra-modern interpretation of the Bulgari icon and its endless metamorphosis and transformations. UK exclusive until December 2023. More details about the Harrods Bulgari Serpenti Viper suite HERE.
ELIZABETH GAGE MABÉ PEARL SUN RING
In her younger years, Elizabeth Gage spent a lot of time researching at the British Museum, so when she embarked on her career as a jeweller, she often found inspiration in ancient civilisations such as the Romans, Aztecs or Persians. In all of them, the sun featured prominently at the top of the deity hierarchy, as the strongest and most powerful of the gods, giver of life and light.
Elizabeth Gage's Mabé Pearl Sun Ring measures 25mm from top to bottom, making it a statement piece that follows the current fashion of bold rings that were first in vogue in the 1920s.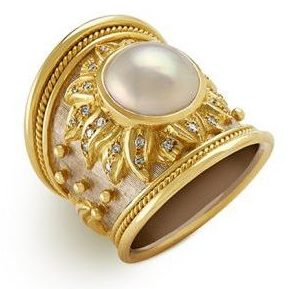 This beautiful 18kt yellow and white gold sun ring features a round Mabé pearl in a sunburst motif decorated with twenty-eight round brilliant cut diamonds. Mabé pearls, as the one in this ring, are flat-bottomed, half-spherical pearls that grow attached to the inner shell of a mollusc, rather than in the soft tissue, as is more common.
A flame motif wraps round the back of the ring, which is finished with gold bead detail and a wire-twist-wire edge. Find yours HERE.
GEMFIELDS X MARGERY HIRSCHEY BARCELONA EARRINGS
Known for her handmade asymmetric designs and her use of only 100 percent recycled metals and ethically sourced gemstones, Margery Hirschey sees herself as an artist who creates jewellery. In this sun-shaped earrings crafted in 18kt gold, the core of both pieces is a cool diamond slice with spindly rays featuring Gemfields' Mozambican rubies, symbol of love and life. The bottom one is finished with a hanging diamond briolette that sparkles when it catches the light as leaves of silver birches do when the sunlight reflects on their surface. The earwires are diamond-studded and the earrings as a whole are hinged in three sections so they can move freely with the wearer.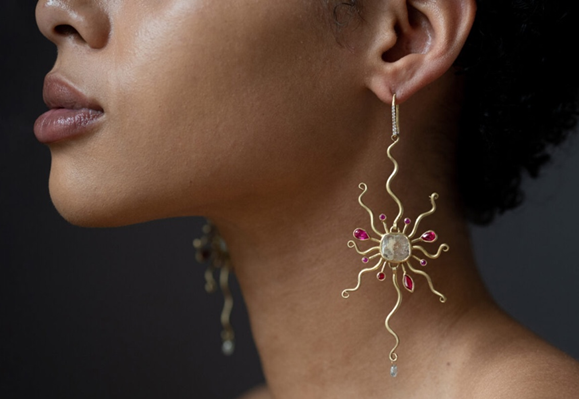 The collection's innovative approach goes beyond the confines of what is considered "fine jewellery" incorporating ancient styles and techniques to modern, easy-to-wear designs. Find more about the Gemfields x Margery Hirschey Barcelona collection HERE.
Words: Julia Pasarón
Opening image: Dimitri Svetsikas, Pixabay