Tucked in between tailors, business consultants and law firms lies Wiltons, an institution in Mayfair which started its journey more than 280 years ago. What started as a shellfish stall near Haymarket in 1742 ran by George William Wilton, grew into Wilton's Shellfish Mongers and Oyster Rooms, a business that kept expanding under generations of the Wilton family. In 1840, they secured an alcohol licence, making it a fully-fledged restaurant. Wiltons was now hugely respected and by 1868 it had received its first Royal Warrant as Purveyor of Oysters to Queen Victoria and also to the Prince of Wales.
The place is full of legends. One claims that during WWII, a bomb fell nearby and the then owner, Mrs Bessie Leal, took off her apron, carefully folded it and declared she had had enough. Wiltons was acquired there and then by one of its customers, a Mr Olaf Hambro, who simply told Mrs Leal to "put the restaurant at the end of the bill". Knowing nothing about running a hospitality business, Mr Hambro hired Jimmy Marks, who was at that time the Oysterman at Bucks Club. With him as Head Oysterman until his death in 1976, Wiltons grew even more popular; and many say that it was Mr Marks who made Wiltons into what it is today. Upon his death, Wiltons named after him a private room. A discreet, lovely way to remember him and keep him in the restaurant for decades to come.

The Jimmy Mark private room accommodates up to 20 guests and stands for exquisite food and superb service.
Favoured then by aristocrats and foreign dignitaries, today Wiltons is a preferred lunch spot for the business community of Mayfair, politicians and those looking for a long leisurely lunch enjoying the most delectable ingredients the UK has to offer, lovingly prepared by head chef Daniel Kent and his team.
I am a sucker for a place with a good story, so I was really excited about lunching at Wiltons. As we arrived, we were taken to one of their highly sought-after booths by the Maitre d'. Our sommelier, Daniel, quickly brought us a glass of Wilton's Brut by Beaumont des Crayères, a champagne that comes from a small cooperative of growers, who have been making this delicious wine since 1955. It goes extraordinary well with oysters and seafood, so that helped us with our choice of food. We started with a selection of Oysters: Jersey Rocks (from the eastern coast of the island), Loch Ryan Natives and Carlingford Rocks, from Northern Ireland. The Loch Ryan native is very compact and meaty, and like other native oysters, nutty, creamy and quite savoury; so best eaten after the two rock varieties, which are more subtle in flavour and briny, with delicate mineral notes.
Wiltons' Oyster selection includes delicate, briny Jersey and Carlingford Rocks, as well as the meatier, creamy Loch Ryan Natives.
Vincent, the restaurant manager, insisted we followed with a plate of Scottish langoustines, which had been caught that same morning in the shores of Inverness. Sweet, succulent and firm-fleshed, these beauties made my palate dance with joy. Next was Dover Sole meunière. The presentation of the fish on the plate reflected the respect given to it in the kitchen. Dover sole is rare (what explains its price) but relatively common around the shores of Britain. Its meat is firm and fleshy, which allows it to cope with heavy sauces – such as meunière – despite its sweet and delicate flavour. We chose to accompany it with sides of leaf spinach and new potatoes.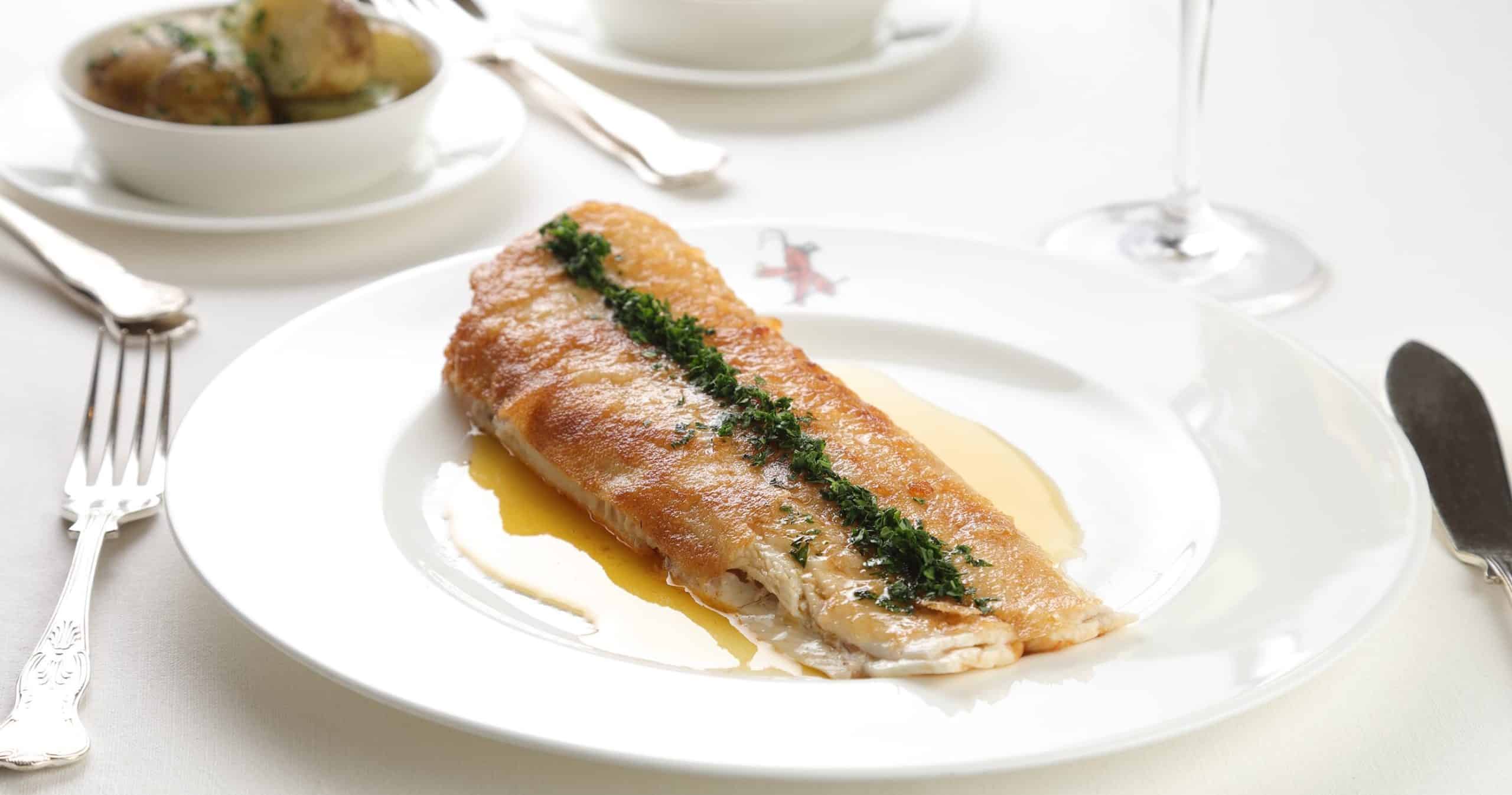 Fillet of Dover Sole meunière, one of the stars on the Wiltons menu.
If you are more of a carnivore than a pescatarian, Wiltons offers a great selection of meats, and a carving trolley with a different cut every day, except for Fridays, when it's salmon.
Sweet lovers have plenty of choices at Wilton's. I opted for their famous Summer Pudding, made with brioche, berries and clotted cream. Not too sweet, with just the right amount of tartness coming from the berries, all enveloped by the silky texture of the cream. Simply delicious.
The recipe for the renowned Wiltons Summer Pudding is now available on their Instagram account @wiltons1742.
From the 2nd to 31st of May, Wiltons offers a spectacular seven-course Coronation Menu for £150 per person (plus £125 if you opt for wine pairing). It consists of an Asparagus Velouté with morel and truffle cappuccino; Citrus Cured Cornish Monkfish with fennel dressing, lemon and samphire; Morel Mushroom Risotto, Rhug Estate Rack of Lamb, served with peas, baby onions and wild garlic; a palate cleanser in the form of an apple sorbet; Rhubarb and Nyetimber Sparkling Wine Jelly, with custard cream shortcake; and coffee or tea with a selection of petit-fours. The Wiltons Coronation Menu is available for dinner Monday to Saturday, 17.30 to 20.45.
Wiltons
55, Jermyn Street, London SW1Y 6LX. Tel. 020 7629 9955
Words: Julia Pasarón