London is recognised as one of the gastronomic capitals of the world, offering the best in international cuisine, from Peruvian to Moroccan, Argentine to Danish. One of the latest addition to London's exciting gourmand scene is Gouqi, a high-end Chinese restaurant, led by Chef Chee Hwee Tong, best-known to all foodies for his work as Head Chef of Hakkasan Group. Under his leadership, the group became a global leader in contemporary Chinese cuisine, with Hakkasan, Yauatcha and HKK all winning Michelin stars.
At Gouqi, Chef Tong's interpretation of Chinese cuisine keeps evolving, pushing the boundaries of creativity with innovative dishes and techniques, developed from the experience he's gathered over the decades. The food is of course, the star of the show but I feel compelled to comment on the contemporary design and atmosphere of the restaurant. The main space is very spacious, with ample banquette seating and views of the kitchen. There is a more private area with three booths, two private dining rooms and 18 seats at the bar, for those who fancy just some appetisers. The subtle choice of colours, noble materials, low lighting and Chinese artwork, all contribute to give Gouqi an understated refined appeal.
For those seeking a bit of discretion, Gouqi offers three booths in a semi-private area of the restaurant.
The food is everything you'll expect from a restaurant of this category. There is a startling abundance of flavours, techniques, ingredients and dishes drawn from all across China and given Chef Tong's special touch. There are two tasting menus and an à la carte option. After having a little chat with our waiter, Michael Padzer, we chose the eight-course tasting menu, with wine pairing.
First to arrive was Botan Prawn Tartare and Octopus with Rice Wine. Fresh, sharp and sweet at the same time, this was the first sample of all the deliciousness ahead of us. Bar manager and sommelier Jamie Rowe paired with a glass of 2015 Domaine Mader, 'Rosacker' Grand Cru Riesling. A refreshing, medium-bodied wine that feel in the mouth like drinking liquid gold.
Next was Black Truffle Roasted Duck and Honey-Glazed Iberico Char Siu with Salted Egg Yolk. Rich and succulent, this dish was superbly matched with 2015 Licis, Mencia by Franck Massard, a French top sommelier turned winemaker, who moved to Spain to handcraft wine from small plots, like Licis, in the northwest of Spain. The wine is elegant and full of fruit tones, which cut through the fattiness of the duck breast and the egg yolk enhancing the potency of their flavours.
From the left: Botan Prawn Tartare and Octopus with Rice Wine; Black Truffle Roasted Duck and Honey-Glazed Iberico Char sui with Salted Egg Yolk; Chargrilled Silver Cod with Yellow Bean Sauce and Passion Fruit; and Stir-Fried Asparagus with Mushroom and Olive.
An aromatic, palate-cleansing Double-Boiled Herbal Duck Soup with Peach Gum was served afterwards, followed by one of the stars of the tasting menu, Chargrilled Silver Cod with Yellow Bean Sauce and Passion Fruit. This is one of those dishes that show the respect of a chef for good produce. Light and sweet, with so many layers of flavour that even the toughest critic would succumb to its charm. Singing from the same hymn sheet is the Angus Tenderloin Beef with Black Pepper Sauce. Chapeau to the chef. Again, a homage to the cattle from north-eastern Scotland, which, thanks to its natural disposition to marbling, is a favourite in far-eastern cuisine. Head Sommelier, Valentin Bunea, pairs it with a 2012 Sierra Cantabria, a Gran Reserva Rioja, mature, complex and well-balanced, with notes of berries, a hint of vanilla and some spice.
Pure gluttony is the only reason we managed to reach the last dishes on the menu, the Stir-Fried Asparagus with Mushroom and Olive and the Abalone, Chicken and Shrimp Fried Rice in Superior Stock, and the dessert, which came on the form of Dark Chocolate, Matcha and Goji Berry, the latter being the word from which the name of the restaurant derives, and a symbol of health and vitality.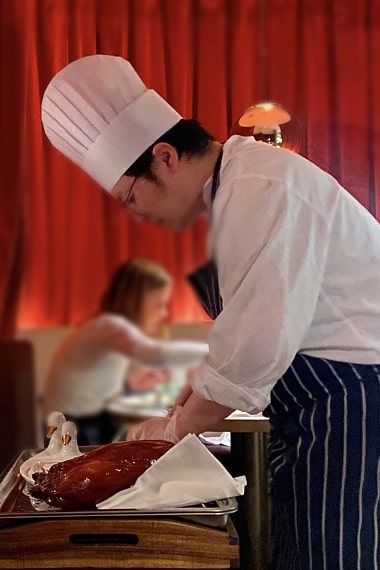 Left: Cherry Wood Roasted Peking Duck being carved table side. Right: Served with Oscietra Caviar
I would have loved to explore the à la carte menu, but I'll have to come back for that. We practically had to be wheeled out of the restaurant. I've been told that Gouqi's seafood is to die for, as it is their Cherry Wood Roasted Peking Duck, which is carved tableside, and served three ways: first, with crispy duck skin served with sugar, fresh strips of cucumber, slices of spring onions, and homemade duck sauce to roll inside homemade pancakes. Second, the remainder of the meat is stir-fried as a second course and served with crisp baby gem lettuce wraps. There is also an option to add on a third course with Oscietra Caviar to start.
Completing the dining experience, Gouqi has a range of extraordinary rare teas, including Emperor's Golden Eyebrow – of which only two kilos per year are produced in the world and served exclusively at Gouqi in the whole of the UK; and Jin Jun Mei, a black tea, hand rolled entirely from tender spring buds by Master Wen in the protected forests of the Wuyishan, and which requires more than 100,000 buds to make just one kilo of it.
Gouqi Restaurant
25-34 Cockspur St, St. James's, London SW1Y 5BN
Tel: 020 3771 8886. Email: reservations@gouqi-restaurants.co.uk
Words: Julia Pasarón