With Father's Day round the corner, we have taken a few tips from the most stylish celebrity dads around to give you some ideas of what to get for your dad as a present or even better, why not going out shopping with him? It could be a really fun day. Whether your dad is a suit man or one that looks his best in a white shirt and a pair of jeans, we hope you'll find our suggestions inspiring.
SHIRT: For a casual, yet stylish look, we have selected this linen shirt by Hackett. The slim fit elongates the torso and helps to hide unwanted "front pouches" grown over the winter months.
When rolling up your sleeves, remember to start by turning the cuff upwards and dragging it to the lower part of the bicep.
The summery Duck Egg tone goes with any skin tone. Roll up the sleeves – always below the elbow – for a touch of Hollywood coolness. Buy it HERE.
TROUSERS: it has to be a pair of chinos, the staple of any male summer wardrobe. The name comes from the eponymous original cloth, a twill fabric made of 100 percent cotton. Today it is also found in blends with synthetic fibres. It was developed in the 19th century for British and French military uniforms and crossed over to fashion after WWII.
These Chinos by Philipp Plein coolness to a classic with the sprayed touches of colour on the bottom of the legs.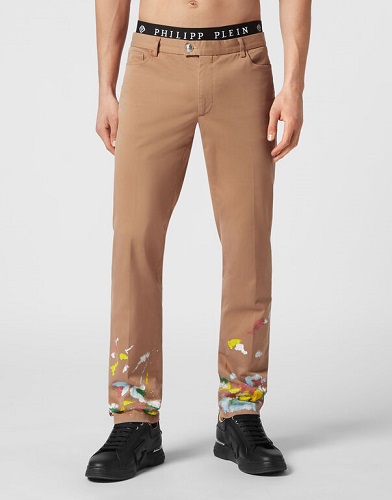 Brad Pitt, Jude Law and Alexander Skarsgard are among the celebrities who love a pair of chinos. We have opted for the Chinos Trousers Dripping by Philipp Plein, made of stretch cotton gabardine, with sprayed colour drippings on the bottom of the legs. They feature five pockets and the PP Hexagon on a saffian leather patch sewn on the right rear pocket. Get them HERE.
SHOES: Celebrity dads like Will Smith and David Beckham are often seen wearing trainers proving that the casual footwear can also look stylish. We have opted for Berluti's Shadow Knit and Leather sneakers in grey.
Made from Technical knit, with Venezia calf leather details and neoprene lining, this is an easy to wear trainer that can dress up or down your outfit, depending on the look you are going for. The low cut and padded insole make them extra comfy. Buy them HERE.
WATCH: For this look we have opted for a Bremont ALT1-C Cream, which was one of their very first pilot's watches, introduced in 2007. Inspired by the heritage of aviation, the Alt1-C Cream integrates a chronometer-rated Modified Calibre 13 1/4''' BE-50AV automatic movement, balancing fine watchmaking with the latest technical advances in terms of precision and durability.
The aesthetics of the watch are accentuated by a brown leather strap with brushed stainless steel pin buckle. An elegant and functional watch that wears as well in the office as it does at the opera or among the clouds. Find it HERE.
SHADES: Moscot Tinif Sun in Tortoise/Gold. Designed and prototyped by fifth generation, Zack Moscot in New York City, these sunglasses have been handcrafted using a combination of stripped metal and Italian acetate with titanium nose pads. They feature diamond rivets and Moscot temple engravings.

Tinif Sun Shades feature Moscot's signature custom made tints in Chestnut Fade. Get yours HERE: 
FRAGRANCE: Made from 100 percent natural and sustainably source ingredients, Brioni Eau de Parfum Essentiel comes in a sleek, sustainable glass bottle by Bormioli Luigi, with an ombré, forest green lacquered finish. Like the previous three fragrances by the Italian luxury brands, Eau de Parfum Essential has been created by legend parfumier Michel Almairac, who scouted the world for the very best ingredients.
Among the many components that make Eau de Parfum Essentiel so special are the verdant notes from Calabrian bergamot and aromatic cardamom from India, Sri Lanka and Guatemala, a variety of tonka bean never used before in perfumery that complements the earthiness of Indonesian and the long-lasting trail of resinous frankincense from Somalia. Available HERE.
BACKPACK: Everybody is wearing one these days. I personally celebrate that men are now using bags, of all kinds, but especially backpacks. Women are not the only ones that need to carry stuff around with them and backpacks are practical and many are drop-dead stylish. Chris Hemsworth and Ryan Gosling are among the celebrity dads who are often seen carrying one. Our choice is the new Rimowa Flap Backpack Large from its Never Still collection in slate.
This new backpack is made from a new nylon material with a subtle metallic sheen reminiscent of Rimowa's iconic aluminium suitcases.
This is German functional design made in Italy, for a touch of sophistication. Despite is modern appearance, the water-repellent nylon fabric echoes the metallic sheen of Rimowa's classic aluminium suitcases while the grooves embroidered on its surface are another wink to the German classic. The bag also features bespoke metallic hardware in a sleek black matte finish, padded webbing straps, and a matte black leather-made reinforced bottom. Inside, it has a pouch for a laptop, two phone pockets and one zipped pocket. Get yours HERE.
Words: Julia Pasarón
Opening picture: Pasja1000, Pixabay.