With the first coronation of a British sovereign in 70 years, the red, white and blue bunting has been hung across the nation and beyond. Saucepans are being filled with the curried chicken that marked the crowning of Elizabeth II, while ovens are heating up the veggie-conscious 2023 alternative: Charles III's officially-sanctioned spinach quiche. However, should you wish to dine like a king, one needs to turn the menu up a bit.
Which is why we've entered the festivities by indulging in a special menu in the private Drawing Room, at The Goring Hotel, washed down with the Royal Family's preferred fizz, courtesy of the Bureau Champagne UK. The only hotel to hold a Royal Warrant, The Goring is located just metres away from the western wall of Buckingham Palace, a convenient and discrete location for the Windsor clan's drinks and dinners whenever they've wanted to get out of the house. They love it so much, there are even rumours of a secret tunnel. Charles and Camilla are regulars. The late Queen and Queen Mother were lifelong fans and hosted their staff parties here. The Princess of Wales spent her last three nights as plain Kate Middleton tucked up in the £8,000-a-night Royal Suite ahead of her wedding to Wills, and it was from here that she was driven to the Abbey.
The Princess of Wales spent her last three nights before her wedding to Prince Williams at The Goring's £8,000-a-night Royal Suite.
Champagne has long had regal connections. In 496AD, King Clovis was baptised not in Paris but Reims, the capital of the Champagne region. From 816 to 1825, the French monarchs were crowned in Reims Cathedral. From the Middle Ages onwards, champagne flowed freely at coronation banquets. For this reason, it quickly developed its reputation as "the wine of kings" although at the time, the wine from this region wasn't fizzy, or rather, not on purpose. Due to the abysmal temperature differences between winter and summer, the Champagne wine would often experience a second fermentation, causing CO2 bubbles to form in the wine. Although the winemakers considered it bad news, some thought it was fun and slowly but steadily its popularity grew.
Champagne experiences a second fermentation in the bottle, generating CO2, which dissolves into the wine and forms bubbles.
Rumour has it that the French aristocrats that escaped the revolution celebrated still being alive by drinking champagne everywhere. By 1800, it was being drunk by high-rollers around the world, but Queen Victoria was the first foreign royal to embrace it and formalised its place in her household. During a visit to France in 1868, she ordered a shipment of 100 bottles of champagne to the British embassy in Paris. Queen Victoria was also the first to christen a ship by smashing a bottle of champers against the hull, in celebration and to proffer good fortune to the vessel and all those who sailed on her.
Many champagne houses hold a Royal Warrant. In the UK, Bollinger, Lanson and Joseph Perrier all got Queen Vic's nod, with more issued since. Victoria's son, King Edward VII, was reputed to enjoy a tipple to such an extent that he bathed in it. In more recent times, Elizabeth II was said to enjoy a glass (or two) every day of her long life. Today, champagne houses account for nine of just 20 non-British Royal Warrant holders. Laurent Perrier is the only one to hold the Royal warrant of HRH The Prince of Wales. Clearly, it's the Windsor's most crucial import. It may be France's proudest product, but the United Kingdom is the most enthusiastic market for it, only second to the USA in both volume and value.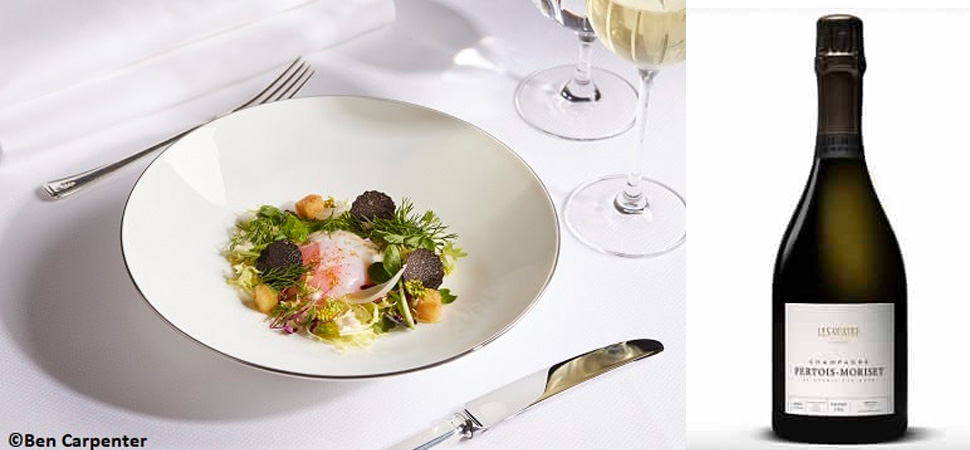 The slightly smoky, citrusy notes in the Pertois- Moriset blanc de blancs enhanced the flavour of the truffle in our coddled egg salad.
For our meal, we're served champagne from warrant-holding houses, starting with Lelarge-Pugeot, which supplied a crisp and citrusy Nature et Non Dosé 1er Cru 2016 with the canapés. The first course of coddled egg with summer truffle and garden salad (part of The Goring's Coronatiom menu) was accompanied by Pertois-Moriset's Quatre Terroirs Grand Cru Blanc de Blancs NV. Also part of the Coronatiom menu, our main of organic lamb (a favourite of King Charles') with flavoursome barbequed asparagus, broad beans, tomatoes and anchovies was paired with a vibrant Laurent-Perrier Cuvée Rosé NV.
The only thing you can't pair champagne with, we're told, is chocolate, and so, instead of having the white chocolate pudding in the Coronation menu, we had roasted red plum with warmed gingerbread and a spiced plum sorbet. It paired perfectly with the slightly peppery Pol Roger Rich Demi-Sec NV, a brand which remains a favourite of the royals having been introduced to it by Sir Winston (whose mother, incidentally, used to live at The Goring). Both Kate and William's and Meghan and Harry's wedding receptions were lubricated with Pol.
Laurent-Perrier's Cuvée Rosé has raspberry and redcurrant flavours that paired beautifully with our main course of organic lamb.
May 6th has been touted as a coronation for a cost-of-living-crisis, with a shorter parade route and a reduced costume budget, but you can rest assured Charles III will not scrimp of the champers. May we see English sparkling wines given a warrant and served at the palace banqueting tables? Quite possibly. Certainly, sustainability is a chief concern of His Majesty. Meanwhile, the Champagne region have been trendsetters in this area; in 2003 it became the first wine region to assess sustainability, with 63 percent of vineyard areas – and there are 16,000 growers – now certified as sustainable by the Comité Champagne. The aim is for the industry's carbon footprint to be zero by 2050.
Until then, God Save The King and let's have a top up.
www.champagnelelarge-pugeot.com
www.laurent-perrier.com
www.pertoismoriset.com
www.polroger.co.uk
www.thegoring.com
http://www.champagne.fr/en
Words: Adam Hay-Nicholls