Glass of preferred libation in hand, Master of Wine Mark Bingley, director and founding member of MMD (Maisons Marques et Domaines, established 1986), sat back in his chair and with a small sigh reminisced that, "The world of wine has changed in both form and global reach." Wine as a collectable has proven to be as fluid as most assets over the last four decades. "It started in the 1980s, when it became the thing to do – and at that time, the prices on premier wines were relatively low," he says. "Ten years later, if you chose a particularly good wine and vintage, the price would go up fast, and you might sell some. Nowadays, a lot of producers are very aware of the secondary market, and want a piece of the action." It is the same with collectors and investors.
Master of Wine is generally recognised as one of the most difficult qualifications to obtain. Since its inception in 1953 by the Worshipful Company of Vintners and the Wine and Spirits Association, only 498 individuals have passed, and Bingley knows he is number 115 on the list. He was in his 30s, which made him one of the youngest ever to pass. To be a Master of Wine, you have to qualify in both practical and theoretical elements.
"Suddenly people realised that wines from overseas were better in many cases than some which were revered in France."

– Mark Bingley MW
When Bingley started his career, the wine industry was very much France-orientated, with contributions from other European countries. "A lot of people were buying wine simply to have something nice to drink," he says. "And they loved having it literally under their feet in a beautiful cellar, where there is a constant temperature and good conditions for storage. Eventually, people had 20- and 30-year-old bottles in perfect condition that they could pull out for a dinner with friends. Isn't that exciting? To me, this is the most fun with wine."
Initially, Bingley intended to be a barrister, roaming the halls and inns of court around Middle Temple. He entered the wine trade more through luck than judgment, but it was love at first sip. What was initially intended as a temporary job – to ease into the working world – turned into a full-time vocation.
This was a time when the wine trade was expanding across the globe, thanks to an event in 1976 known as the Judgment of Paris. The "judgment" was a blind tasting organised by Steven Spurrier, a British wine merchant, for some of the most renowned French experts. They were expected to endorse old-world vineyards, but the opposite occurred. In both the red and white wine categories, California labels Stag's Leap, Ridge, Chateau Montelena and Chalone were placed either top or within the first five places – much to the chagrin of the French. So much so that one of the judges, Odette Kahn, demanded her ballots back, since she couldn't believe she had voted for wines from Napa. It was pivotal moment in the industry. "Suddenly people realised that wines from overseas were better in many cases than some which were revered in France," Bingley says. "It was a real wake-up call for a lot of growers, and pushed them to do better, which they did."
As a result, the global map for the wine trade changed forever. Europeans started to fly in winemakers from Australia to improve their wines, as they used better techniques. "Producers in the south of France were just churning out wine the way their grandfathers did," Bingley says. "It wasn't very palatable. The Australians were able to turn these grapes into something actually very good."
Étoile Rosé by Domains d'Ott, Cristal Brut Champagne 2014 by Louis Roederer and Castillo Ygay Gran Reserva 2011 by Marqués de Murrieta, outstanding wines from three of the vineyards in the MMD portfolio.
The same revolution in production affected the top level. An increasingly scientific approach to winemaking had a significant influence on the great châteaux in Bordeaux, where they started rethinking their methods. "The global trade in wine knowledge started to operate in both directions, with people from Bordeaux or Burgundy going to Australia or California, and vice versa, thus completing two harvests in one year," Bingley says. "It led to a big change in quality across the board."
One of the beneficiaries of the new world order was Champagne. What had once been seen as a "fun wine" was now taken very seriously, with vintage bottles gaining ground in terms of price on top Bordeaux. "Top vintages such as 2002 and, more recently, 2008 have gone stratospheric," Bingley says. "There's a lot of potential growth there. For anybody who's interested in speculating in value, I would recommend taking advice from their wine merchant in order to find the vintages that are thought to be really good."
The Judgment of Paris has, over time, not only been made into a movie called Bottle Shock but also fed through into the vintage market, with prices at auction escalating. What was once the preserve of grand French wines has become a global market in scope. The most expensive bottle ever bought at auction was an Imperial (six litres) of Screaming Eagle cabernet sauvignon from a Californian vineyard. The sale took place in 2000 in Napa, and the lucky bidder was Chase Bailey, a Silicon Valley executive, who paid $500,000 for it. That still does not overhaul the price paid for a 750ml bottle of Château Lafite 1787 that was reportedly once in the possession of Thomas Jefferson, auctioned for $156,450 at Christie's London in 1985. But the difference between the old world and the new in terms of collecting is diminishing.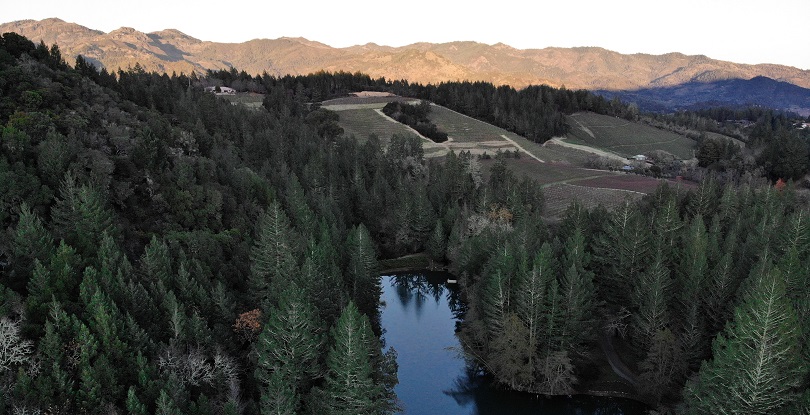 Diamond Creek in Napa Valley is the latest acquisition by the Louis Roederer portfolio, managed by MMD Ltd in the UK.
With wine now viewed in the same way as most asset classes, the question naturally arises as to whether Bingley can "drink his own predictions". In other words, if you have the education and knowledge about the market, can you live off what you perceive will happen in the future? As a founding member and Fine Wine Director of MMD, he has responsibility for sales to prestige wine merchants as well as the selection, presentation and communication of their finest wines. MMD was set up to manage Louis Roederer Champagne sales and distribution in the UK, along with its portfolio of vineyards. Today it has grown to represent many of the world's top producers, the latest acquisition being Diamond Creek in Napa Valley.
The other part of the problem for wine enthusiasts who wish to collect is the amount of money in the market. As with any collectable asset, once it is identified as a store of value, it becomes speculative. Predicting exceptional vintages has become a subject of study by notable applied economists and statisticians. Professors Orley Ashenfelter and Richard Quandt of Princeton University, both wine collectors, estimate that a great vintage, in terms of price, can be summarised by an equation where the predicted price for a vintage bottle of wine is equal to – 12.145 (a constant you don't need to know) + 0.00117 x winter rainfall + 0.0614 x average growing season temperature – 0.00386 x harvest rainfall. In plain English, a great wine comes down to weather variations; more winter and less harvest rain, plus warmer temperatures in the growing season, lead to a better outcome.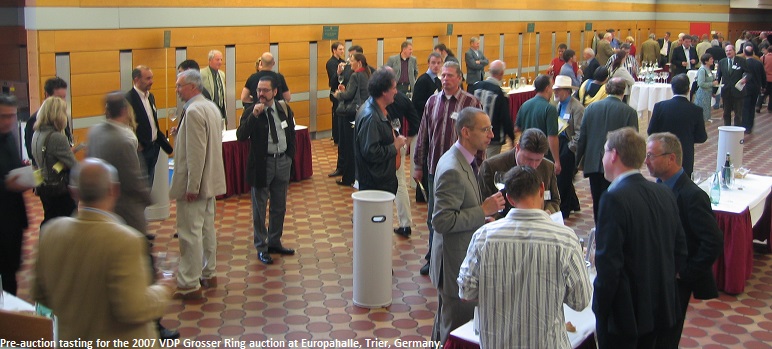 The annual VDP Grosser Ring auction has been held since the late 19th century and is a chance for wine lovers to get their hands on some extremely rare wines from Mosel-Saar-Ruwer which are not available via traditional sales channels.
Bingley took another sip of his wine and summarised the situation. "The problem with people viewing it as a financial transaction is that it pulls a lot of wine out of the market and places it in bonded warehouses," he says. "That action in itself creates scarcity, which pushes prices up. The resulting spiral means that people who simply love their wine may find that they are priced out of the market by the super-rich."
As to the future, Bingley can only speculate that the same trends will prevail. Whereas more and better wines will become available and affordable to enjoy, as an investment the amount of money devoted to collecting labels will create further scarcity at this level.
Words: Dr Andrew Hildreth