Usually associated with its University (Keir Stammer, Mark Knoffler, Chris Pine and Princess Kako of Akishino are all among their notable alumni), its summer festival and Emmerdale, Leeds is also a bastion of culture, with both a resident opera and a ballet company, inspiring museums and a remarkable street art scene, which has become one of its hottest attractions for seekers of the original and unusual.
Street art has a history in Leeds, with striking works such as the Mabgate Mural (1988) – by Janet the Wagt – and Cornucopia – commissioned by the old owners of Leeds Corn Exchange and painted by Graeme Wilson in 1990 – both decades before street art became a real thing. The last work joining the rich display in the streets of Leeds is the Constellation mural, commissioned by luxury Swiss watchmaker Vacheron Constantin.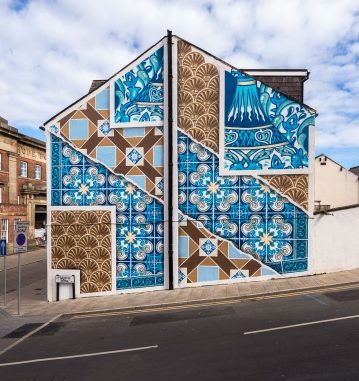 Left: Mabgate Mural – artwork by Add Fuel, photo: Doug Gillen. Right: Cornucopia – photo: Carl Milner, courtesy of Visit Leeds.
Vacheron Constantin has very strong ties with the world of art at a global level through their ongoing partnership with The Louvre, but they also get involved at a local level in the different cities where the historical brand has boutiques. In Leeds, the intention was to support local artists and create a piece of work that the whole community could enjoy. It was with this idea in mind that East Street Arts, a charity devoted to empowering artists from the grassroots up, introduced them to Paul Miller and Griet Beyaert, the creators of Constellation. 
Paul Miller and Griet Beyaert working on the concept of Constellation.
The leaders of this initiative at Vacheron Constantin worked closely with Paul and Griet from the beginning, spending a lot of time exploring the history of the brand and what it stands for. From there, they gave the artists total creative freedom. "Vacheron Constantin's core beliefs are embedded in the flow of creativity; their work is more than brilliantly made timepieces and technical ingenuity, it is the result centuries old reverence for art, craft and open-mindedness. This openness and dialogue also meant that they really trusted us to get on with it, which is great for artists," shares Paul. 
As important as it was to come up with a concept that resonated with the watchmaker's thinking around creativity, it was also vital to the artists to create an artwork that would harmonise with the forms of the listed building where the Vacheron Constantin boutique is located. The same principle was applied to the projection mapped piece that they made for special occasions. "The architecture is more than a canvas," comments Griet, "it's an integral character."
"We didn't want to just put an image on a building that could have been anywhere, we wanted the building to be part of the artwork."

– Griet Beyaert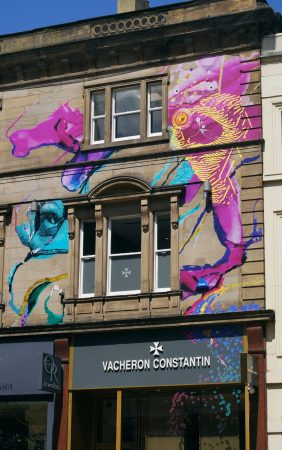 Griet and Paul worked together until they honed down their sketches to five variations, which then they developed into digital artworks and projected these at almost full-size scale onto a photograph of the building to see how it looked and decide which elements worked and which didn't. The mural artwork was used as the starting point for storyboarding a video, sound piece and projection mapping design. Griet describes the process as "very organic, once we had our main storyline, which was in essence the concept of this single idea sparking a constellation." 
The artists created sounds, music and visuals inspired by this idea. "We recorded audio separately, using a mixture of analogue and digital instruments and different techniques," Paul explains, "then bought the elements together to see what fit and how a narrative flow would work and eventually honed down a final edit for a six-minute piece. The video sequences were then edited to synch with the soundtrack."
The final result is a mural that pays homage to the Maison's motto, "One of not many", and celebrates the identity, dynamism and culture of the city of Leeds, integrating Vacheron Constantin's boutique within the regional artistic scene and inviting a new appreciation of a familiar building in the creative city centre.
Paul is an interdisciplinary artist with a particular passion for conversations between science and art, specifically promoting engagement and learning through collaborative projects and creative output. His work includes sound design and music, painting, large-scale interactive installations, projection mapping events and live AV performances. 
Griet Beyaert is fascinated by the physical experience of the spaces we inhabit. Her practice encompasses the use of multiple audio-visual, traditional and new technologies. She thrives on combining the unexpected with the chaotic to then follow a process that will lead to the final artwork.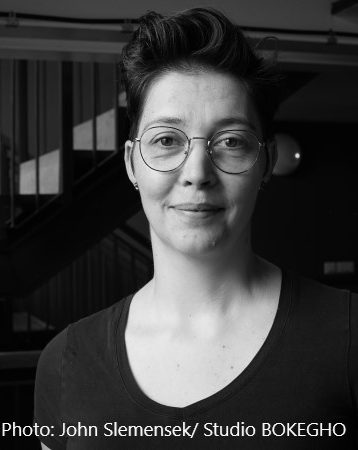 This project has been placed under a wider campaign in the Leeds called A City Less Grey ran and spearheaded by East Street Arts. Since becoming a charity in 1998, East Street Arts has been empowering artists to be self-determined, take control, incite change and influence decision-makers to improve people's lives and environments. Working from the grass roots up, they value talent, ambition and innovation from a position of inclusivity and opportunity, thus promoting positive change about models and ethics of working and living.
A City Less Grey is an initiative that commissions artists working in public places, aimed at supporting the development of new work with artists whose practice or aspects of their practice operates outside of traditional art establishments and to profile the wide spectrum of Street Art.
For more information and appointments, visit HERE.
Vacheron Constantin Leeds
21 Commercial St, Leeds LS1 6AL, United Kingdom
Tel: +44 113 831 4778
https://www.eaststreetarts.org.uk/
https://www.whoispaulmiller.co.uk/
Words: Julia Pasarón