Opening on 16th September 2023, the V&A is to stage the first UK exhibition dedicated to the work of French couturière, Gabrielle "Coco" Chanel, possibly the most influential woman in fashion, ever. She devoted her life to promoting a new kind of elegance based on freedom of movement and revolutionised the world by introducing garments such as the woman's suit and the "little black dress", the quilted bag, costume jewellery, and of course, one of the most famous fragrances in history, Chanel No. 5, created as an extension of her clothing and interpretation of modernity.
This long-awaited show charters the evolution of her iconic design style and the establishment of the House of CHANEL through 10 different sections, which go from the opening of her first millinery boutique in Paris in 1910 to the showing of her final collection in 1971. The curators have carefully analysed her professional career, the emergence and the development of her style, and her contribution to the history of fashion.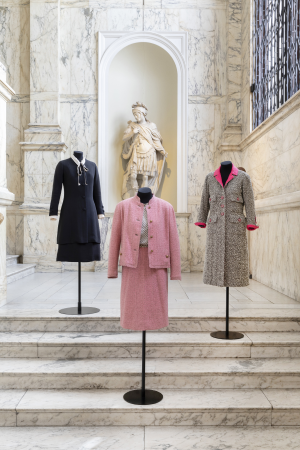 Examples of the ensembles designed by Gabrielle Chanel on show at the V&A exhibition in London.
Showcasing many for the first time, the show presents a stunning array of Chanel's most notable designs from her 60 years in fashion as well as jewellery, accessories, cosmetics, and perfumes. Highlights include original costumes designed by Coco for the Ballets Russes production of Le Train Bleu in 1924; outfits created for Hollywood stars Lauren Bacall and Marlene Dietrich; her British inspirations such as the adoption of tweed; an early example of Chanel's ground-breaking evening trousers and ensembles from Chanel's final collection of 1971.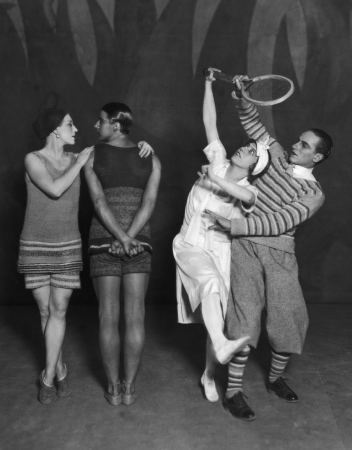 Lydia Sokolova, Anton Dolin, Bronislava Nijinska and Leon Woizikowsky after the first performance of Le Train Bleu in Britain, at the Coliseum Theatre in London (1924).
Visitors will be able to explore the origins and elements of her enduring style, see for themselves the templates laid down by Gabrielle Chanel, which to date, are still being used as a source of inspiration by CHANEL. Such was Coco's charisma, talent and determination that, despite her very poor origins and breaking up every rule in the book of fashion at the time, within five years of opening her first shop, she had attracted the interest of the richest and most influential women in Paris. Her motto, "Luxury must be comfortable, otherwise it is not luxury" probably was the silver bullet that marked the end of all previous fashion styles, which involved rigid corsets, bustles, wire frames and other contraptions that would have probably always belonged in a torture chamber rather than in a closet.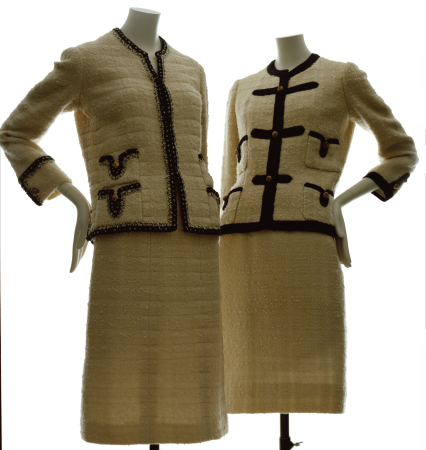 Left: suit A/W 1963-64 in wool tweed, silk pongee, flecked galloon and gilded metal Paris; suit A/W 1960-61 in Burg wool, wool braid, silk pongee and gilded metal Paris. Middle: evening dress A/W 1929-30 in silk and tulle embroidered with fantasy paillettes Paris. Right: Evening dress S/S 1930 in silk and satin with inserts Paris. All patrimony of Chanel. All three pictures © Julien T. Hamon
Described by Vogue in 1964 as "the world's prettiest uniform," the Chanel suit was a declaration of her vision of modern femininity, stylish, comfortable and easy to wear; so much so that it remains a staple reference for fashion today. As early as the late 1950s onwards, Chanel had adapted her suits to include a range to be worn into the evening. These cocktail suits followed the same form as those designed for the day but realised in a plethora of richly decorative fabrics such as gold and silver lamés, textured weaves and intricately patterned silks.
Gabrielle Chanel, dress and jacket in silk taffeta from the S/S 1926 collection, the same year she created her immortal "little black dress". © CHANEL.
Chanel designed first and foremost for herself. By creating clothes for an independent and active lifestyle, she anticipated the needs and wants of modern women. Chanel's innovative approach to fabric, silhouette, and construction drafted a new framework for fashion in the twentieth century, leaving a legacy that has never gone out of style.
Gabriel Chanel. Fashion Manifesto
V&A London. Cromwell Rd, London SW7 2RL
16th September 2023 – 25th February 2024
Exhibition presented in partnership with Palais Galliera, Fashion Museum of the City of Paris, Paris Musées.
More information and tickets HERE.
Words: Lavinia Dickson-Robinson
Opening image: Gabrielle Chanel, 31 rue Cambon, Paris (1937). Photo: Roger Schall.