Food is social glue. It connects us across customs and cultures, just as it has Andy Woolmer of Pembrokeshire Oysters and Jonathan Williams at Café Môr. Together, they're restoring local flavour to the fishing village of Angle.
I visited them a couple of months ago, to understand why customers drive hundreds of miles to eat here. First, I see Jonathan Williams, one half of the duo I'm here to meet. He is bright and convivial. In minutes, he's produced tea, coffee and plates of laverbread wraps with cockles and bacon, the whole lot shored up by smoked salmon, roasted peppers and pickled seaweed.
Next, a pint of prawns arrives, along with Andy Woolmer, the can-do marine biologist putting Angle oysters back on the culinary map. Clouds break over the estuary that a nearby placard describes as "rich soup". The previous weekend, it helped feed over 400 people courtesy of The Josie June – a former fishing boat reborn as the world's first solar-powered, mobile seaweed kitchen. It's recently dropped anchor in the beer garden to our right. Less than a mile away, on the Atlantic edge are Andy's oyster beds.
Customers travel hundreds of miles to enjoy Woolmer and Williams' seafood.
The sweeping arc of East Angle Bay provides natural shelter for Pembrokeshire Oyster's award-winning molluscs, and our host's 17th-century inn stands as its charming landmark. "When I built the farm, I aimed for the pub," Woolmer laughs, passing me a neat wooden crate. I already know what's inside – a dozen rock oysters, hand-grown and graded in the Class A waters that lap mere metres from our feet. So close you can catch their scent, so pure you can eat them straight off the beach – specialities to savour with nothing but a drop of lemon.
The wind picks up quickly, driving us indoors to eat. "We took over this time last year," Williams recalls. Quite a task, after decades of decline. "There was a tree growing in the kitchen, and 400 years of damp to dry out." But this project was personal: "I'm Pembrokeshire born and bred, and Point House has been a huge part of my life." Many locals would agree, including Angle Lifeboat Station, which honoured prior owners for their services to the RNLI.
With steps straight down onto the beach and situated on a coastal path, Café Môr and the adjacent Old Point House restaurant have become a destination by themselves, attracting thousands of visitors every year.
It's a far cry from where his business started: selling Mediterranean-inspired pintxos at £10 stalls in the markets of Tenby, St. Davids and Fishguard. "I cooked at my mum's, and set out with her 1970s tablecloth," Williams says. He traces the idea back to his Greek granddad, with whom he grew up "eating all kinds of seafood in beachside tavernas", and it resurfaced while he was teaching English in San Sebastián. "It's not like the UK, which has always been a bit boring with the stuff." Fast-forward to 2011, and Williams' celebration of Welsh seafood won him Best of the Best at the British Street Food Awards – an accolade that led to "20,000 wraps" for the Summer Olympics in London, and several showcase performances at the Glastonbury Festival.
Williams is obsessed with seaweed. "I love laver [local seaweed] – the way it tastes and adds flavour to any kind of food. Laverbread is one of this country's greatest delicacies, and fundamental to our culture." Indeed, breakfasts of bara lawr fuelled the mining era in the 18th century, building a cottage industry around the coasts of south and west Wales. By the 1960s, processed goods and shifting palates consigned it to history.
Williams is reviving the old tradition with a twist of innovation. "Seaweed is the backbone of everything we do," he confirms, gesturing to two impressive menus and a full deli range that includes fresh and dried seasonings, condiments, butters, drinks and desserts. But his interest extends beyond entrepreneurialism; he's working with Swansea University to identify indigenous laver species, monitor ecologically sound harvesting techniques and "make 'babies'" for a seaweed farm. Other studies by the University of Reading show what a sustainable superfood it is. "Seaweed contains more vitamins and minerals than any land-based vegetable," Williams tells us. Compared with conventional food crops, it needs no ground, fresh water or pesticides, and can yield up to 20 times quicker. "They call it the 'lungs of the world'," he adds, "because it produces 80 percent of our oxygen."
Jonathan Williams is finding original and delicious ways to introduce laver seaweed (left) on his menus and deli range, whilst Andy Woolmer is concentrating his efforts in breeding award-winning oysters like this large natives (right).
Woolmer's efforts are leading a sea change in the region too. One hundred fifty years ago, oysters were another prized staple at Angle. But overfishing and disease in the '80s and '90s reduced the native population to practically zero. Decades spent at the intersection of marine biology and fisheries management taught Woolmer much about the complexities of a blue economy: commercialising seafood and conserving the habitat from which it's sourced. "I was at a workshop in London when something clicked," he says. "I'm a problem-solver and wanted to find a win-win situation."
His first port of call was Mumbles, Swansea's onetime oyster capital, on the Gower peninsula. There, he "moved from theory into practice", raising £88,000 of funding to demonstrate the positive impact of restorative aquaculture. "We plunged cameras down to the ancient beds and saw shells, but no oysters," Woolmer says. "So, we restocked about 40,000 large broodstock specimens, which went on to spawn." In spat and larval form, oysters have an 80 percent survival rate in their first six months. And soon, he continues, fishermen "spotted them growing on whelks, which proved they could thrive in places they'd long since left".
"Oysters are hungry filters," Woolmer explains, "and each one can effectively 'clean' up to 50 gallons of sea water per day." This process removes planktonic organisms that can cause algae blooms, and the modern farming method of using "bags and trestles" offers a safe habitat for fish and other crustacea. From his phone, he cites Bren Smith, a regenerative ocean-farming pioneer and co-founder of the non-profit GreenWave: "If you were to build [bivalve] farms in less than 5 percent of US waters, you'd sequester as much carbon output as 20 million cars and create 50 million jobs and the protein equivalent of three trillion hamburgers." Food for thought.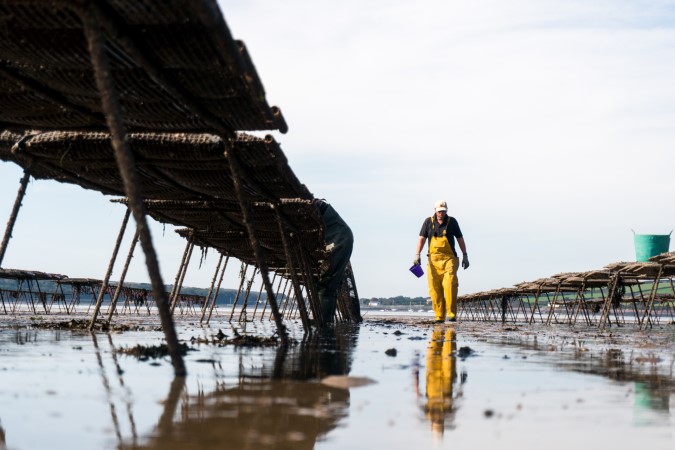 Andy Woolmer walking beside the oyster trestles of his farm, in the Class A waters of the Daugledddau estuary.
Closer to home, our remote haven seduced Woolmer in 2015. "It wasn't part of the plan, but I arrived and thought, 'God, this feels oystery – you can smell the food. They'll grow here!'" Grow they did. Today, Pembrokeshire Oysters and its distribution arm, Atlantic Edge Oysters, harvest both rock and native varieties in the Daugleddau estuary, part of the Pembrokeshire Marine Special Area of Conservation. "It's a literal sweet spot," Woolmer says, "because you've got nutrient-rich waters from the Atlantic mixing with freshwater that flows from the Preseli Mountains through salt marshes and seagrass beds." This unique "merroir" (what terroir is to wine) lends these oysters their characteristic quality: a citrus-ozone punch. Or "seaside loveliness", to quote the judges at the Great Taste Awards 2022. "But you've got to bite into them," Woolmer insists. "That's when the umami flavour develops."
These wild, fruitful products of their environment sell strongly at Café Môr. "We didn't expect such a demand," Woolmer admits. "But the public love what we're doing.." The pair ran their inaugural Oyster Festival in October 2022, offering 12 varieties – some raw, others cooked on an open fire.
We're riding the wave of what unites these two surfers now – a passion for the ocean and seafood in its broadest context. Fork in hand, Woolmer finishes up: "It's about taking elements of the past to create a better future."
Pob lwc*, guys!
The Old Point House, Angle Village, Angle, Pembroke SA71 5AS. Tel. 07422 535345
https://beachfood.co.uk/pages/cafe-mor-menu
Words: Richard Lieberman
* "Best of luck"
Words: Richard Lieberman
Opening image: East Angle Bay in Pembrokeshire
All images provided by Jonathan Williams and Andy Woolmer