Under the generic title Planet Summer, the Southbank Centre has been running this season a series of programmes, shows and events exploring themes of care, hope, connection and activism aiming at inspiring us all to reconnect to the natural world, and to find new ways of treasuring and protecting our climate. Reframe: The Residency Exhibition is the latest show.
"Reframe" is a programme which provides the technical tools and resources for emerging creatives in the UK to develop their own voices and position themselves for lasting careers in their chosen fields, helping to address and remove the systemic barriers to career development these artists face.
The programme has two key components, "The Residency", a career acceleration programme for black and black mixed heritage creatives aged 18-30, of which this show is part of; and "Inspire Schools", a project for 21 secondary schools to spark a passion for creativity among the next generation of talent, providing a powerful creative experience for participants early in their creative journeys. Together, they aim to inspire Black creatives to make the art of the future, building a cultural legacy for the UK.
Reframe: The Residency Exhibition reflects the response of 77 emerging black artists to the climate change emergency.
These two distinct programmes are offered across three creative hubs: in London at the Southbank Centre, and by working in partnership with Factory International in Manchester, and STEAMhouse and MAC in Birmingham.
Reframe: The Residency Exhibition presents 13 works by collectives of artists from the areas of London, Manchester and Birmingham. Through an immersive audio-visual installation that combines film, photography, music and sound design, 77 emerging black artists present their response to climate change. The collaborative nature of the show symbolises the urgent need for collective action to safeguard the future of our planet.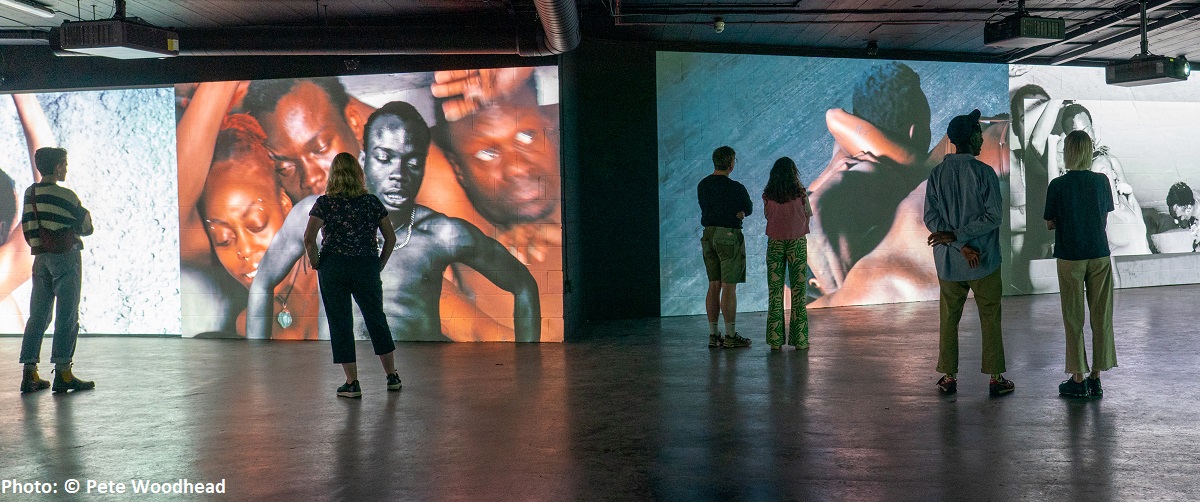 In the show, the artists explore themes and topics about how climate change disproportionately affects communities of colour and younger people.
Responding to their familial heritage from the African continent and the Caribbean to the urban landscapes of Britain, the artists explore themes and topics about how climate change disproportionately affects communities of colour and younger people, which may be triggering or challenging for some visitors. As such, some of the scenes are very impactful, depicting dead animals, content relating to the death of a child and the medical impact of pollution on children. Definitely a thought-provoking show that may leave you feeling a little bit uncomfortable and hopefully, even more aware of how close we are to losing the battle against global warming and its consequences.
Reframe is supported by Apple and is part of the company's global Racial Equity and Justice Initiative (REJI). 
Reframe: The Residency Exhibition runs until 27th August 2023 at The Southbank Centre, Belvedere Road, London SE1 8XX. More information and tickets HERE.
Words: Lavinia Dickson-Robinson
Opening picture: © Linda Nylin