From unexpected drops and collabs to an emergent category of microbrands spearheading innovation, the wild world of watchmaking is alive and well in 2023. And at the forefront of it all is Generation Z, a rising cohort of consumers – all aged under 25 and born between 1997 and 2012 – who are shaking up the industry with their insatiable appetite for newness and high-quality products.
Isra Shah, director of UK sales and marketing at Swiss watchmaker Oris, points to several factors that are contributing to Gen Z's engagement with the watch market. "For Oris customers, the popularity stems from a need for an accessory that will last forever and hold meaning," she says. Shah highlights several of Oris's most recent launches, including the limited-edition Big Crown Pointer Date Cervo Volante, which sits on a strap made of sustainable deer leather, and the Aquis Date Upcycle, a reimagining of the Swiss brand's popular three-hand-date divers' watch punctuated with a recycled PET dial, both of which cater to Gen Z's concern for environmental welfare. "We've seen that Gen Z are much more aware of their impact on their future and the actions they can do to make a change," she adds. "They want to tell people about the sustainable leather in their watch or the recycled plastic in the dial. They see watches as more than just timekeeping devices, they should make a meaningful impact on the world."
Three of the Oris models popular with Gen Z consumers: Big Crown Pointer Date Cervo Volante, ProPilot X Kermit Edition and Aquis Date Upcycle.
When it comes to actively investing in brands that reflect what they care about, Gen Z's passion for nostalgia runs deep. So, when Oris launched the ProPilot X Kermit Edition at this year's Watches & Wonders fair in Geneva, the response was swift. "A much younger following has been attracted to this watch," says Shah. "[The timepiece] brings a sense of nostalgia, almost vintage like, with Kermit the Frog on the first of the month. Our philosophy is that on the first day of the month, you need to take some 'me time' which again they [Gen Z consumers] realise is important in the fast-paced lifestyle that they lead."
Another factor driving Gen Z's interest in horology is the influence of social media, which, as Daniel Yi, chief marketing officer at the pre-owned marketplace Bob's Watches in Newport Beach, California points out, has aided in enticing new collectors to the field. "This is a generation that has grown up in an era of digital content and social media, and even the younger side of Gen Z is much more aware of luxury brands," says Yi. "Rather than needing to discover watches through a friend or family member, the internet has made it easier than ever before for new watch enthusiasts to learn more about their favourite brands and dive deeper into this hobby." Beyond this, the popularity of the Apple Watch has led Gen Z to engage more with mechanical watchmaking. "When they discover that even the most affordable Swiss mechanical watches cost as much or more than the top-of-the-line Apple Watch, they are intrigued and want to learn more about what makes a watch worth thousands or even millions of dollars," says Yi.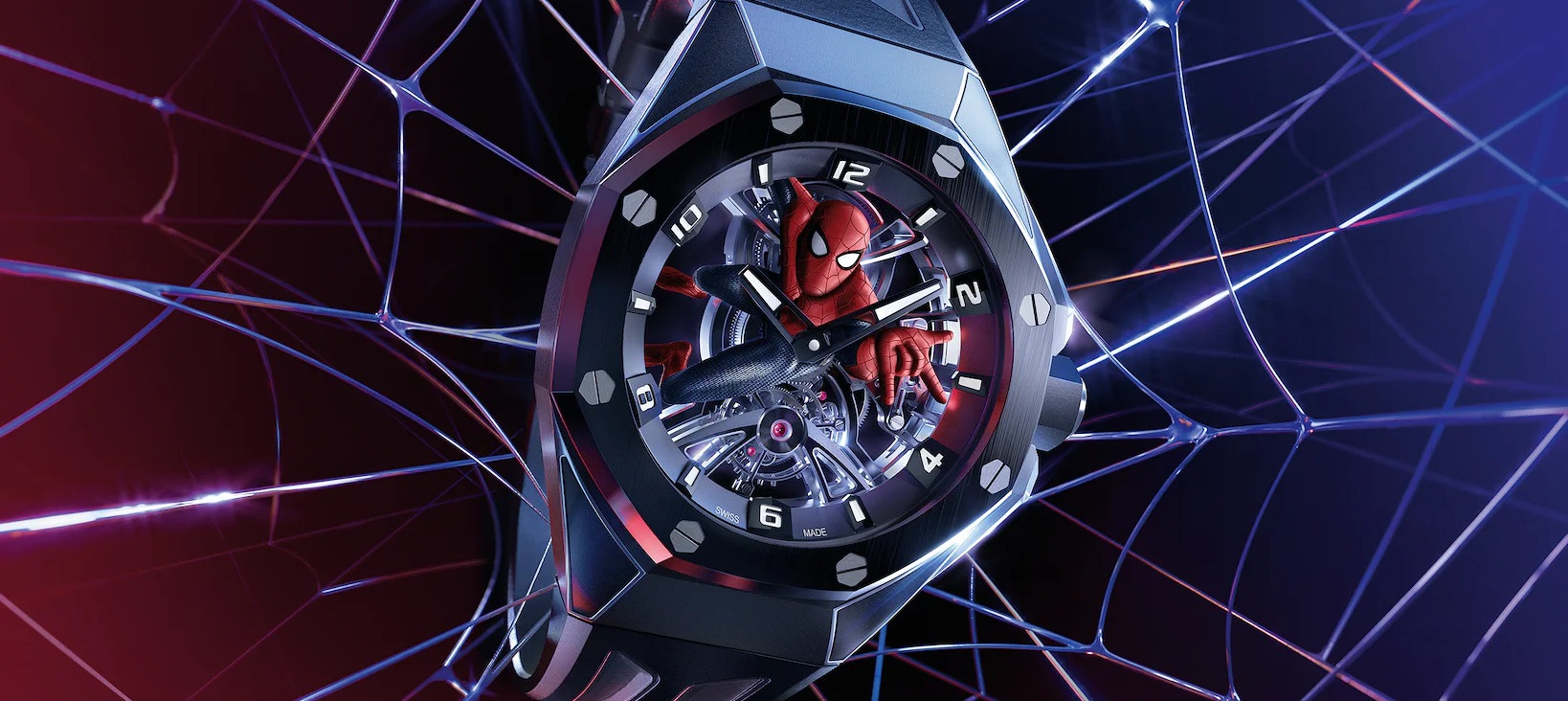 Audemars Piguet Royal Oak Concept Tourbillon Spider-Man, a feat of skeletonization, where the superhero appears to be suspended from the dial as he passes through the tourbillon mechanism.
So, how are contemporary watchmakers catering to this new segment? "Many high-end brands are embracing a less traditional approach to luxury," says Yi, referencing a recent crossover between Audemars Piguet and Marvel Entertainment, which saw the MCU's most recognised characters, including Spider-Man and Black Panther, sculpted into the Swiss brand's emblematic Royal Oak. "The great thing about watches is that a truly timeless design will always be in style and relevant to buyers."
As for which timepieces are getting the most engagement, "outside of the ultra-affordable offerings, Rolex is probably always going to be the gold standard, but you can also get an amazing watch from blue-chip brands like Omega, Tudor, and Breitling for surprisingly reasonable sums when shopping on the pre-owned market," says Yi. "Additionally, some of the more affordable Swiss brands such as Longines, Oris and Tissot are also likely to be popular among Gen Z collectors."
With their sharp lines and slim design, the new Tissot PRX models quickly became staple pieces for those looking for a watch with modern features and a vintage style.
Sylvain Dolla, CEO of Swatch Group's Tissot, reveals that the brand's first-ever PRX Quartz launch was a huge hit among those aged 18 to 35. "It answered the demands of consumers looking for a modern watch with a retro touch," says Dolla, reflecting on the watch's affordability and '70s-inspired design. "The campaigns that accompany it, like the product, are also edgy and flamboyant with a modern appeal, which helps us reach that target," she adds. "The whole collection is experiencing huge success amongst the younger generation thanks to its style and quality of design, to which you add an attractive price, and you have a winner."
Words: Joshua Hendren
Opening picture: Brett Sayles, Pexels