Noëlla Coursaris Musunka was born in the Democratic Republic of Congo (DRC) to a Cypriot father and Congolese mother. Losing her father suddenly at the age of five, then being sent away to relatives in Switzerland as her mother could no longer support her, had a traumatic and profound effect. Isolated from her home with very little contact with her mother, she sought salvation in education, where she worked hard and eventually gained a degree in Business Management. It was during this time, that she realised education was the gateway for young girls and women to take control of their futures.
At the age of 18 and following a successful modelling career which saw her appear in various campaigns including Agent Provocateur, and on the pages of Vogue, Elle and Vanity Fair, she was finally reunited with her mother and her homeland. It was there that she witnessed first-hand the poverty and lack of opportunities for women, so in 2007, Noëlla founded Malaika, a non-profit, grassroots organisation, empowering Congolese girls and their communities through education and sustainability programs.
 "Community empowerment is a continuous effort, so each month, we visit different villages to connect, educate and support."

–  Noëlla Coursaris Musunka
Today, Malaika consists of a free, accredited school that provides a comprehensive education to 430 girls each year. She has fundraised for and built a community center that offers a range of educational and practical programs to 10,000 youths and adults. These include a sports center partnered with FIFA, a clean water program with over 30 wells that service 45,000 people each year, medical centres for the community, a farming program that provides fresh food for the children and staff. BAFTA award winning actress Thandi Newton is a proud supporter of Malaika and has donated money to build three wells. Noëlla has named each one after Thandie's three children.
"Noëlla's ambition to help girls in her birthplace of Congo is a thriving reality," Thandi comments. "These girls are the future because Congo is the center of the world – literally! It is rich, fertile with resources that the West hunger after. It's been called the worst place in the world to be a woman because of the human rights catastrophes that are unleashed by warring over the illegal export of minerals. Rape is a weapon of those wars. These girls, and their radiance, are humbling to say the least. We can help them and help the beating heart of our beautiful world. They're our flesh and blood."
Through a comprehensive, local approach the entire village of Kalebuka has undergone a transformative process with a ripple effect extending DRC and Africa – and it all started with education.An educated woman is more likely to give back to her community, inspiring others to attend school thus cultivating a sense of independence.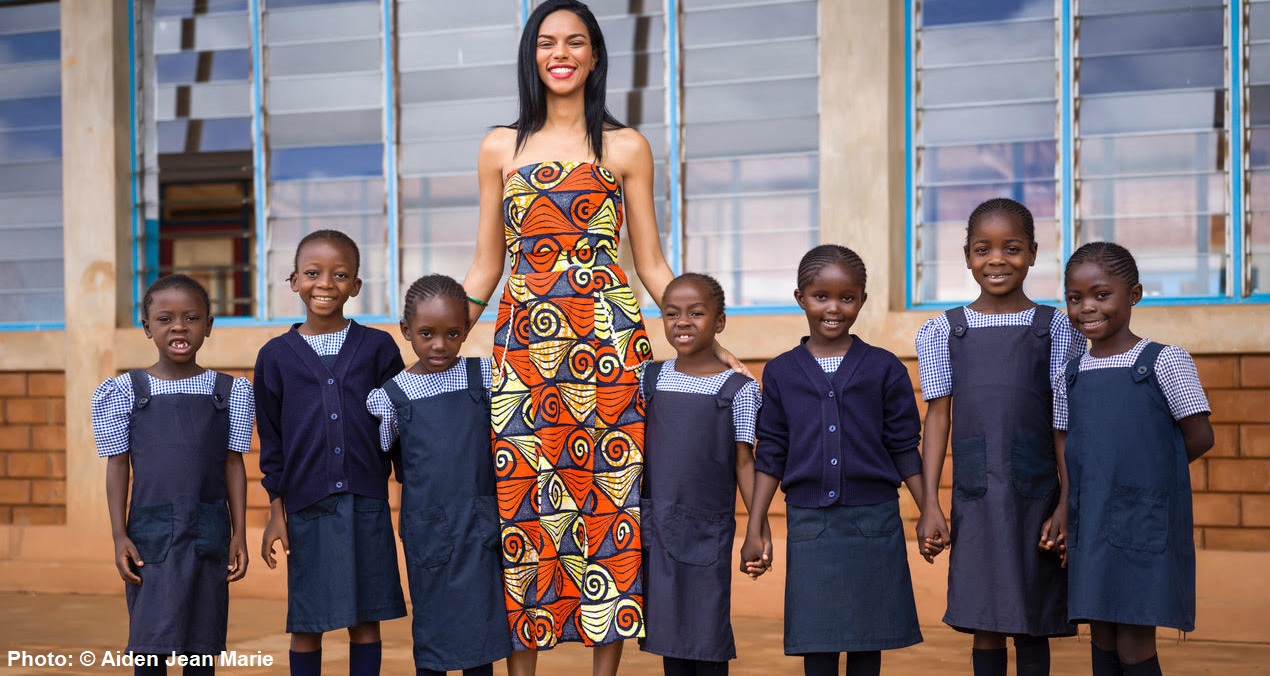 Noëlla with young students who are in education thanks to initiatives by Malaika.
Dorcus was enrolled in the school at the age of five and is now a 12-year-old in the 6th grade! Since starting at Malaika she has learned English, French, started playing tennis and is learning how to code. With a big smile, she comments, "Malaika has supported me through my childhood and gave me the chance of an education – a chance that a lot of my friends do not have. Today I can read, write, and speak French. I can use a computer, code and complete grammar exercises and math online. I spend half of my free time in the library reading and always like to be at school, because every day I am there, I am learning".
"Malaika has supported me through my childhood and gave me the chance of an education – a chance that a lot of my friends do not have."

      –  Dorcus

 
Noëlla lives in the UK with her husband and children and was named one of the BBC's 100 Most Influential & Inspirational Women. In 2018, she received an award from the House of Mandela at the Nelson Mandela Centenary Celebration; she was presented with a prize named "Daughters of Greatness" by the Muhammad Ali Foundation for the work she carries out and she is part of the United Nations Conscious Fashion and Lifestyle Network. She was also named a member of the L'Oréal Fund for Women Endowment Fund Advisory Committee. Recognised globally as an authority on children's education, she is a much sought after public speaker, who has spoken to countless audiences as far-ranging as Davos, UNICEF, UK Parliament, Harvard University, European Parliament; she has appeared several times alongside former President Bill Clinton on Clinton Global Initiative panels; Princess Caroline of Hanover at the annual AMADE plenary sessions; the World Innovation Summit for Education, and has been a two-time judge for the EY World Entrepreneur of the Year Award.
For more information on Malaika please see HERE.
Words: Shelley Campbell