In my job, I get to meet incredible talent from all walks of life, some with iconic status on the world stage, some reasonably known and some completely new, fresh and fearless. Clearly fitting into this last group is designer Sara Nezir. From her atelier in Istanbul, and with only two collections to her name, she has taken the international fashion scene by storm with her uncompromising approach to femininity.
The oldest of four children, Nezir was born in the north of Iraq, and grew up between Istanbul, London and Dubai, as her parents are international entrepreneurs. Although she majored in Business and Management at Oxford Brookes University, her heart was in fashion. So, upon graduating, Sara enrolled at the London College of Fashion, and then at the ESMOD fashion institute in Istanbul. "It was during these years that I truly fell in love with the world of luxury fashion," Nezir says. "I knew this was the career path I wanted to embark on."
"The purpose of my first collection was to stop masquerading women as men or sexualising them wanted to reintroduce the concept of femininity."

                 –  Sara Nezir
The idea of Énnush came to her during lockdown. "I had a yearning to get back out into the world," Nezir says. "I wanted to create outfits that would allow women to embrace their beauty and femininity after months of being locked inside." Énnush is her nickname for her little sister, Inas, who was the inspiration for her fashion brand. "Inas is a young woman with special needs who has never allowed her condition to interfere with her life." Nezir shares with pride. "She is very strong, fiercely independent and empowered. She knows what she wants and she always achieves her goals, despite the difficulties she may face on a day-to-day basis."
Not surprisingly, in the early stages of launching her brand, the woman that was on Nezir's mind was an independent one: self-confident, unfazed by difficulties, happy with her reflection in the mirror. Nezir calls her "a woman beyond social norms". Needless to say, Inas is not the only strong woman in her family; clearly Sara can hold her own. There is a strength and determination in her eyes and her voice that remind me of mythological female warrior figures.
Inspired by Botticelli's The Birth of Venus, Rebirth was a collection that embodied the feminine spirit.
And so, in October 2022, the first Énnush collection – very appropriately called Rebirth – was born, with references to Venus, the goddess of love and beauty. In fact, the imagery of the campaign was inspired by Botticelli's The Birth of Venus. "The purpose of the collection was to stop masquerading women as men or sexualising them," Nezir says. "I wanted to reintroduce the concept of femininity."
With her second collection, Terrestrial Paradise, coming at the end of May, Nezir aims to reaffirm the company's message of female empowerment. "This is a collection of accessible luxury fashion that embodies the feminine spirit," she says. "It allows women to break the mould that society continues to try to impose on them. It encourages them to embrace their true beauty and feel good about themselves and their bodies."
I can't help but find myself nodding and thinking, "You go, sister!" Nezir adds a comment that I am sure is on the first page of the book of individualism: "We are born alone, we die alone, and the person we live the longest with is ourselves."
"My thought was, once the goddess is reborn, what does she do next?"

                 – Sara Nezir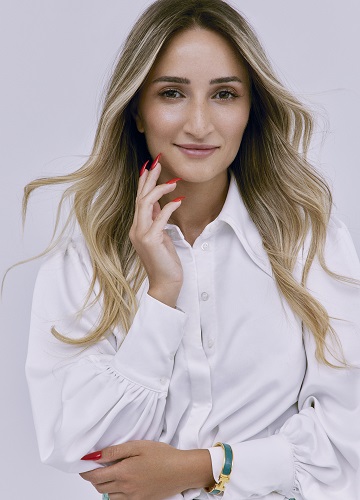 Creative inspiration comes from the designers who ruled fashion in the '90s – including Vivienne Westwood, Alexander McQueen, Fendi, Versace, Giorgio Armani, Donna Karan – and the women they dressed: strong, independent, empowered and at the same time feminine and chic. "My thought was, once the goddess is reborn, what does she do next?", Nezir says.
The earthquake that shook Turkey in February this year inevitably forced Nezir to put the brakes on Énnush. Considered the deadliest natural disaster in the history of modern Turkey, the earthquake caused the death of nearly 60,000 people and impacted the lives of millions. Nezir's expression turns serious, and an air of sadness crosses her eyes. "The devastation was inconceivable. It affected everybody, us included," she says. "Production had to slow down because many other parts of the supply chain were compromised." However, the business quickly recovered – and Terrestrial Paradise is already in the shops.
Between Rebirth and Terrestrial Paradise, Nezir produced a capsule collection for Winter 2023, drawing inspiration from the art world, and heavily featuring the colour red, which, she explains, is at the heart of the brand. "Red is daring, provocative, and dangerous, all at the same time," she says. "Also, people think twice before approaching a woman who's wearing red." (Incidentally, Rebirth was also full of red, including the stiletto nails on the model, a wink not to the vagaries of fashion but to a tradition from 17th-century China, where super-long and pointy nails reflected the status of a woman.)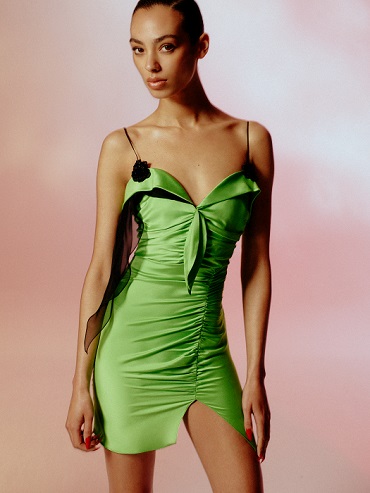 Julia dress, from Ennush Terrestrial collection, 100 percent silk.
The materials used in all Énnush collections are chosen for their ability to realise Nezir's designs, which transmit the values inherent to the brand. As such, there is a lot of satin, jersey and taffeta – materials that are luxurious yet strong and durable.
Commercially, Énnush is a success, with a boutique in the centre of Istanbul, concessions in Beymen luxury department stores across the UAE, and e-commerce. The intention is to expand further into Dubai and Qatar before expanding into other markets. "There's a high demand for fashion in these countries," Nezir explains, "and a lot of purchasing power. So it makes sense to establish ourselves strongly in these markets before venturing further afield." Still, she is already in talks with Bloomingdale's and the Middle Eastern luxury e-commerce site Ounass. "I don't like wasting time," Nezir says. She doesn't like wasting money, either. She keeps her company trim and costs under control. Her team is small, and every investment is carefully considered.
Marketing at the moment is predominantly done through social media and pushing for Énnush clothes to be featured in the press and worn by celebrities. But even with this, Nezir is being selective. "It's important to me that my brand features in media that share our values, and that it's worn by celebrities who stand for the same principles that we do," she says. She worked with a top influencer in Turkey and the results were positive; so next, to increase international awareness, she reached out to another influencer, this time Spanish, who jumped to international fame thanks to the creativity of her fashion videos, which are filmed in Barcelona, her hometown. "She is fearless, confident and uncompromising, but at the same time, she is a very sweet person… and has 1.4 million followers," Nezir says.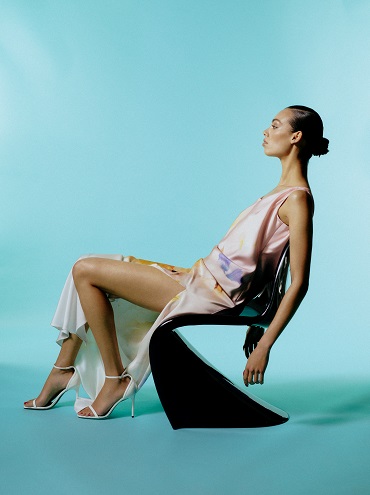 Left, Flora, a unique floral print satin dress. Right, Regina, a sequin strapless tulle gown with detachable sleeves.
I wouldn't be surprised if someday soon she gets an offer from one of the giant luxury groups, I say. "I don't like thinking too much about the future in case I jinx it," she giggles. "But I most certainly have the ambition and the determination, or as my mum puts it, 'stubbornness'. In any case, I think I wouldn't be comfortable letting go of control over my company. At Énnush I get involved in every detail, from the name of each collection to the background colour of the website; I even hand-pick the name of each dress, in honour of strong women in history."
It is with regret that I let Nezir go back to her atelier. I would like to finish this interview with something this young designer said at the beginning of this interview: "One must dream big. If you start with small dreams, you'll soon find yourself with nowhere to go."
@ennushofficial
Words: Julia Pasarón