Nestled along the pristine coastline of Cyprus and positioned on the edge of the Akamas National Park, the Cap St Georges Hotel & Resort stands as a beacon of luxury and serenity, inviting travellers to indulge in the ultimate Mediterranean experience. This idyllic destination is a perfect combination of natural beauty, modern amenities, and impeccable service, making it a top choice for those seeking a luxurious and tranquil escape.
On arrival at the resort, I was welcomed by an atmosphere of lavish elegance; high ceilings adorned with ornate chandeliers and a stunning installation of a vast school of fish which cast a warm and inviting glow on the marble floors. A mezzanine area displaying an impressive grand piano and the richly upholstered furnishings in regal shades of gold and blue, offers guests a comfortable and sumptuous place to relax. This, to me, was a perfect introduction to the refined experience that awaits throughout the hotel where extravagance and sophistication seamlessly blend, setting the tone for an exceptional stay.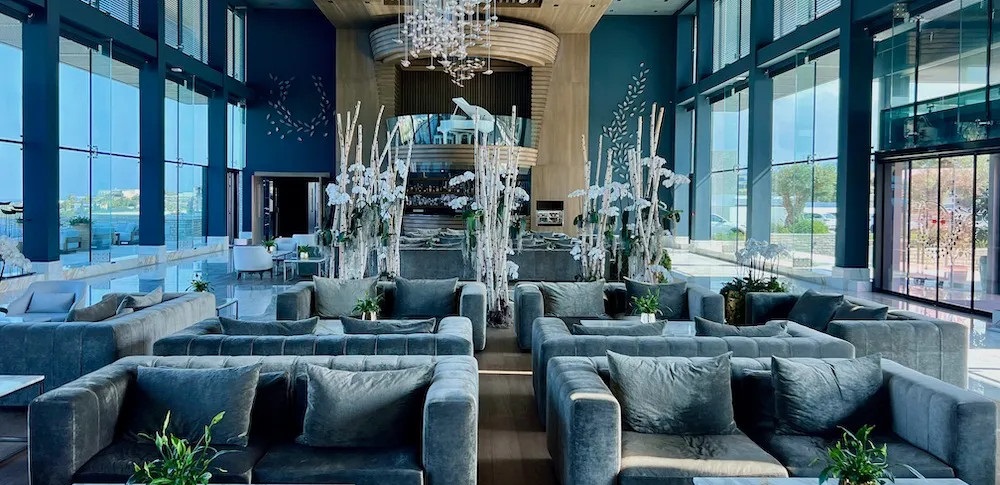 The lobby area at Cap St Georges Hotel & Resort, is an elegant and contemporary space that sets the tone for the resort's sophisticated experience.
We arrived late in the evening, so we were escorted to our rooms and invited to order room service to aid the arduous chore of unpacking and settling in. Upon entering, I was excited to discover a gorgeous private infinity pool. Heated to a perfect temperature, I couldn't help but undress, don a bikini and walk straight in. Utter bliss.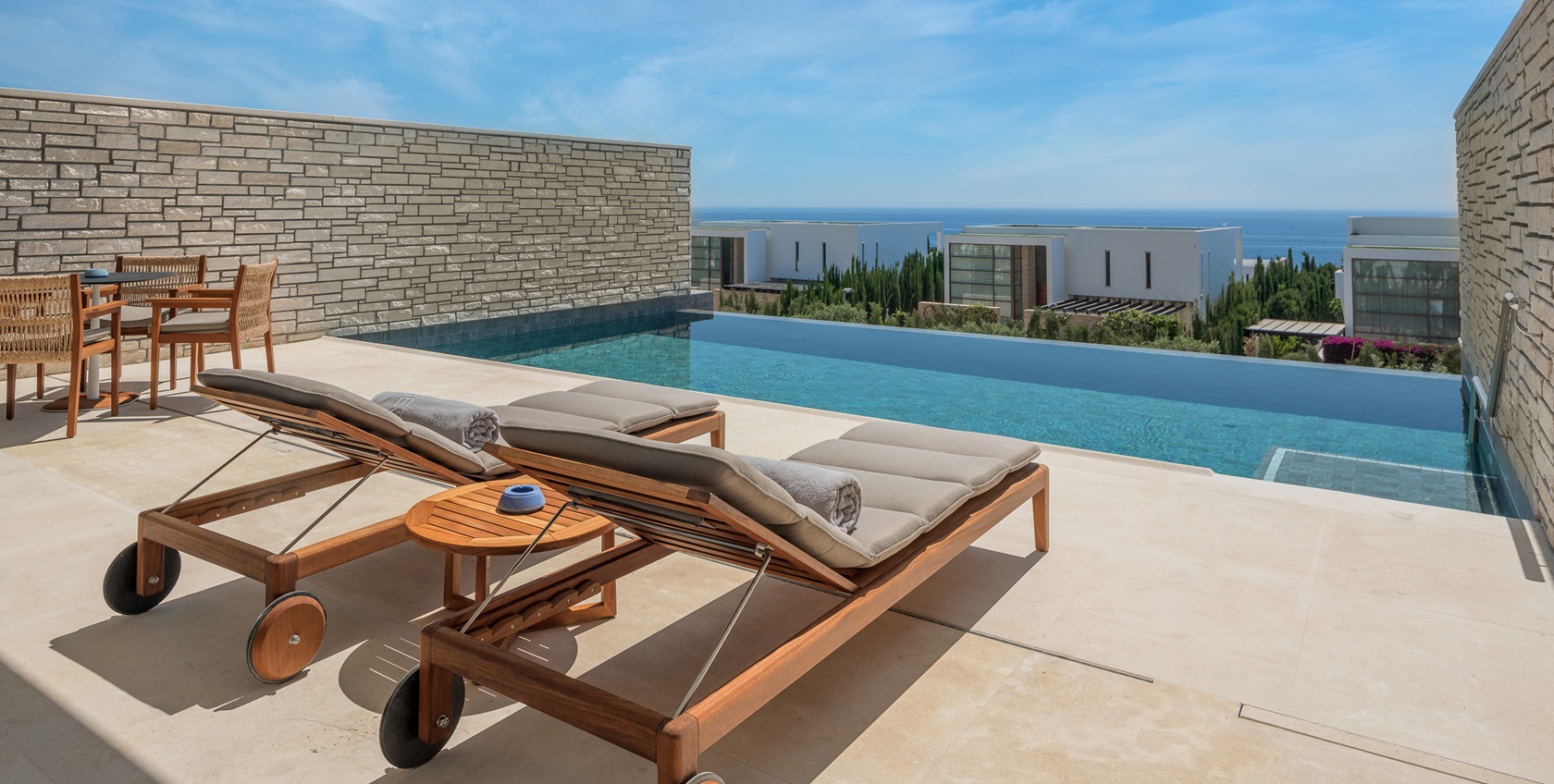 Many of the villas feature private infinity pools, with stunning views of the Med.
The following morning, I met with my host and fellow attendees for breakfast at Yeronisos, one of the ten bars and restaurants in the resort. I'm not usually a breakfast person, but somehow the buffet offerings proved irresistible (yes, I'm blaming the restaurant). Everything from the classic English breakfast with perfectly poached eggs, to the freshly baked pastries and the extensive array of fruit and juices invited me to dig in. We then had a free morning at which point I made a hasty beeline to the cabanas on the intimate and stunning beach of Maniki – a little haven of sand amongst the rocky coastline, just a few steps and a small wiggle down from the hotel.
Cap St Georges Hotel & Resort enjoys a prime location, boasting panoramic views across a 2km long beachfront.
Lunch al fresco at Mesoyios was where I met the congenial and engaging Kyriakos Pirillos, who emerged from retirement in May 2022 to assume the pivotal role of Director of Business Development at Cap St Georges Hotel & Resort. His extensive experience in the realm of luxury hospitality played a vital role in advancing the commercial development of this remarkable venture. Over a delicious lunch, which consisted of traditional Cyprus starters, salads and a main of a "large fish", all accompanied by Morokanella – a crisp dry local white wine, Kyriakos regaled me with his background and views on the current state of Cyprus. That said, I am still waiting on the story he promised to tell me about his time spent in New Zealand (I am a Kiwi myself).
Mesoyios offers a culinary journey comparable to island-hoping around the Med, with creative culinary interpretations of seafood and local ingredients.
The opulence continued through to the Cleopatra Spa, where bespoke treatments harmonise with cutting-edge practices and premium products. By stepping inside this sumptuous, Verde Guatemala green marble-clad sanctuary, you embark on the ultimate bespoke journey to enhanced wellness, beauty and serenity.
One of my favourite pastimes is to witness a fabulous sunset, and the Chroma Bar & Lounge located just off the main reception area is the perfect place to do this. With 180° views across the ocean and a margarita in hand, I was in heaven.
Another is to eat delicious food accompanied by entertainment. The remarkable teppanyaki experience at Bonzai is something I can only describe as a "food cabaret", so much so that the children of a family who sat next to us, mouths agape, couldn't move their eyes away from the leaping flames and flying knives.
Heart-stopping sunset from Chroma Bar & Lounge.
The next morning, we met with Panayiotis Markou, the passionate Director of Sales and Marketing and our tour guide for the day. On this whirlwind tour, we experienced the delights of Cypriot history which included several Greek Orthodox churches, St Georges Horse Ranch, shipwrecks, UNESCO heritage sites and awe-inspiring viewpoints.
The numerous amenities available at Cap St Georges Hotel & Resort include three outdoor pools, a heated indoor pool, a playground, a fitness centre, an outdoor cinema, 10 restaurants and bars, a nightclub, a high-end boutique and a jewellery shop – making this the perfect destination for families, and those seeking a luxurious Mediterranean getaway without the need to go anywhere else.
Prices range from £218.04 to £390.81 for a standard room depending on the time of year.
For more information and bookings, HERE.
Words: Shelley Campbell