As a rule, when the words "London hotel" and "prices" are found in the same sentence, the gut response is shock. Throwing in the terms "luxury" and "amazing location" is like adding a zero to the fee. This time, however, the shock is in the other direction, because Hotel Amano Covent Garden elicits another, unexpected but thoroughly welcomed comment: true value for money.
Having enjoyed or suffered the hospitality of over 400 hotels in 30-plus countries, ranging from five-star accommodation in Geneva, New York, Tokyo and other capitals, to a flea pit in the Bowery and B&Bs unchanged since Dickens was writing serials, I approached Hotel Amano positively predisposed. For one thing, I am partial to hotels which are parts of groups because they tend to exercise a global standard. You know what you're getting, whether it's an Ibis at one end or a Four Seasons at the other.
The welcoming feeling of the lobby at Hotel Amano Covent Garden is accentuated by the clean design and the choice of materials and textures.
Because the company is Berlin-based, Hotel Amano exhibited another favourable quality even before I set foot in the lobby. Experience tells me that German hotels tend to be run better than most, regardless of the price category. Upon arrival, far too early for the three pm check-in, I didn't even have to ask if I could leave my bag – I was there for only one night, alas – because the staff member read my mind. Check-in was straightforward, the reception area small but uncluttered and dominated by welcoming sit-down desks rather than chest-high counters.
My room was from the middle of a five-level range, part of the Roomy category. Checking each level, it was soon made clear that guests could tailor their stays according to needs, preferences and budget. Keep in mind that my stay was in early March, definitely off-season, when the price span for the five levels started at just under £200 per night, to slightly over £400. As this is London, and last December saw rates jump so much that I thought I was looking at the escalation in pre-owned Rolex prices, keep this in mind: one hotel I frequent at circa-£150 a night was asking £495. Just saying.
Trying to wrap my head around this sane room charge, I had to keep repeating, "I'm in Covent Garden. The tube is a five-minute walk away. I am surrounded by theatres and restaurants." Location, location, location remains the property maxim – whether residential or commercial – and Hotel Amano on Russell Street nailed that criterion.
Goldy rooms are the most spacious and are fitted with beautiful free-standing baths with unparalleled views of London.
As the room levels increase in price, so do space, facilities and ultimately at the GOLDY level, access to the panoramic view shared by the bar at the top of the hotel. Here's where the Teutonic attention to detail reveals its mastery.
Even the basic Cosy was equipped with king-size bed, walk-in shower, high quality complimentary toiletries, a garden view in some of the rooms, a fine flat-screen TV with triple the number of channels usually offered, user-adjustable air conditioning, in-room safe, free Wi-Fi, the use of a tablet with phone function, digital check-in/out, mobile room key and more. Like slippers. A bathrobe. Two cans of water. A coffee machine with a choice of capsules. A kettle for tea.
Here is where subjectivity comes into play: it's a case of modern vs classic, and I accept that some want hotels to mimic Downton Abbey. This is not the one for you if you want to pretend it's 1920, let alone 1820. The look is modern and clean, decorated in shades of grey, with slate, marble and cloth surfaces, and the best tiled shower I've seen in years.
Comfy rooms, although closer to the entry level, are large, well-appointed and with excellent walk-in showers.
Ah, the shower! It was intuitive, with a choice of overhead or on-a-hose, with plenty of force. As you move up to Roomy-Plus or Goldy, in addition to more space and amenities, there will also be a bath. Because the rooms are not identikit, each differs from the next in its price level. That said, my Roomy was larger than I expected, the bed was just the right firmness, the towels were fluffy enough to absorb water – it was another reason I wish I could have lengthened my stay.
AMANO Rooftop Bar is one of the hotel's highlights, located high on the seventh floor with spectacular panoramic views, DJs spinning tunes and cocktails served on tap.
But it wasn't just the room which won me over the most. As I only enjoyed breakfast, I wasn't able to sample the delights of the penthouse level bar, with one of the best views of London you could desire, nor dinner at Penelope's Restaurant on the ground level, which boasts a delightful marriage of Spanish and Israeli cuisine inspired by Amano's co-founder, who lived in both Spain and Israel. How about tapas-style dishes, including paella-Israeli style? Of course, shakshuka (with a twist) is on the breakfast menu, which brings me to the reason I will return.
When I hear the words "continental breakfast" – no, it doesn't inspire the same terror as that which opened this review – I anticipate a croissant or pain au chocolat, coffee, juice and/or tea, maybe toast. Instead, a full buffet faced me, addressing myriad national preferences from carnivorous Swiss/German to minimalist French/Italian Mediterranean to a choice of bagels, coffee cakes and cereals and fresh fruit salad and any kind of hot drink you might crave.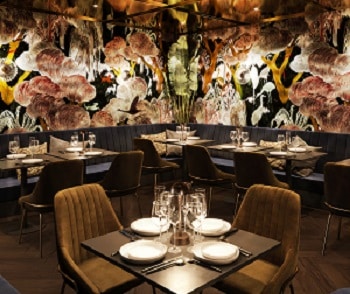 The excellent breakfast at AMANO Covent Garden, served at the stylish restaurant Penelope, is the best deal you'll find in a five-star hotel.
But the clincher? There, beckoning siren-like on the table, stood an additional a la carte menu card with the aforementioned shakshuka and other delights. But it also bore a line that's positively revolutionary. Penelope's provides (yes, this is a London hotel we're discussing) a Full English Breakfast for £7.50. No, not £27.50, not £17.50 and, no, not a facsimile of a roadside diner grease bath, but a divine interpretation of a British classic.
Hmm. Just as it took German car makers to save Bentley, Rolls-Royce and the Mini, Amano could be responsible for disrupting the norms of the London hotel.
Hotel Amano Covent Garden
Drury House, 34-43 Russell St, London WC2B 5HA
Phone: +44 20 3739 8900
Book your stay HERE
Words: Ken Kessler
All images: John Athimaritis