Traditionally, the watch business has been dominated by men. From the atelier to the board, the sector was controlled by testosterone. The earliest example of a female on a significant position in a watch company is probably Jasmine Audemars, who in 1992, took over from her father as Chair of the Board of Directors of Audemars Piguet, a role she maintained until last year. Ms Audemars still retains the chairmanship of the AP Foundation, which oversees philanthropy and the running of the watchmaker's museum.
Where women may have developed their roles alongside men from the very beginning is as ambassadors for watch brands. As early as 1927, a young British secretary called Mercedes Gleitze made history when she swam the English Channel to show that the Rolex Oyster was completely waterproof. Her feat was immortalised with a full-page advertisement on the front of London's Daily Mail, bought by Rolex's founder and director, Hans Wilsdorf.
Almost a century later, things have dramatically evolved. Women work in the horology world and many also manage to have families. They hold positions as watchmakers, designers, board members and brand ambassadors. Our Editor Julia Pasarón spoke to four of them to find out how they juggle work and family and what Mother's Day looks like in their home.
HEIKE AHRENDT, PRODUCT MANAGER, NOMOS GLASHÜETTE
NOMOS is a good place to start our conversation with mothers who are rocking the watch world. Although in the management board there are two fathers and a stepmother, in the management team of the company as a whole, every second position is held by a woman, and most of them are mothers. Heike Ahrendt heads a key department at NOMOS Glashütte: product management. Without her, NOMOS would not exist, because without Heike Ahrendt there would be no watches.
"I coordinate the work of designers, sales and marketing teams, watchmakers and management…"

     –  Heike Ahrendt
She explains, "I coordinate the work of designers, sales and marketing teams, watchmakers and management to ensure that we make new watches and that they go to market with the right name and the right price." She is also in charge of constantly review existing lines and individual models, and judges when they may need a tiny design adaptation, introduce a new dial colour, or an additional mechanism in the movement. Equally important is to control that e manufacture produces the right number of timepieces of each design.
Tangente 38 is a modern dress watch powered by a hand-wound calibre. The midnight blue dial with silver accents adds elegance to its classic aesthetic. £1,820.
Heike runs her family with discipline and diligence and sometimes, "like most mothers, with a hectic schedule and a guilty conscience," she comments. She also finds help in family members, "Grandma often gives a hand as do two of my three children, as they are quite grown up by now."
Her choice of watch is one that fathers also like to borrow: a Tangente 38 in midnight blue. Engraved on the bottom, it reads, "Mom forever". I challenge you to not say "Aaaw!" in your head as you read this.
Well, there is more. Last year, Heike received a mountain of colourful donuts from her three children. "The year before, they prepared a Mother's Day brunch," she shares, "and every year there are little gifts, including vouchers for taking out the trash, cleaning up my room… things like that." She still has some of them, and she assures me that "this year, I am going to cash them all."
ANNE-LAURE PARMIGIANI, PRODUCT MANAGER, PARMIGIANI FLEURIER
When your dad is the genius watchmaker Michel Parmigiani, it must be difficult not to be seduced by the world of horology. The influence of the beautiful objects she'd see around her home as a child encouraged Anne-Laure to study art and specialise in engraving, a skill very much appreciated in the watch industry. So, after finishing her art studies, she went to watchmaking school and from there, to Parmigiani. Twenty years on, she is Product Manager, managing all kind of projects – watches from their current collections, unique timepieces or other art objects – and seeing them through from conception to execution. "This is a position that requires a collaborative mindset, global vision, the ability to learn constantly and the capacity to manage stress in critical moments," Anne-Laure explains.
"Every day is different, but that's the charm of this job. My artistic and technical knowledge is a good asset to move forward in my projects."

    –  Anne-Laure Parmigiani
As a mother of two, Mélissa (aged 11) and Théo (aged 14), Anne-Laure's approach to juggling time between work and parenting a bit like project managing. "It all about organisation and planning," she shares. "In fact, all mothers and fathers are project leaders when it comes to managing a household and the challenges we may face. It's not always easy, but, when you feel overloaded, you have to focus on the essentials."
Anne-Laure found the right balance by working part-time. "I am still giving 150 percent at work and can share precious moments with my children." She adds this tip, "When you come home in the evening, although it is a real challenge, you have to know how to cut off in order to enjoy the present moment.
Anne-Laure's favourite watch is a Parmigiani Tonda 1950 in rose gold with a mother-of-pearl dial, framed by a diamond-set bezel.
On her wrist, Anne-Laure wears a Parmigiani Tonda 1950 ultra-thin, an elegant self-winding, time-only watch in rose gold, with the small seconds at six o'clock. "I love the contemporary design and the diamonds that give it a feminine touch," she shares, "and I also love the mother-of-pearl for its natural look that changes with the light." Although the Tonda 1950 is no longer available, you can explore the current collection HERE.
An enthusiast of family days together, Anne-Laure likes nothing more on Mother's Day than to go for a torrée in the forest with her husband, kids and often, the grandparents. A torrée is a Neuchâtel tradition which consists of preparing a large fire in a pasture and cooking sausages and potatoes over the ashes. When I point out what a low profile way of spending Mother's Day this is, she comments with pride, "My children are very grateful throughout the year and that's what's important."
VOLCY BLOCH, MANAGING DIRECTOR, TRILOBE
They say that "Fortune favours the brave". Well, this proverb certainly applies to Volcy Bloch, who left her successful career at a large beauty organisation to join the then 28-year-old Gautier Massonneau and his brand-new watch company: Trilobe.
"I do my best to remain extremely focused and dedicated during my business and family life."

               –  Volcy Bloch
One can only imagine the insane amount of effort that has taken to make Trilobe the admired and respected brand it is today. So, after a gruelling day at work, Volcy would get home to three little boys that wanted time with mummy. When asked why she would put herself through such a challenge, she replies, "I strongly believe that finding the right balance between family life and professional rhythm is key for personal fulfilment," she states with conviction. "I also have the chance to be able to organise myself as I want, but clearly my days are 'dynamic' and I wake up very early in the morning to manage everyone's expectations."
The closest timepiece to her heart, and the one that she normally wears, is a Trilobe from its very first collection, Les Matinaux. "This is a very iconic line for us. Our first baby!" she exclaims. "Only occasionally I'll wear a different watch." The titanium case houses Trilobe's unique display concept composed of three devices representing the hours, minutes and seconds located on the same plane as the dial. The framing domed bezel is made of 18kt rose gold. Mirror polished surfaces alternate with satin-brushed treatments which create an elegant and harmonious effect.
Les Matinaux Sunray Silver self-winding showcases the brand's patented display, representing the hours, minutes and seconds on the same plane as the dial.
Mother's Day is a precious day for Volcy and one that she enjoys the most when just spent with her family. "My children secretly prepare all kind of sweet attentions to present to me on the day," she shares. "It is part of the process by which they discover the pleasure of gifting." Like most children, hers are quite impatient so she adds with a chuckle, "Normally everything happens at breakfast. They can't wait any longer!"
ELLEN CUYLAERTS, UNDERWATER WILDLIFE PHOTOGRAPHER, BLANCPAIN AMBASSADOR
Warm, passionate and engaging, Ellen is brilliant at communicating identity and values, may that be as ocean ambassador, curator of the UNW World Oceans Day photo competition or as ambassador to Blancpain, a watch company with strong historical and present links to ocean conservation.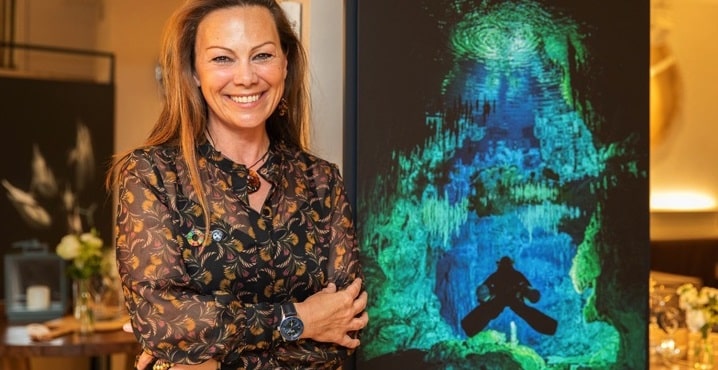 Ellen's work as an underwater wildlife photographer requires a lot of preparation and often takes her away from home for quite some time, so preparation is key both at sea and at home. "My kids are adults, but they are studying so they still live at home," she shares. "Before embarking on an expedition, I like leaving them well prepared: laundry done, fridge full, groceries ordered…" She then turns her attention to preparing her gear and her mind for the trip ahead, "like a cave dive exploration in the jungle near Tulum". That sounds exactly like your regular journey across London on a Monday morning, doesn't it?
"When I am at home, I like taking great care of my girls," Ellen says lovingly, "but for my last trip for example, I was away three weeks. I expect them to look after themselves and our cats when I am not here." I wonder how well that normally goes. "I am very lucky," she replies, "they are wonderful and do everything they can to keep things clean and tidy, so coming home is very nice!"
Technical refinement and elegance come together in this Blancpain 50 Fathoms Bathyscape. Easy to read and to operate. An essential tool for a diver.
Keeping track of the time away from her daughters is Ellen's Blancpain 50 Fathoms Bathyscape. As someone who spends a lot of time underwater, she needs a professional dive watch. "The bezel allows me to have an extra safety check on my dive time. And I like the discretion of this model; it blends in with my gear and does not attract unwanted attention."
When asked about Mother's Day, Ellen replies, "We don't celebrate it. We try to be kind and appreciative of each other every day." As I invite her to elaborate, she adds, "But if the weather is nice, we'd probably go for a nice long walk, enjoying the early spring and each other's company. The kids know that makes me very happy."
Words: Julia Pasarón
Opening image by Kelsey Ann Vere