A self-confessed convertible lover and not having driven one in quite a long time, I had felt the whole summer that something was amiss. My longing came to an end when I managed to get my hands on a 2023 BMW Z4 M40i.
I've always liked the Z4. Its long bonnet, compact "derrière" and wide stance exude sportiness and luxury, but in a quiet way, without the need for prancing horses or raging bulls. Basically, the Z4 was destined to be a classic for lovers of the open road and the (limitless headroom) open roof ever since its first unit rolled off the production line in 2002. Now in its third generation, it looks as relevant and modern as it was all those years back, but with a few cosmetic touches in the form of reshaped fog lights, a new hexagonal pattern in the grille and new air intakes at the front. Apart from that, it is pretty much the same. Well, as they say, "If it ain't broken, don't fix it".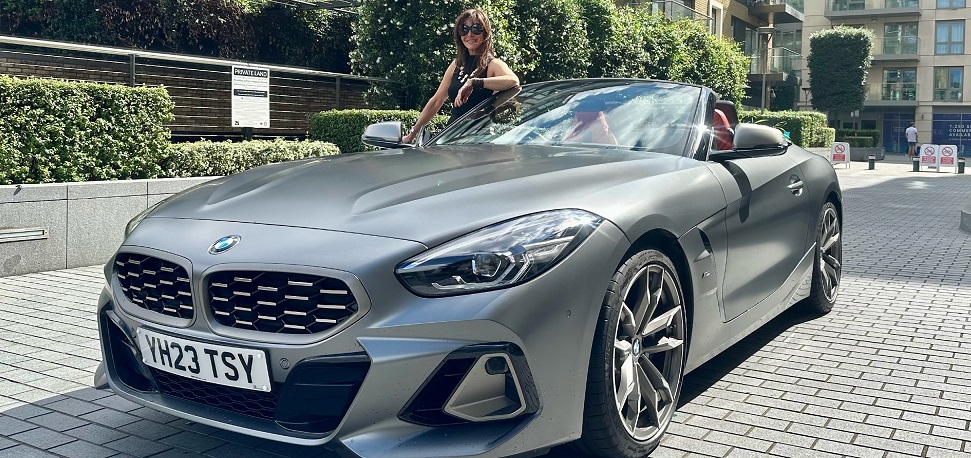 The 2023 BMW Z4 features a few aesthetic changes from the previous model: new hexagonal pattern in the grille, new fog lights and new air intakes at the front.
The model I drove, an M40i in Frozen Grey with a high-gloss shadowline exterior trim came with all the M extras, starting with 19-inch double-spoke bi-colour alloy wheels in Cerium Grey; M Sport brakes with blue calipers; and M Sport differential and adaptive suspension. Complementing the car's athletic angles and M details on the exterior, the cabin features M Sport seatbelts with their characteristic tricolour stripe, M Sport leather steering wheel and seats in Magma Red leather with a decorative white edge. The white stitching in the interior of the door panels adds to the sporty look of the car. More importantly, the seats are really comfortable and despite the low setting, you have perfect visibility (I'm just 1.67m tall, so I am a good witness for this one).
It is not just the aspect and the trimmings of the Z4 M40i that makes one feel as if in a much more expensive BMW model, it is also the tech and the way it drives. For starters, the roof opens and closes in less than it takes to apply a bit of lip gloss and travelling long distances on fast roads with just the sky above your head is not a problem at all. The wind-cutter behind the headrests reduces buffering to practically zero, so even if you forget a hat or a scarf – as I did – you'll arrive to your destination still with sensible hair rather than looking as if kittens had been playing with it.
The interior of this Z4 M40i features Magma Red leather seats with a decorative white edge, M Sport leather steering wheel and M Sport seatbelts. The roof opens (or closes) in under 10 seconds.
Luggage won't be a problem here – assuming you are a half reasonable person – as the Z4 M40i has a boot capacity of 281 litres. That in plain English means that you can easily accommodate two medium-sized suitcases in it and still have some space on top for coats, champagne, picnic blankets, backgammon sets… just not a golf bag please. This is not the car for that kind of thing. BMW has plenty of models suited for golfers. This is a car for people who love having fun.
And you'll realise the moment you switch on the engine. You'll be welcome by a soft but firm purr, a subtle indication of what it can do if you have the ability to drive it properly. Although the temptation is to go straight to Sport drive mode, I suggest you try them all to feel the difference. Eco Pro surprised me, Comfort delighted my skeleton as it turned the car's adaptive suspension and dampers to their softer setting and Sport Plus thrilled me. The transmission is super quick and the steering, led by the front end of the Z4 M40i, superb. To add to the traffic line fun or to leave behind that pain-in-the-arse fast-lane-hugger, this snappy little sports number goes from 0 to 100km/h in 4.5 seconds. To be honest, you wouldn't expect less from a twin-turbocharged three-litre engine straight-six with 335bhp and a torque of 500Nm, would you?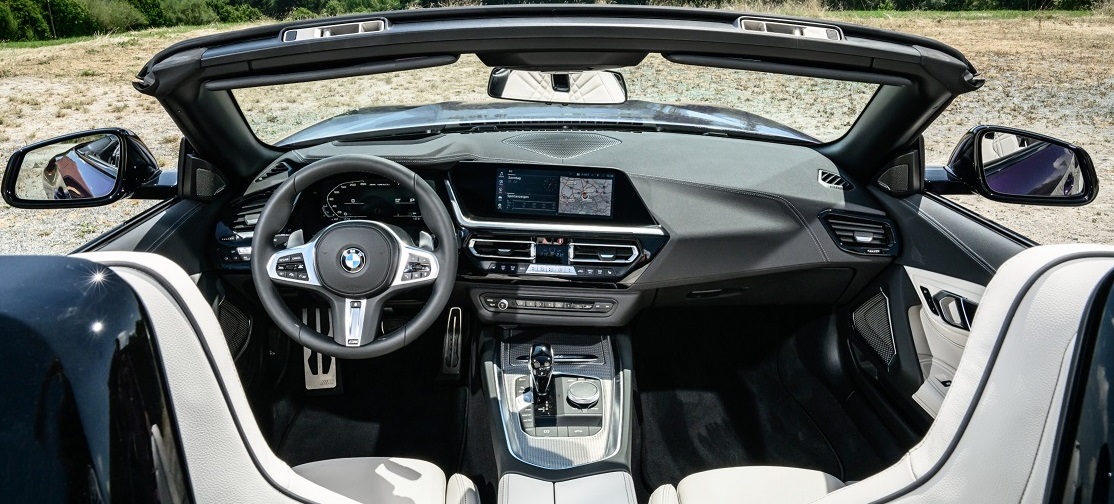 If Magma Red is not your thing, you can always go for a much more subtle choice, like this light cream leather outlined in black. There is a vast array of choices for both body colour and interior.
The refreshed BMW Z4 M40i is available in a wide variety of colours, so instead of this model is not equipped with BMW's new iDrive 8 infotainment tech but the system in place is more than good enough and super easy to handle. Also, there are physical buttons (hurrah!) which I always prefer to touchscreen ones. The sound system is Harman Kardor, supported by eight speakers. No further comment required.
And so I rest my case, encouraging you to book your test drive before the British weather becomes like in the Game of Thrones Kingdom of the North. If you needed any further motivation, know that the one you see in this article, loaded to the eyeballs, is just £58,855 and you can get other versions on the road for less. Don't believe me? Check it HERE.
Words: Julia Pasarón