It is not every day that one meets an Olympic athlete, international political activist, UNHCR Goodwill Ambassador, one of Time magazine's 100 most influential people in the world, catwalk model and luxury brand ambassador who – just to make your jaw drop even further – achieved all of that by the age of 25.
But that is Yusra Mardini. Her heroic swim of the Aegean Sea in 2015 with her sister Sara – to save the lives of a group of refugees stuck in a broken dinghy – catapulted them to global fame when it was immortalised in the 2022 Netflix film, The Swimmers.
I met her during Geneva Watch Days, as she recently became a brand ambassador for the Swiss brand Oris. Paraphrasing the famous line in Jerry Maguire, "She had me at hello." Despite not being tall, Yusra has a very strong presence. Her smile is sincere and warm, her expression serene, exuding a strength that surrounds her like an invisible aura.
Yusra is a natural-born winner. Coached by her father, Ezzat, alongside Sara, she made it onto the Syrian national swimming team at the age of eight, smashing record after record. At 14, she became the youngest swimmer ever to take part in a world championship (Turkey, 2012).
"The girl I had left behind in Syria was still part of me, but she was not all I was meant to be. I had to find my true voice in the world."

         –  Yusra Mardini
Unfortunately, the civil war in Syria had devastating consequences in her life. "One thing that I learned from the war is that nothing is sacred," she states with a sombre expression. "No matter how wealthy you are, how successful, how much effort you put into building your life, in one day and one night we lost everything we had. We lost our house, I lost my routine, I lost some of my friends… I had to abandon everything and start from zero again."
So in 2015, and to their parent's dismay, Yusra and Sara gathered a few belongings and all their savings and made their way to Turkey, where they put their lives in the hands of a human smuggler to reach Greece, and from there, hopefully, Germany. There were 18 people and a baby crowded in a small, deteriorated inflatable dinghy. Soon the boat was taking on water and the engine broke down. Too far from both Turkey and Greece, they realised that maybe none of them would make it alive. Sara, the headstrong in the family, tied a rope around her waist and jumped into the icy water, quickly followed by Yusra. They swam for three hours before reaching Lesbos. They all made it alive.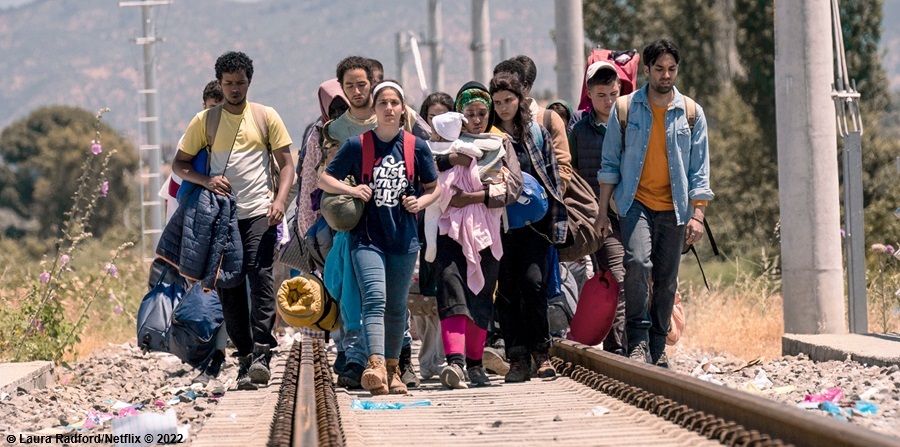 Nathalie Issa (as Yusra Mardini) and Manal Issa (as her sister Sara) in a scene from The Swimmers.
On their pilgrimage to Germany, they experienced all kinds of hardships. They only survived because they stuck together. "This is the first thing I learned in that journey," Yusra says. "Although I might survive on my own, I would always be stronger as part of a group […] Those strangers thrown in a dinghy together became my family." After a pause she adds, "I realised that I had a purpose much bigger than I had ever imagined."
That is a very mature statement from a girl who was 17 at the time – a girl who came from a middle-class family, was a national star, and used to dress up and party every weekend without a care in the world. "The girl I had left behind in Syria was still part of me, but she was not all I was meant to be. I had to find my true voice in the world."
Finally, in September, they arrived in Germany, where they were immediately granted refugee status. It was there that Yusra started to train again, and joined a local swimming club. With the support of the team's coach, Sven Spannekrebs, Yusra recovered her form and her spectacular times. Just a few weeks after joining, Spannekrebs asked her what her swimming ambition was. She didn't hesitate: "The Olympics." Upon learning that the International Olympic Committee was building a Refugee Olympic Team (ROT) under the Olympic flag to compete at the 2016 Summer Games in Rio de Janeiro, Yusra put all she had into making it – and make it she did, winning her heat in the 100m butterfly and ranking 40th overall. Not bad for someone who less than a year before was crossing Europe on foot, malnourished and completely out of shape.
At the Olympic Games in Rio, Yusra won her heat in the 100m butterfly and ranked 40th overall.
Her story inspired thousands of young, aspiring athletes across the globe. But unfortunately, the human species is a funny one, and some Olympians complained that the athletes in the ROT had had it too easy, and didn't deserve their place there. My bet is that anyone would prefer to reach the Olympics the traditional way, having their every need attended and going home at night, rather than risking their lives crossing half the world to end up in refugee accommodation for months, even years. But Yusra finds kindness in her heart for their critics. "They can't possibly understand what we went through, so in their eyes, it was easier for us to qualify than for them."
Competing in Rio for the ROT made Yusra realise that "Refugees around the world needed me. I had to become the international voice they had never had." In April 2017, she was appointed a UNHCR Goodwill Ambassador (the youngest ever), and her career in activism became unstoppable. Still, she competed in the 2020 Summer Games in Tokyo, again under the Olympic flag ¬– but this time by choice. "The ROT plays a vital role giving hope to millions of refugees."
Yusra was the flag bearer of the ROT at the Summer Olympic Games in Tokyo, 2020.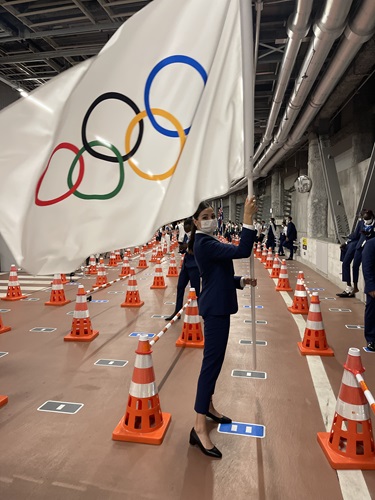 Suddenly, she had the power to advocate for these people. "I began to visit camps and talk to refugees to understand what they needed, wonder what could be done to give them their dignity back and ultimately, to bring them into society."
Her passion and charismatic personality captivated the international stage and soon she was speaking at the Leaders' Summit on Refugees, where US President Barack Obama praised her "courage and resilience and the great example that [she is] setting for children everywhere." She also spoke at the World Economic Forum in Davos and the Global Women's Forum, as well as other events.
The latest of her philanthropic efforts has been the setup of the Yusra Mardini Foundation, whose first partner has been Oris, joining as an official sustainability partner. The support of such a global brand will not only contribute with funds but also facilitate international exposure for Yusra and her activism on the rights of refugees. The foundation's first project is already underway – but secret. "It has to do with sports and mental health," is all Yusra will say. "Sport can be a tremendous outlet. Once I got to Germany, being able to swim made me feel good about myself again, gave me a sense of belonging, of self-worth – all feelings that had taken a huge hit during our struggle from Greece to Germany."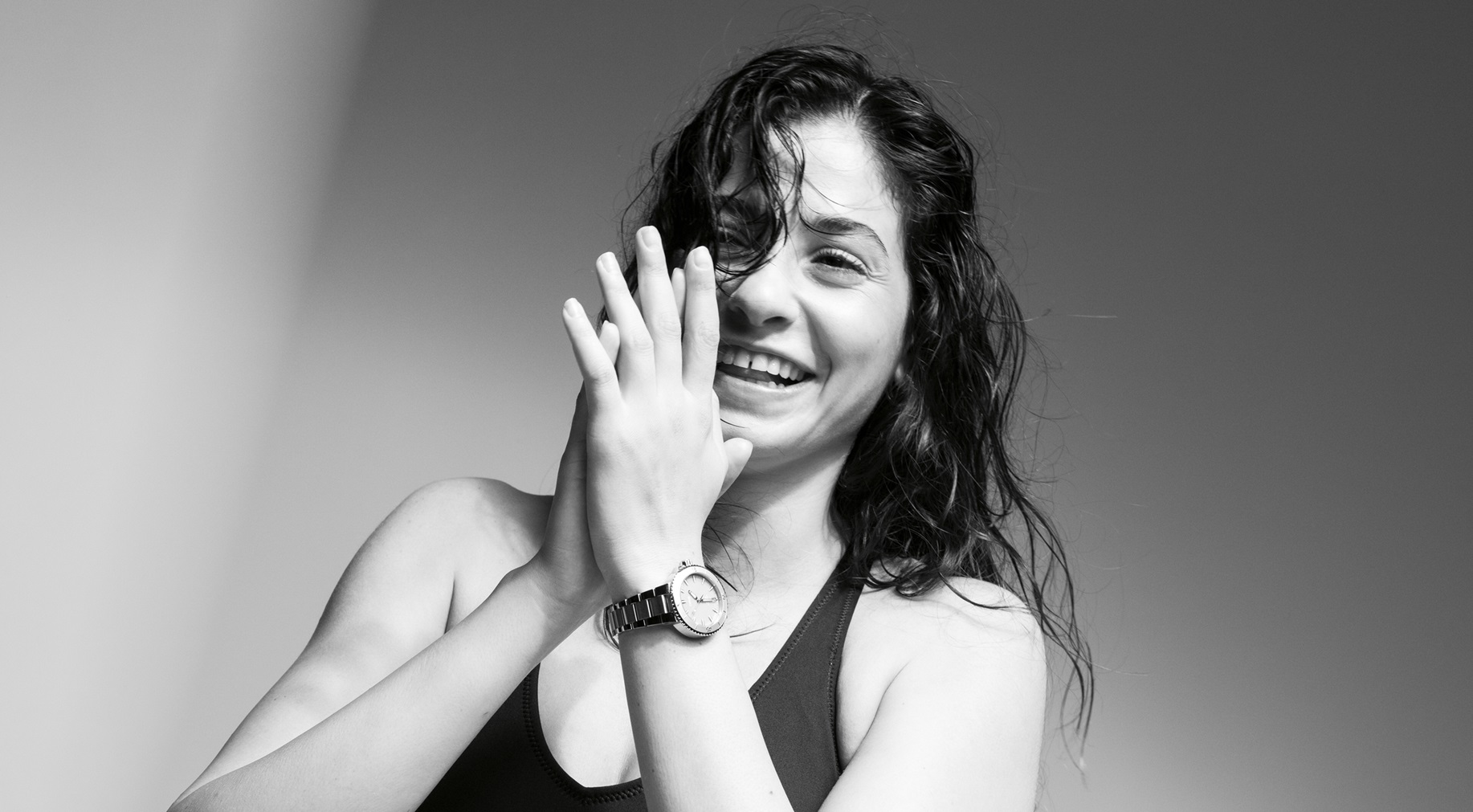 Working with Oris, Yusra has expanded her philanthropic interests to environmental and sustainability causes, as they are behind many cases of population displacement.
Knowing how exclusive the world of luxury watches is, Yusra was surprised when Oris approached her to be its brand ambassador. "I would have never expected such an offer," she admits. "And I was even more impressed when I realised that they wanted to help change things for the better. I learned about all the environmental initiatives they have been supporting over the years and was impressed with their values and commitment. I actually want to get involved in sustainability projects."
As if her activism and commitments with UNHCR and Oris weren't enough to keep her busy, Yusra is about to start her second year of film and TV production studies in California. "I am very grateful that I have been given the opportunity to tell my story," she says, "but I also want to open doors for others. I feel it is my responsibility." She is referring to the film The Swimmers, released in 2022. Her experience was also reflected in her memoir, Butterfly: From Refugee to Olympian – My Story of Rescue, Hope and Triumph.
"I am very grateful that I have been given the opportunity to tell my story."

   –  Yusra Mardini
Yusra's diary of events is full well into 2024, including the Global Citizen Forum in Ras Al Khaimah and the Global Refugee Forum in Switzerland. There are a few more light-hearted events in her diary too, revealing the younger, more playful side of this extraordinary woman. "I love fashion," she admits. "Sometimes I get invitations from brands to attend fashion weeks here and there, which is something I really enjoy." She quickly adds, "But I have to concentrate on my studies and my activism."
As our time together draws to an end, I ask her one final question: "How would you like to be remembered?" She replies without hesitation: "As someone who spent her life trying to make the lives of others better." Personally, I think that she has already more than achieved that goal. Yusra Mardini, the Syrian mermaid, the voice of the forgotten, has fascinated us all.
https://www.ymf.squarespace.com/
Words: Julia Pasarón
Opening image: © Jo Kleindl