Nan Goldin's work is not for the faint of heart. The American artist's raw, intimate photographs began not as an attempt to find recognition or fame, but as a visual diary of her life among her chosen family in Boston, USA, in the early 1970s. For the next 40 years, Goldin continued to chronicle the people around her – performers, friends, lovers and abusers (sometimes one and the same) – as well as her own drug and alcohol addiction and her difficult road to recovery. Her subjects were drawn from her diverse community, and her backdrops were the streets, bedrooms and nightclubs of New York, Berlin, Bangkok and beyond.
This Will Not End Well comprises six slide shows presented in six tent-like structures designed by architect Hala Wardé. "I found a way to make films out of still images," Goldin said. "Making slide shows gives me the luxury of constantly re-editing to reflect my changing view of the world." The thousands of photos here – supported by music, voice-overs and archive material – often overlap, resulting in a rich representation of Goldin's bohemian universe.
Nan Goldin, Jimmy Paulette and Tabboo! in the bathroom, NYC, 1991. © Nan Goldin.
The Ballad of Sexual Dependency (1981–2022) is Goldin's best-known work. The monumental show has been edited and re-edited many times over the course of her career, so it is never the same twice. Named after a song in Bertolt Brecht and Kurt Weill's The Threepenny Opera, the 700+ images, together with the soundtrack, pack a huge emotional punch; the ravages of addiction, domestic abuse and the AIDS epidemic are unflinching. The Other Side (1992–2021), named after a gay- and drag-friendly bar in Boston, is an homage to her trans friends, whom she photographed between 1972 and 2010. Fire Leap (2010–2022), the "lightest" of the films, is an ode to the beautiful, wild and free children in Goldin's life ("Never a mother, always a godmother," the artist writes in one of the credits).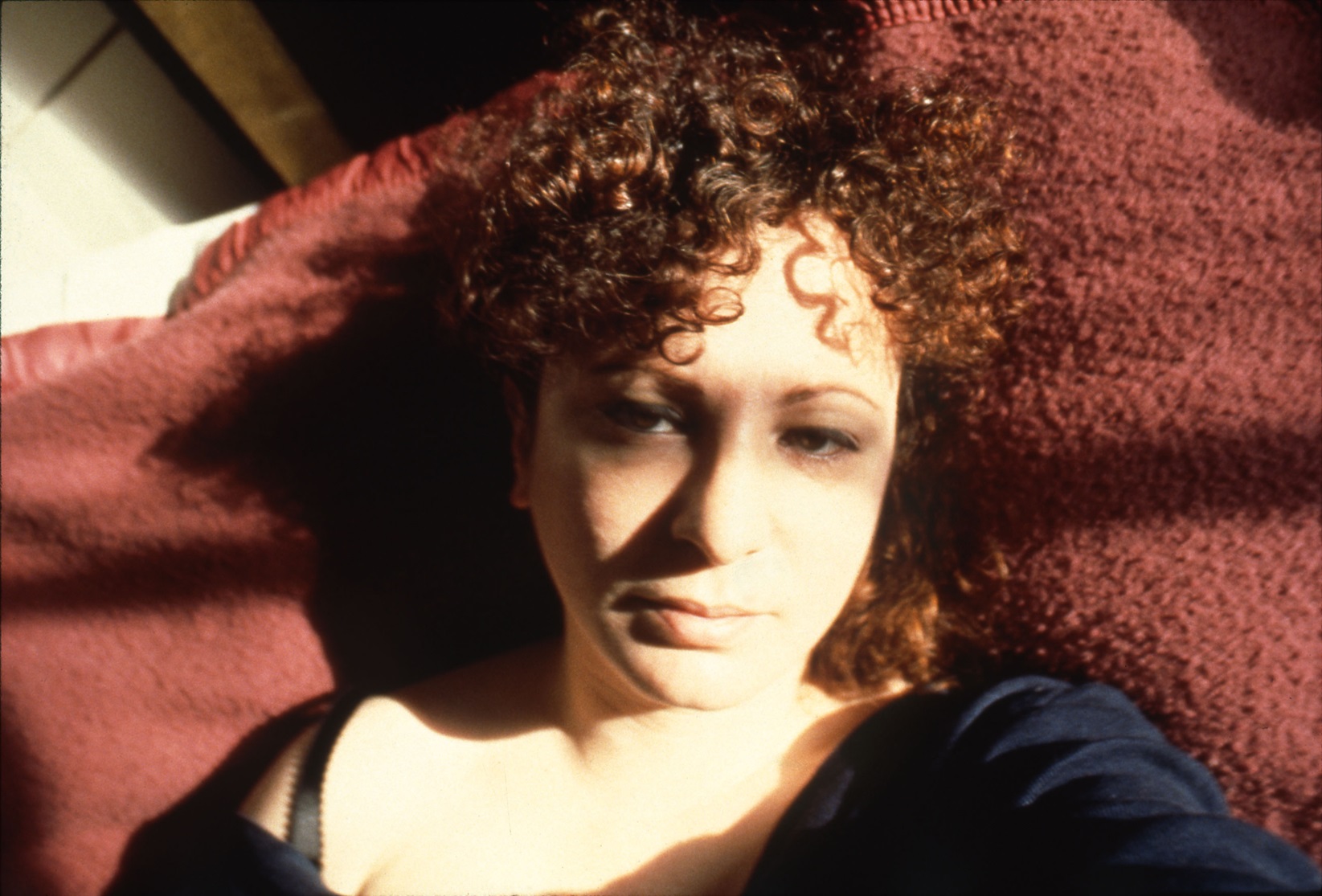 Nan Goldin, Self-portrait with eyes turned inward, Boston, 1989. © Nan Goldin.
Sirens (2019–2020) was conceived as a tribute to Donyale Luna, often cited as the first Black supermodel, who died in 1979 of a heroin overdose. Made from found footage, the piece is Goldin's attempt to portray the ecstasy of a drug high. Memory Lost (2019–2021) is a claustrophobic depiction of withdrawal. And finally, Sisters, Saints and Sibyls (2004–2022) is the story of Goldin's sister Barbara, who committed suicide in 1965; the piece delves into the many repercussions of that tragedy on Nan Goldin and her family.
Nan Goldin, French Chris on the convertible, New York City, 1979. © Nan Goldin.
For all the darkness depicted in This Will Not End Well, there is in fact a hopeful ending. Goldin has neither rested on her artistic laurels nor succumbed to despondency; she instead wove her sorrow into resistance. In 2017, after her own recovery from opioids, she founded the action group Prescription Addiction Intervention Now (PAIN). And although All the Beauty and the Bloodshed – Laura Poitras's Academy Award-nominated 2022 documentary about Goldin and PAIN – is not part of this exhibition, it is an important coda, and a testament to Goldin's resilience, love and dedication to the memory of those she has lost.
Nan Goldin: This Will Not End Well
Stedelijk Museum in Amsterdam
Until 28th January 2024
More information and tickets HERE
Words: Lisa Burnett Hillman
Opening image: Nan Goldin, Brian and Nan in Kimono, 1983. © Nan Goldin (photo cropped from the original due to format limitations).
The show will be presented at Neue Nationalgalerie in Berlin (October 2024 – March 2025); Pirelli HangarBicocca in Milan (October 2025 – February 2026); and Grand Palais, Paris (March – September 2026).