Whilst most of us are only just recovering from the festive season and grateful for a little respite, we suddenly find ourselves having to fight off the onslaught of Hallmark Valentines cards which seem to occupy every inch of shelf space, thus reminding us to start planning! I-M Intelligent Magazine have gathered together a few bespoke recommendations to assist you in curating your perfect Valentine's gourmet evening.
To get things started, the luxury 5* Great Scotland Yard Hotel, Westminster, has partnered with Hatton Garden based jeweller, Louise Sinclair, to create a special pairing of The Eternal Kiss – a limited Lovers Edition cocktail, presented with a stunning 9ct yellow gold Circle of Life pendant for Valentine's Day.
The Eternal Kiss cocktail blends Sauville vodka with fruit juices and champagne, garnished with gold leaf and dry rose petals.
The Circle of Life Pendant, set with red spinel gemstones, is a most romantic representation of love this Valentine's Day. Encompassing the history of the circle, it symbolises eternity and is believed to encourage passion, devotion and longevity. The Lovers Edition of two cocktails paired with the pendant is available at the Great Scotland Yard's 40 Elephants bar from 9th – 28th February 2023, with an exclusive offer of £260.00. Find out more HERE.
Feeling warm and fuzzy after cocktails? I suggest you go to Penelope's, where you can eat, drink and dance the night away.Located within the Amano Hotel in Covent Garden, London, Penelope's serves Israeli-Spanish fusion food inspired by the flavours Ariel Schiff (Amano's co-founder) discovered while growing up between Tel Aviv and southern Spain. The menu is a joint collaboration between Shimon Peretz, Amano Group's creative director and head chef at Amano's Mani restaurant in Berlin, and Fezile Ozalgan, the executive chef at Penelope's.
Penelope's space is cleverly designed to provide an urban-chic environment that works as a restaurant and as a cocktail bar.
A specially curated Valentine's menu (£80pp) including paired wines consists of choices ranging from a Charif Grilled Oyster with preserved lemon, Hereford Sirloin (350g) and the renowned Baklava Cheesecake, to name but a few. Reserve your table HERE.
Or you can truly spoil yourself at Caviar House & Prunier. They have bars and restaurants all over London (including Heathrow… to start a trip the right way), sleek and luxuriously decorated to complement their exquisite menu where oysters, caviar and smoked salmon are the absolute stars. With a focus on the final year of the YSL LOVE collection caviar tins, all their seafood bars will be offering a glass of champagne each (based on two people) with every 125g LOVE tin purchased on 12th, 13th and 14th February.
The LOVE collection is characterised by vintage style boxes in the design of the famous Yves Saint Laurent greeting cards. The caviar packed within is their new Prunier Oscietre Noir.
Furthermore, the main website will be offering a 14 percent discount on LOVE for a 48-hour period the week before St Valentine's, guaranteeing delivery for the 14th. Also on offer is a generous promotion whereby any customer purchasing a 250g tin of LOVE caviar will receive a complimentary 70cl bottle of Caviar House Brut Champagne – valid throughout February and March. Find out more HERE.
Prefer to stay at home? Then relax and unwind by ordering in with SUPPER London, ahigh-end delivery app, serving exceptional food and drink from the capital's finest restaurants and retailers. They are considered London's premier luxury food and drink concierge service, partnering with renowned establishments including Park Chinois, Chotto Matte Soho, and Fortnum & Mason. SUPPER London utilises uniquely engineered delivery bikes to transport food and drink at optimal temperatures, ensuring the utmost care for their precious cargo.
For example, the famous Park Chinois restaurant has an ideal St Valentine's option on offer, the Emperor Menu for Two (£140). Select two starters, two mains and one side from their Emperor Menu.Find out more HERE.
Warm Beef Tataki by Chotto Matte Soho, a restaurant offering a unique blend of Japanese and Peruvian culinary traditions, under the leadership of Executive Chef Jordan Sclare.
A personal favourite of mine is Chotto Matte Soho, which serves. Japanese-Peruvian fusion cuisine in a contemporary menu that celebrates the vibrant flavours of Nikkei cuisine. Signature dishes include Warm Beef Tataki, Salmon Tataki Tartare and Black Cod Aji Miso. Created in 2013 by Kurt Zdesar, the concept continues to evolve, pushing the boundaries and vision of the restaurant scene. Discover more HERE.
To accompany all this glorious food, we have selected two very special wines for you. A rosé champagne (I love pairing champagne with food) by Louis Roederer and a red by Pasqua Wines.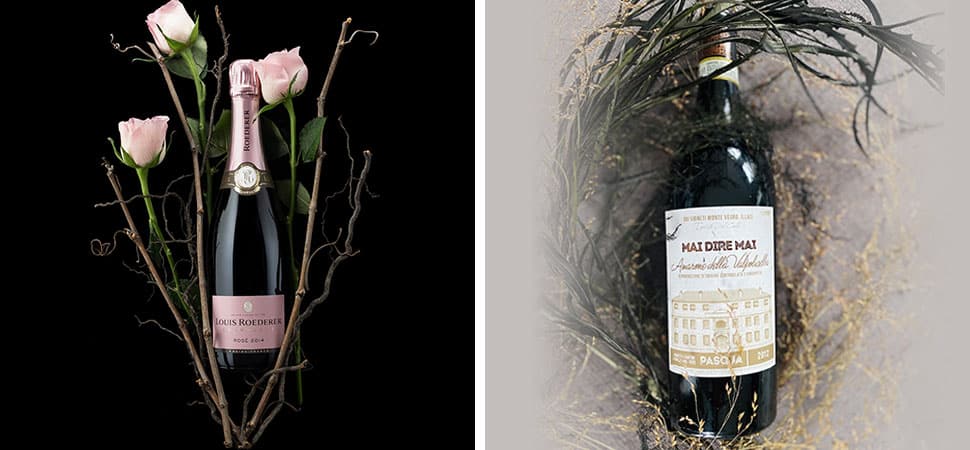 Left: Louis Roederer 2014 Vintage Rosé Champagne. Right: Mai Dire Mai Amarone 2012.
The Vintage Rosé Champagne by Louis Roederer is beautifully pale and dry, filled with the flavours of pink grapefruit, blackberry, griddled peach and gingerbread. A seduction on its own and an absolute masterpiece when consumed with food. Made with grapes from their Grand and Premier Crus vineyards, it is the perfect way to celebrate love. Half bottles are priced at £39.95 (for a half bottle), available HERE or HERE, and the full bottle retails at £78. Buy it HERE.
My red choice, Pasqua's Mai Dire Mai Amarone 2012 comes from a vineyard with exceptional characteristics for generating premium wines – namely the terroir of the eastern Valpolicella. This, combined with the family's near-century of experience results in a rich, highly concentrated red defined by elegance, structure and length. Let the palate envelop you with indulgent notes including ripe black fruit, cloves, dark chocolate and mocha. Retailing exclusively at Harrods, £95. Buy it HERE.
Round off the evening with a final tipple, a whiskey from the Bushmills Causeway Collection. On February 14th 1997, Bushmills placed its fine single malt whiskey into selected American oak casks which previously housed Caribbean rum, to slowly impart layers of tropical rum flavours such as mango, pineapple and subtle oak.
"The Causeway Collection is a celebration of our passion for single malts, and these special whiskies are our greatest treasures."

– Alex Thomas
This slow-burning interaction over time has resulted in the first exclusive rare release in Great Britain from female Master Blender Alex Thomas – the award-winning Causeway Collection series of limited-edition whiskeys. Much like any great love story, whiskey appreciation is all about the journey and special moments along the way. Priced at £395 and available to buy at specialist retailers including HERE.