Since 1992 McLaren has been flying high the flag of luxury supercars. From the very first F1 to their newest hypercar, the electric Artura, the British manufacturer has become synonymous with innovation and performance. Based in Los Angeles, Athletic Propulsion Labs was founded in 2009 based in the same principles of innovation and performance, but in this case, applied to create the finest footwear. One could say that whether it be on the court, the road or the track, APL and McLaren represent the pinnacle of luxury and performance.
So when they got talking, the result was the APL | McLaren HySpeed™, a collection of luxury footwear all about technology, performance and design. "Like stepping into a McLaren, it is all about optimising performance, agility and speed," says Goran Ozbolt, Acting Design Director at McLaren.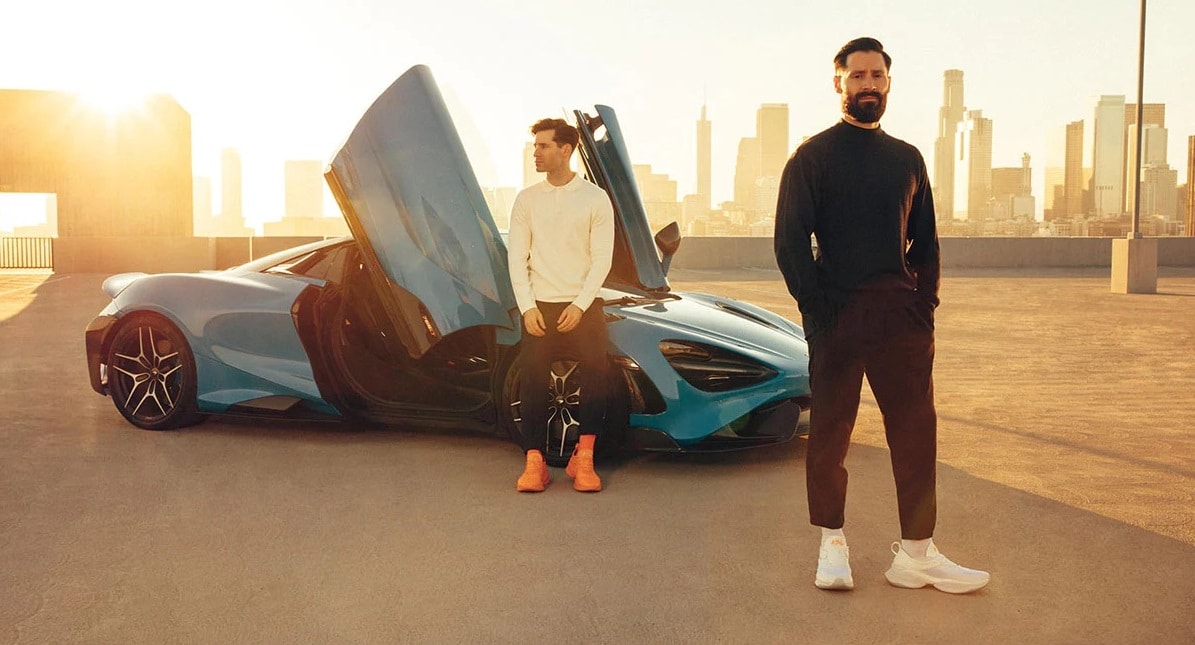 The HySpeed™ is an all-purpose trainer, combining the pursuit of performance with world class quality and luxurious materials.
As the proud owner of a pair, I can assure you these are trainers as you have never seen before. For starters, the shape is totally new. Inside, there is a myriad of technical details that make you feel as if you were bouncing off a cloud. Although once you see them and wear them, it all seems super easy and logical, the truth is that a lot of research and development has gone into building such a range of footwear. The key features that make the APL | McLaren Hyspeeds so unique are:
Advanced Fitment System: this is the 3-piece cushion heel padding, directly inspired by McLaren's Senna seats – stability and comfort – and featuring APL's signature Souffle Sockliner.
Microfibre Heel: the microfibre heel features extended wings connecting directly to the eyerow, which works in conjunction with the external moulded counter to help lock your feet in place for strenuous workouts.
TechLoom Upper: the non-stretch TechLoom upper with integrated areas of super yarn increases tensile strength in high-stress zones.
Nitrogen Infused Midsole: Newly developed nitrogen-infused midsole compound engineered for supreme responsiveness.
V-Weave Carbon Fibre: this is a directional plate that promotes forward movement while adding energy return with every stride.
Segmented Midsole Construction: with APL FutureFoam pods for energy rich compression.
APL's patented Load 'N Launch: the technology designed to increase vertical leap.
The front and rear of the shoe are connected by a full-length carbon fibre plate topped by an all-new nitrogen infused, proprietary blended midsole compound.
The APL | McLaren HySpeed™ come in a specially designed drawer style box, that has almost as many features as the shoes themselves. It combines gloss McLaren orange, metallic orange foil and black foil logos. Pulling out the drawer you are presented with a black inner box and transparent smoked black shoe cover that displays the technical blueprint drawing of the shoe tooling. There is also a line drawing of the McLaren F1 road car, one of the most iconic supercars ever made.
The HySpeed™'s box features the blueprints of the shoe tooling as well as a line drawinf of the iconic McLaren F1.
The HySpeeds are available for men and women in White/McLaren Orange, White/Black/Ombre, Rose Dust/Creme, Energy/Metallic Silver, and McLaren Orange is available for men and women. RRP £575 from www.AthleticPropulsionLabs.com, APL's Flagship Store Experience at The Grove in Los Angeles and select retailers globally.
www.athleticpropulsionlabs.com