Considered the most international of the Spanish cities, Barcelona developed a significant arts community in the late 1800s, with artists like Santiago Rusiñol – one of the leaders of the Catalan modernism movement – Ramón Casas and, of course, Antonio Gaudí. Pablo Picasso himself spent nine formative years here, from 1895 to 1904, training as an artist.
The 20th century solidified the reputation of the city as an incubator of artists. Masters like Joan Miró, Antoni Tàpies, Marià Fortuny and the larger-than-life pioneer of surrealism, Salvador Dalí, lived most of their lives in Barcelona. In the 1990s and early 2000s, up-and-coming artists from all over the world flooded into the city, attracted by its creative freedom, magnificent architecture, street art by legends such as El Pez, Konair and Sixeart, and an emerging alternative gallery scene.
Keith Haring, All together we can stop AIDS, (1989). MACBA Collection. Barcelona City Council long-term loan.
In 2013, the Open Walls Conference was born; the festival is dedicated to bringing urban art closer to the community, including the creation of several new murals made by artists including Alex Díaz, Pastel and Stepan Krasnov – a.k.a. 310. These days there are stunning examples of street art all over the city. Be sure not to miss the Keith Haring AIDS Mural from 1989 (now next to the Barcelona Museum of Contemporary Art (MACBA) and, in the Gothic Quarter (Barri Gòtic), The World Is Born with Each Kiss by Joan Fontcuberta, a mosaic made from thousands of tiny ceramic tiles, each of which represents an expression of freedom. The mural was installed in 2014 as part of Barcelona's Tricentenary celebrations commemorating the fall of Barcelona during the War of the Spanish Succession.
For this trip, we stayed at the Hotel Arts Barcelona. Now part of the Ritz-Carlton network, the imposing 43-floor tower is located right on the beach in central Barcelona – perfect for exploring the rest of the city. After an easy check-in, we were shown to our room, an incredible two-floor penthouse with floor-to-ceiling windows and stunning 360° views of the Mediterranean, Sagrada Familia and Castell de Montjuïc, past the Barri Gòtic, Sant Antoni and El Poble-Sec. The space is large enough to host a party of 40 people or more – however, unfortunately, that is not allowed for health and safety reasons. The furniture, designed by Jaime Tresserra, is from the 1990s, when the hotel was first opened, and fits effortlessly within the minimalist walls of the penthouse.
Arranged over two floors, the penthouses at Hotel Arts Barcelona enjoy the best views of the city and the Mediterranean.
Paula Pont, PR & Communications Manager, explained to me that the penthouses (all located between the 34th and 43rd floors) include benefits such as butler, access to a Mini to drive around Barcelona, free laundry service and breakfast in the room. The penthouses can be hired for weeks or months, and some have actually been booked for years.
Just 20 minutes' walk from the hotel is Ciutat 7 Gallery, in the Barri Gòtic, owned by artist Lara Kaló. Originally from Granada, in Andalucía, Kaló has been living in Barcelona for the last seven years. Inspired by fauvism, she uses a technique she calls "spontaneous realism", where colour and texture are more important than form: "Every stroke of the spatula, and the texture it leaves behind, reflects an expression I want to convey." She mostly paints the women who have influenced and inspired her. "I paint real women, strong and powerful," she says. "Some are friends, some are clients, acquaintances, relatives… basically, the women I am surrounded by in my everyday life." After reflecting for a second she adds, "I have also painted Sophia Loren, because I feel a deep admiration for her."
"Every stroke of the spatula, and the texture it leaves behind, reflects an expression I want to convey."

 

             – Lara Kaló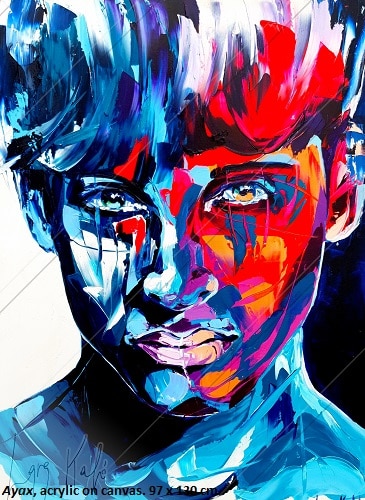 Just a few minutes from Kaló's gallery is Canal Gallery, a hub for avant-garde artists from different disciplines including illustration, photography, vintage graffiti and other expressions of urban art. Street artist Balu, the founder, explained to me that the gallery was created to encourage inclusivity and diversity. "Our aim is to create an accessible space in which artists can exhibit and sell their work," he says. "And visitors can not only buy but also enjoy and learn about all this emerging talent." The work of Alberto Blanchart caught my eye. The photographer, comic-book artist, cartoonist and painter has combined his two passions – graffiti and urban art – with popular culture. Or, as Balu says, "He creates Star Wars helmets and covers them in graffiti and rust, so they look as they would decades or centuries after being discarded."
Star Wars helmets by Alberto Blanchart, an artist passionate about graffiti and urban art.
We took a walk back to the hotel to indulge in the hospitality of the Club on the 33rd floor, where one can always find drinks, food and snacks. It's very convenient for both business and leisure travellers who don't want to worry about having a set schedule. Only the rooms on floors 30 to 33 have access to the Club.
By the time we have eaten and freshened up, it was cocktail o'clock. So, following Ms. Pont's recommendation, we went to P41, the cocktail bar named after Barcelona's latitude. Under the direction of Head Mixologist Diego Baud, the team has created a second-to-none cocktail menu that is sure to satisfy even the most demanding of customers. When we visited, our mixologist was Lamin Manong. We couldn't make up our minds, so we told Manong what kinds of flavours we like and allowed him to shake up something for us. My companion was presented with a Cherry Thunder Old Fashioned: Maker's Mark, cherry syrup, chocolate bitters and grapefruit peel. I got a specialty of Baud's: the Earth & Sea Collide, which combines GinRaw, Fino sherry, saffron, sage and lemon-peel syrup with citric acid. It was the best cocktail I've ever had in my life. Basically, it is the soul of the Mediterranean in a glass.
Earth & Sea on the left and Cherry Thunder Old Fashion on the right, two of the cocktails created by Diego Baud for P41.
The hotel has man dining options; spoilt for choice and too lazy to go out, we decided on The Pantry. We enjoyed it so much, I chose to do a stand-alone review for it (read it HERE). It was a fabulous experience; for one thing, the Speakeasy concept is a lot of fun. And secondly, the food is simply fabulous, with sustainability at the forefront of their priorities, bringing to the table the best produce Catalunya has to offer.
If you're planning ahead, you may be able to score a table at the two-Michelin-starred Enoteca Paco Pérez, which elevates Mediterranean food to the heavens and beyond. This summer, renowned contemporary Japanese restaurant Roka is bringing its famous robatayaki cuisine to the Hotel Arts as part of an ephemeral dining concept. For a relaxed, lazy lunch, head down to Marina Coastal Food, an alfresco lunching proposition serving dishes from coastal cuisines across the world.
Enoteca Paco Pérez boasts two Michelin stars and offers a cuisine based on the freshness of the sea and the essence of farm and mountain produce.
In the morning, we grabbed a coffee and a slice of cake at Hidden Coffee Roasters, also inside the hotel. The founders, Carlos and Mateo, go all over the world to find the best independent organic-coffee producers; this way, they support local communities and reduce the carbon footprint of the industry.
We walked back to the Barri Gòtic, where we visited Barcel-one gallery, which started in 2010 as a space where classic art could sit comfortably alongside the works of contemporary creators. The gallery represents artists such as Paz Vicente, whose art seems to navigate a dimension between reality and the world of dreams, by using lithographic photo engraving and xylography to create images that are as alluring as they are chimerical. Vicente explained that her creative process is very slow: "I first do my research, and then many sketches in a notebook before deciding the media I'll use for the final work."
Works from Paz Vicente's series, When Honey is Sweeter than Blood.
The Hotel Arts itself has a remarkable art collection. The Arts and Mediterranean suites both have original works on display. And in the corridors on each floor there is at least one original artwork. Every afternoon the hotel organises a tour to show guests the collection, from works by sculptor Xavier Corberó Olivella – including El Rei i La Reina, 1988, in the main entrance – to paintings by outstanding representatives of 20th-century Catalonian art.
Feeling a bit arted out, the next day was spent with Javier Fernández Casanova, PR director at ME Barcelona, just a stone's throw from Plaça de Catalunya, La Rambla, Casa Batlló… you name it, it's no more than a 10-minute walk. (The only destination that's relatively far away is the beach.) Casanova knows everyone in Barcelona; there is no place he can't get you into, and he knows every one of the city's hidden gems. One of them is Alice Secret Garden, a quirky, slightly surreal bar and restaurant whose decor does justice to its name. In the back, there's a leafy courtyard where you could emulate Lewis Carroll's immortal character and have your own tea party, brunch or just a few drinks. If you're lucky enough to meet the owner, Freddy Valdés, you may persuade him to sit down with you and share some of his amazing stories from the 1990s, when anybody who was somebody hung out in Barcelona.
Alice Secret Garden, is one of the most eclectic and fun places I know in Barcelona.
Casanova recommended that we explored the work of one more artist: Samuel de Sagas. He has coined the term corazonizar (from corazón, the Spanish word for heart), which means the attribution of the elements of an anatomical heart both in shape and substance to elements that do not have them. When I spoke to de Sagas, it all made sense. In 2018, he tried to end his own life. He spent the next year trying to make sense of it all, to start to love himself and move forward. "After nearly 365 days, and thousands of photos, videos and reflections in front of the mirror, I created my first heart," de Sagas shares. "It was a heart that sprouted water, with two daisies and two hummingbirds feeding from its nectar. It was a symbol of life." He couldn't stop painting hearts – and that's how the term corazonizar came to be.
"My hearts, always depicted as the physical organ, are a metaphor of life. That is the core of the Corazonizar concept."

 

      – Samuel de Sagas
Reflecting on de Sagas' words, we went back to the hotel to enjoy el vermut, a wonderfully civilised Spanish tradition. Similar to the French aperitif, el vermut happens before lunch. Vermut (vermouth in English) actually comes from the ancient Greece physician Hippocrates, who macerated wine with absinthe – a plant with multiple medicinal properties. The word itself comes from the way the French pronounced the German word for one of its original main botanicals, wormwood. During the Middle Ages, it adopted the name of Hippocratic wine or herbal wine. In 1838, brothers Luigi and Giuseppe Core started producing it at an industrial level, and Spain – especially Catalunya – adopted and made it its own. Hundreds of recipes have developed since, as drinks companies, bars and families introduced their own little variations.
On Sunday, The Pantry offers its very own vermut in the gardens of the Hotel Arts Barcelona.
Sunday is vermut day. People dress up and go out. From May until the end of summer, The Pantry offers its very own vermut in the gardens of the hotel, dotted with picnic-style benches. The experience starts with a selection of local cheeses, Ibérico cold meats and gourmet seafood, followed by a main course from the generous menu. With a belly full of delicious food, a slightly light head and a heavy heart, we concluded our trip to Barcelona, hoping to be back very soon.
British Airways flies to Barcelona up to eight times daily from London Heathrow, and up to six times per week from London City Airport. Return flights in Euro Traveller from £73, and Club Europe from £291. www.britishairways.com
Hotel Arts Barcelona. Tel. +34 93 221 1000. Email: artsreservations@ritzcarlton.com
www.albertoblanchart.net www.barcel-one.com www.canal-gallery.com www.larakalobarcelona.com www.mrstoolipartgallery.com www.pazvicente.es www.samueldesagas.com
Words: Julia Pasarón
Opening image: Lara Kaló, Ruth Morley, acrylic on canvas. 146cm x 114cm.