Artemisia Lomi or Artemisia Gentileschi was an Italian Baroque painter, now considered one of the most accomplished 17th century artists, and possibly the greatest female artist of the time. Artemisia was brutally raped at the age of 17 by landscape artist Agostino Tassi, during whose trial she was tortured. For the very first time in this exhibition the public has access to the original 400-page transcript of the trial in which Tassi is charged with "deflowering" Artemisia (1612), on loan from the Archivio di Stato, Rome.
Initially working in the style of Caravaggio at a time when women had few opportunities to pursue artistic training or work as professional artists, Artemisia became the first woman to become a member of the Accademia di Arte del Disegno in Florence and had an international clientele. Her career spanned more than 40 years and she gained fame and admiration across Europe. She had enormous gifts as a storyteller and she brought an unprecedented, female, perspective to traditional subjects, many of which are drawn from the Bible or ancient history.
Her paintings treat well-known themes often featuring female heroines – Judith, Susannah, Cleopatra, Lucretia – and Artemisia was able to get under the skin of her protagonists with astonishing sensitivity and truthfulness. Her ability to paint female figures of strength, passion and vulnerability remain a feature of her work throughout her career. The inspiration for this exhibition is the National Gallery's recent acquisition of Artemisia Gentileschi's Self Portrait as Saint Catherine of Alexandria (about 1615–17), the first painting by the artist to enter a UK public collection.
Although Artemisia was greatly admired during her lifetime, she was essentially rediscovered in the 20th century. Certain elements of her biography – particularly her rape as a young woman and the torture she endured during the trial that followed – have sometimes overshadowed discussions about her artistic achievements, but today she is recognised as one of the most gifted painters of the Italian Baroque period. Her art and life continue to inspire novels, films, documentaries, musical and theatrical productions.
I will show Your Illustrious Lordship
what a woman can do…

Letter from Artemisia Gentileschi, 7th August 1649
Artemisia presents a highly selective survey of the artist's career, bringing together around thirty of her works from both public institutions and private collections around the world – the majority of the loans in the exhibition have never been seen in the UK before. The earliest work in the exhibition is her first signed and dated work, Susannah and the Elders (1610, Kunstsammlungen Graf von Schönborn, Pommersfelden) painted when she was just 17. Artemisia returned to this subject throughout her career, approaching its story afresh with each retelling, and her last-known painting, of the same subject, dating from 42 years later, is also included in the exhibition (Susannah and the Elders, 1652, Polo Museale dell'Emilia Romagna, Collezioni della Pinacoteca Nazionale, Bologna).
The exhibition is arranged chronologically, starting with Artemisia's training in Rome, where she learnt to paint under the guidance of her father Orazio, whose Judith and her Maidservant (about 1608, The National Museum of Art, Architecture and Design, Oslo) is on display beside Artemisia's earliest paintings. In addition to her Susannah, the first room also includes her Cleopatra (about 1611-12, Etro Collection) and Danaë (about 1612, Saint Louis Art Museum, Museum Purchase).
Many of Artemisia's paintings have been read in the past as autobiographical and there is no doubt that her personal identity is closely intertwined with her artistic production. This is especially true of the paintings she produced in Florence (1612/13-20), where she repeatedly used her own image, perhaps as a vehicle for self-promotion. The room dedicated to her Florentine period (Becoming Artemisia in Florence) opens with a trio of works for which she is the model, and which all date from the mid-1610s – Self Portrait as a Female Martyr (Private collection USA), Self Portrait as a Lute Player (Wadsworth Atheneum Museum of Art, Hartford, CT. Charles H. Schwartz Endowment Fund) and Self Portrait as Saint Catherine of Alexandria (The National Gallery, London). Nearby we find displayed her Saint Catherine of Alexandria (Gallerie degli Uffizi, Florence) which, as recent scientific analysis in Florence and London has shown, is closely related to the National Gallery's own self portrait.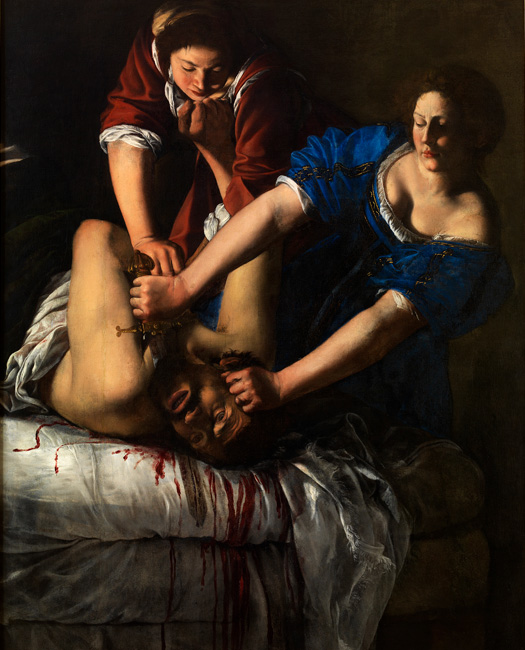 In the same room we find side by side for the first time in the UK the two versions of Artemisia's most famous and iconic composition of Judith beheading Holofernes (one about 1612-13 Museum e Real Bosco di Capodimonte, Naples and the other about 1613-14, Gallerie degli Uffizi, Florence). In this depiction of female determination over brute strength, Artemisia spares us none of the gore: blood streams down the white bedsheets as the Assyrian general Holofernes writhes under the weight of Judith's maidservant; blood spatters Judith's clothes as she grasps the sword with one hand and pulls his hair with the other, a look of determination on her face. The visceral violence of these paintings has frequently been interpreted as Artemisia taking revenge in paint, translating onto canvas her own experience of physical attack. Judith and her Maidservant with the Head of Holofernes (about 1623-25, Detroit Institute of Arts, Gift of Mr. Leslie H. Green), is a Caravaggesque masterpiece which shows a moment later in the narrative, just as Judith prepares to make her escape from the enemy camp with Holofernes's head, can be seen in a nearby room of the exhibition.
To me, the recently discovered Mary Magdalene in Ecstasy (about 1620-25, Private European collection), on display in the UK for the first time, is definitely one of the highlights of the show, which finishes with Artemisia's brief trip to London, where she was reunited with her father just months before his death. It was here, at the court of Charles I of England, that she painted Self Portrait as the Allegory of Painting (La Pittura) (about 1638-9, The Royal Collection / HM Queen Elizabeth II), which has long been regarded as the pinnacle of her achievements.
ARTEMISA
National Gallery London
3rd October 2020 – 24th January 2021
Words: by Lavinia Dickson-Robinson