The Balearic Islands have attracted visitors since the 1960s, when the first international airport was built in Mallorca, paving the way for a massive growth in the tourist sector. These days, even the smaller islands, such as Formentera, have become major destinations for holiday makers. For discerning travellers such as you, our dear readers, the question is how to enjoy all these beautiful islands have to offer but avoiding the crowds. In Mallorca, the largest of them, one can still find quiet hotels and resorts, without having to compromise on access to its picturesque towns and with access to some of their most secluded beaches. One such place is the Kimpton Aysla Hotel, in Santa Ponsa, Calviá, a modern sanctuary of calmness and wellbeing.
This part of the island is within easy reach of the international airport and the capital, Palma de Mallorca. The hotel was designed by Guillermo Reynés, a local architect, director and founder of GRAS-Reynés Arquitectos, a young firm with great projection in the field of architecture and urban design.
The Kimpton Aysla Mallorca was designed by Guillermo Reynés around the concept of contemporary elegance with elements of local tradition and culture.
Conceived as a progressive interpretation of a luxury resort, Reynés combined contemporary design with touches based on local tradition, art and culture, to give the Kimpton Aysla a unique and genuine personality that embraces the spirit of the island. Space and light have been carefully considered as have been the selection of natural materials and the palette of colours, neutral tones speckled with bright turquoise, just like the hotel's Mediterranean surroundings.
The result is a calm and chilled atmosphere that runs throughout the whole resort, where guests can engage on active leisure activities or opt for total relaxation. Whichever your preference, the warm and welcoming staff at the Kimpton Aysla are there to help make your stay unforgettable.
The Mediterranean essence of this resort is clearly reflected in the way its 79 rooms are distributed around exuberant patios, rich with native flowerbeds, shrubs and trees. In the centre, the main building acts as a focal point, with its two outdoor swimming pools: L'illa (opposite the restaurant area) and Le Gran Shore, which is surrounded by real sand, to recreate the island's famous white sand beaches. Here there is a children's area for families to enjoy together. Both pools enjoy unparalleled views of the landscape.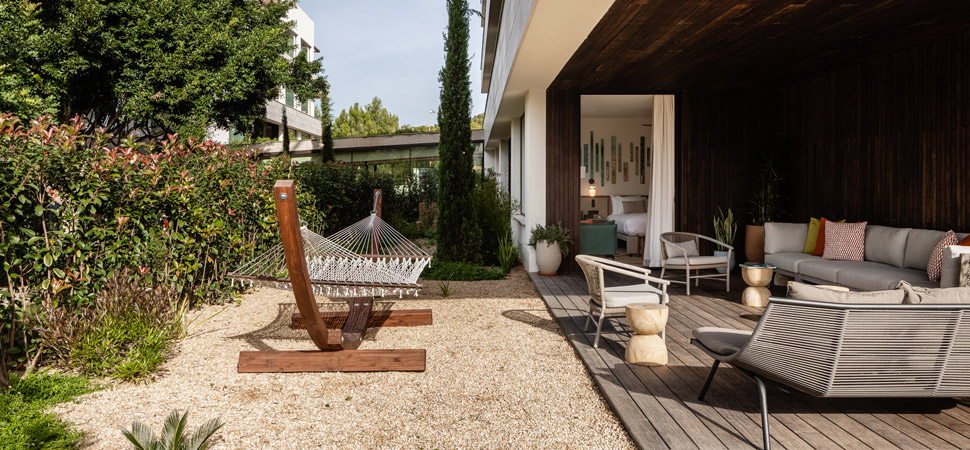 Many rooms have their own terrace, designed with interiors and soft furnishings inspired by the traditional arts of the island.
At the Kimpton Aysla, each guest can have exactly the holiday they want, tailor made to their preferences. I am quite an active person, so the hotel's extensive programme of fitness and wellbeing activities was ideal for me. Every morning I engaged on either a yoga class or a gym workout. I even went for a couple of bike rides, as the island is incredibly popular with cyclists, who come here from all over the world to test their endurance in the mountains of Mallorca. Let me tell you that this is not for the faint-hearted; that said, this will get you fit in no time and it is a wonderful way to explore the rugged landscapes of the island.
The spectacular indoor pool at the spa of the Aysla Mallorca. There is an area with water jets, which does wonders on achy muscles.
If you prefer a quieter stay, the hotel offers guided meditation and a fantastic onsite spa by Maison Codage Paris. Here you'll find a stunning indoor pool, mud baths, a sauna, a salt cave and seven treatment rooms where to experience a wide range of treatments, from facials to lymphatic drainage massage. I chose a deep relief muscle massage, which was just what my body needed after cycling for nearly three hours.
Zayt Restaurant and Bar serves freshly grilled Mallorcan bites and classic cocktails. Their Sunday brunch – called No Brunch – is renowned for its culinary variety and unlimited sangrias.
Feeling all floaty and relaxed, I sat down at the Zayt Pool Kitchen & Garden Deli, where I ordered a refreshing almond horchata, a local drink big on flavour and low in calories. Zayt also offers a variety of fresh fish, meat and vegetable dishes cooked to order.
For dinner, my choice was Saba Restaurant, Bodega & Bar. The restaurant uses mostly local ingredients to create timeless dishes often found in Southeast Asia. In the dining room, there is an open kitchen – very theatrical – which seats 14 guests, who can watch chefs create their own take on sushi and teppanyaki from scratch while they dine.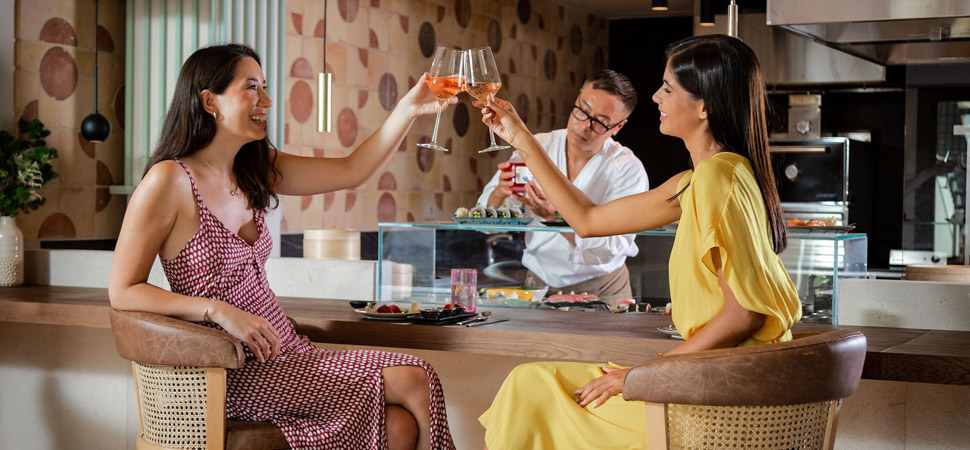 Saba Bar is the ideal place for the evening aperitif. They have a wonderful wine cellar and a superb selection of tapas.
I would recommend that either before (for the aperitif) or after dinner (for a nightcap), you have a drink at the Saba bar located at the front part of the restaurant. Its indoors-meets-outdoors layout makes it the ideal spot all day and all year round. During the day, the bar offers coffee, tea, and sweet treats and in the evening, cocktails, beer on tap and wine from the adjoining wine cellar, which can be accompanied by a selection of Spanish tapas.
After such a full-on day, one needs her beauty sleep, for which this place is perfect. There is no such thing as a bad room here. In fact, all of them are generously sized, and offer different bed arrangements to suit all needs. Many have private outside space, which I absolutely love. One thing that will surprise you here is how quiet it is at night, despite being so close to town.
King room with double balconies and views to the gardens. The 33sqm room also features a walk-in shower and a free-standing bath.
As the common areas of the resort, the rooms and suites have been designed by Guillermo Reynés. Elegant and subtle, they blend contemporary style with elements of decoration inspired by the arts and crafts of Mallorca. The neutral and earthy colours bring calmness to the space, while the bright colour touches reflect the energy of the sun and the Mediterranean.
With such facilities and service, it is very tempting to just stay at the Aysla Resort all the time, but the area of Santa Ponsa is worth exploring. Talk to the concierge and they'll be happy to assist you in organising a visit to the Marine Reserve nearby (go kayaking or paddle surfing, as the caves are amazing), a dolphin-watching cruise or even scuba-diving. And Santa Ponsa itself is very pretty, with its main beach, Platja de Santa Ponça, backed by a promenade full of lively bars and restaurants.
More information and reservations HERE.
Words: Julia Pasarón