I must confess I've always been a big fan of the Fiat 500, a car that seems as at home whizzing around the streets as it would do in the pages of a fashion magazine, that's how pretty it is.
From the humble original Nuova 500 in 1957 till this very latest electric version, only three generations have passed of the famous city car that made its debut 64 years ago.
The new 500 Elettrica is a bit bigger than his hybrid cousin, with more leg and shoulder space. In terms of looks, it is as cute as it gets, crisp and compact, with a wide range of funky paint colours (my favourite is metallic pink) that run into the cabin around the dashboard and doors. Little details in the exterior like the 500 logo, which has been embellished by a light blue border and the final zero turned into an "e", give the car extra personality.
The light clusters are still round like in the original but now use LED technology.
The new interior is clean and well thought, with clear references to the original from the late '50s and designed with simplicity and visual clarity in mind. This is exemplified by fewer buttons all around, the wide dashboard and the modular storage between the two front seats where the gear lever was originally located. The seats are made of Seaqual yarn (recycled plastic) or you can choose eco-leather. The boot is what it is, but it is enough for a big shopping weekend, luggage or children's books/sports bags/equipment if you need to do the school run (so much better than doing it in the stereotypical 4 x 4).
This is only on the pretty side of things. When it comes to performance, 500 Elettrica may leave many of his much bigger cousins behind at a set of traffic lights. I have no idea how such a little thing has (or feels as if it had) so much torque with an 87kW motor (118hp) but this car shoots off the pedal like a cheetah on steroids and manoeuvres like a street dancer. God, it is fun to drive! Nippy, agile, responsive, Elettrica is an absolute delight. In case you are wondering, this cutie will go up to 93mph. I deeply regret not having had the chance to test its top speed. It must be like sitting on a bullet. Exhilarating!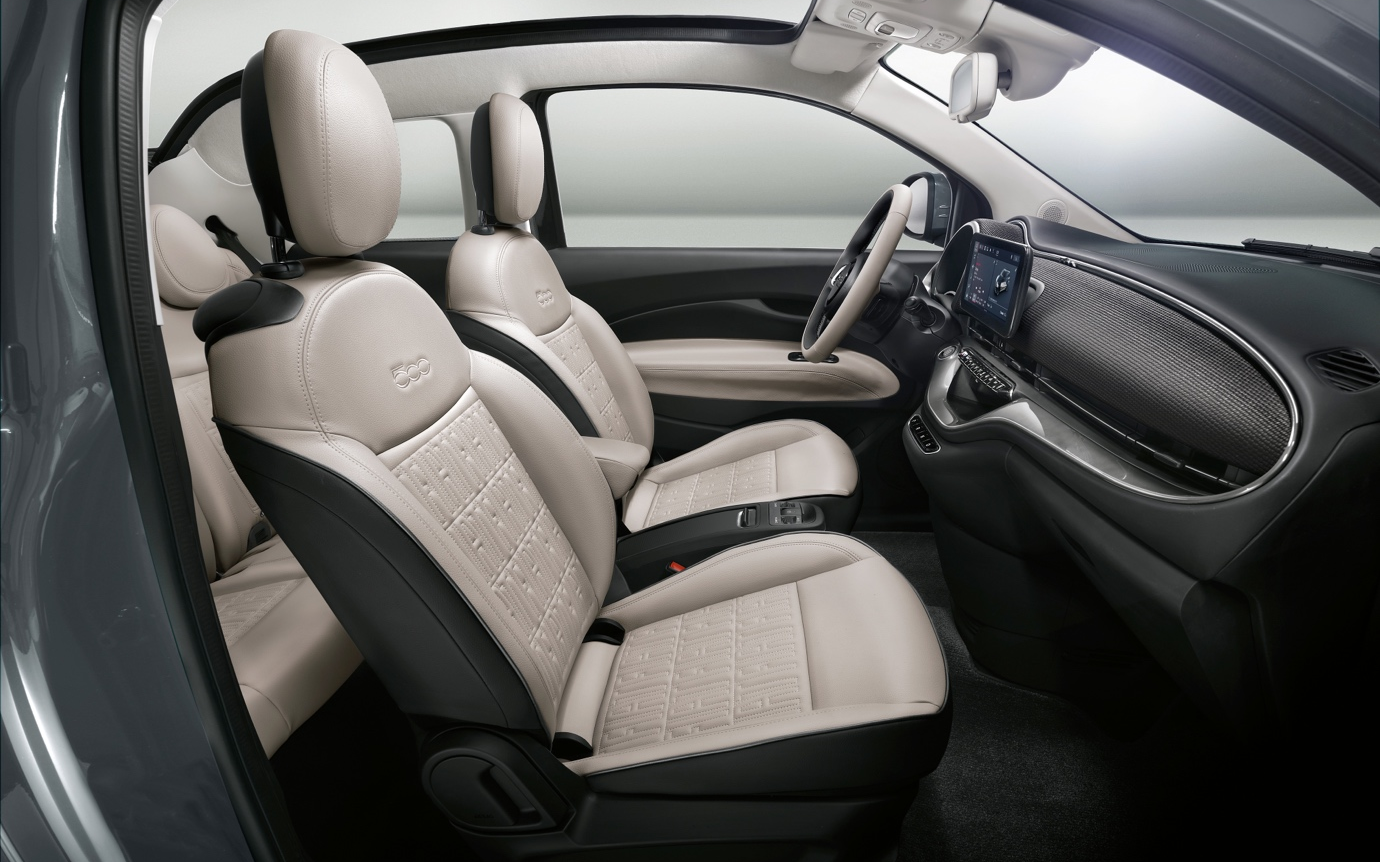 The new Fiat 500 Elettrica has more shoulder and leg space in both the front and rear cabins.
Range wise, it claims up to 199 miles with a full battery. As it consumes less juice than a radio, I'd dare say you could easily go without charging it for two weeks if you are using it only to zoom around town. There are two battery options (24kWh or 42kWh) and 85kW fast-charging from the middle of the range, which allows you to charge 30 miles in five minutes (I kid you not). The Combo 2 socket accepts both AC and DC charging – if you drive electric you know what I'm talking about – but you can always charge it at home.
500 Elettrica has three driving modes: "Normal" drives like a combustion car, "Range" allows you to drive with just one pedal, so when you lift your foot from the accelerator it slowly breaks until it comes to a complete stop, feeding back charge to the battery in the process. It feels a bit weird at the beginning but you get used to it very quickly. Last, "Sherpa" is for when you think you may run out of juice as the car will optimise resources to make sure you make it to a charging point.
In terms of tech, you name it, 500 Elettrica has it: all kinds of Advanced Driver-Assistance and Safety Systems, including Attention Assist, Lane Control, Traffic Sign Recognition and Autonomous Emergency Braking; level 2 autonomy, meaning cameras and sensors everywhere, blind spot control, lane centring, self-accelerating or breaking in response to pedestrians, cyclists or any other unforeseen obstacles and paternal advice when you start going over the speed limit. The warning comes in the form of the music of Amarcord by Nino Rota, in pure Dolce Vita style. Probably this is not the full list but definitely enough to put your mind at rest.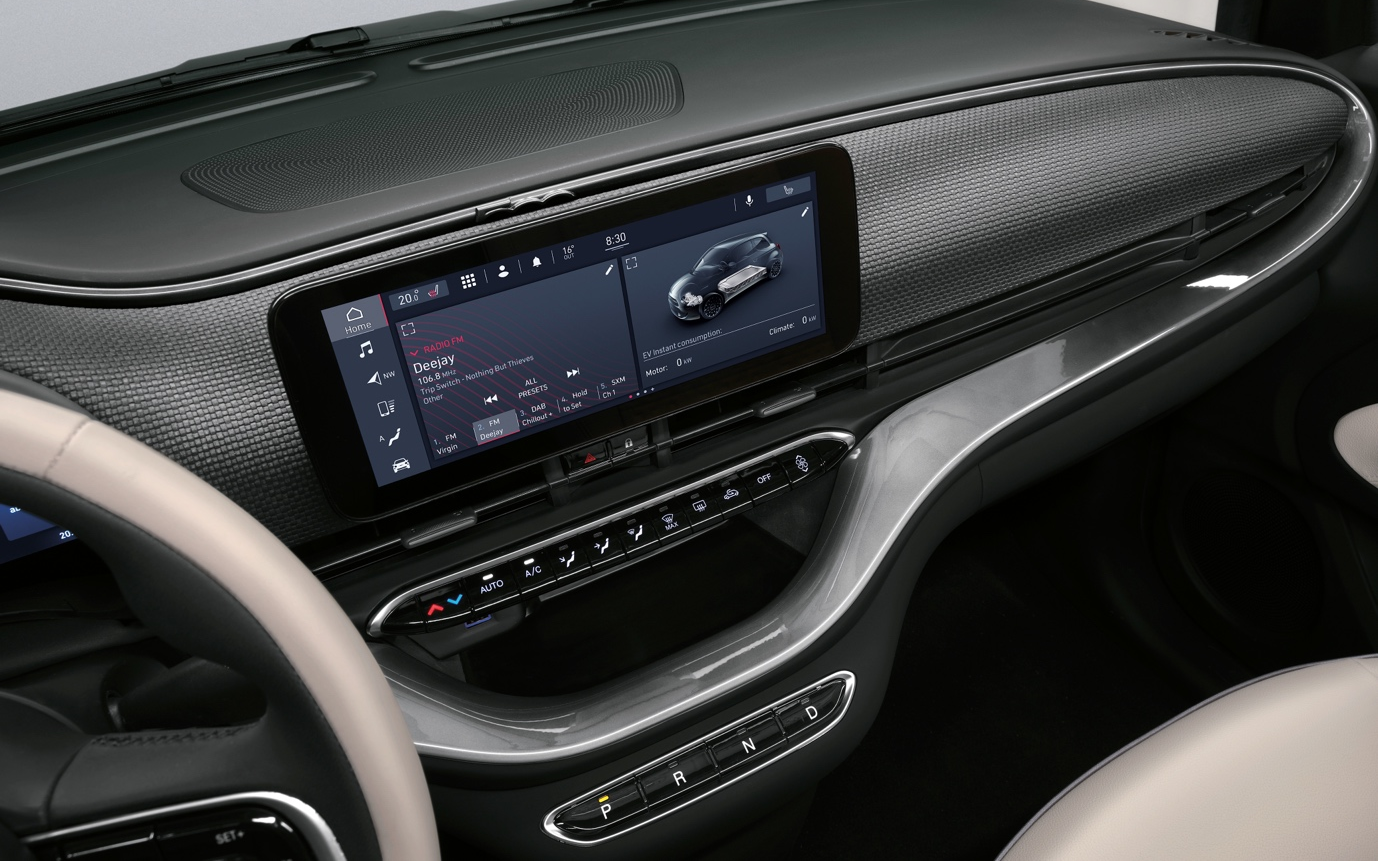 The new UConnect 5 infotainment system transfer to the New 500 all kind of automation systems.
The infotainment system has been upgraded to a 10.25-inch, high-definition touchscreen, WiFi hotspot, wireless mobile charging pad and smartphone mirroring. It is compatible with Apple CarPlay and Android Auto and Smartphones can be connected in just five seconds. A very practical wireless charging pad is also available.
This is actually the first language interface system that understands what I say. It may be because it is Italian and I am Spanish. Whatever the reason, it brought tears to my eyes to be finally understood.
Fiat 500 Elettrica is available as a hatchback or convertible with three different trims: Passion, Icon and La Prima. OTR from £20,495.
www.fiat.co.uk
Words: Julia Pasarón