This is the strapline for which Nathalie McGloin, the first ever disabled female racing driver is best known for; and it is hard to think of one that would suit her better. After breaking her neck at the age of 16, Nathalie was left paralysed from the chest down, but this didn't deter her from following her ambitions, far from it, if anything, it made her more determined to succeed. She completed her A-Levels after leaving hospital and then went on to study at Nottingham University where she discovered wheelchair rugby, which she played to quite a high level, even moving to London to advance her career in that sport.
It was there that a fellow player introduced her to track days. At Salon Privé back in September, hosted by Lamborghini, our Editor Julia Pasarón had the chance to interview this incredibly inspirational woman and self-described Porsche nut. Talking about her first track day on a Porsche 911 all those years ago, Nathalie recalls with a big smile, "It was incredible. I just fell in love with it instantly. It was a revelation that this kind of driving was legal!
That was my first stepping-stone on to motorsports. I loved that on the track everybody was there at the same time, there wasn't a subclass for disabled people. We were all just going and driving as fast as we could. And that was the start of quite an expensive hobby." Six years on she became the first woman in the UK with a spinal cord injury to pass her ARDS exam and attain the licence required to compete in British club motorsport.
It takes a lot of guts to race at the best of times, so after the terrible accident Nathalie suffered, it is even more impressive that she found the bravery to give it all on the track. "I am not fearless," she claims, "but I believe life is too short. I am passionate about motorsport and I believe that if you can make a living doing what you love the most, then you are very lucky but I haven't lost my self-preservation instinct."
It was incredible. I just I fell in love with it instantly. It was a revelation that this kind of driving was legal!

– Nathalie McGloin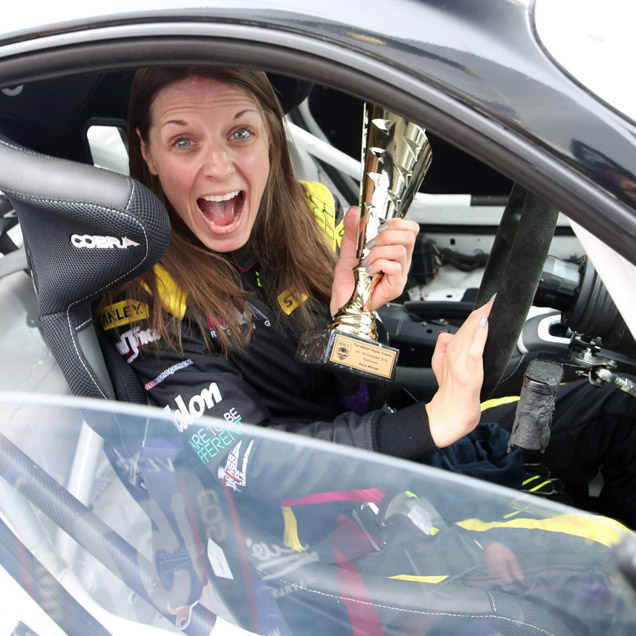 The rest, as they say, is history. With a list of podium finishes under her belt and her first outright win at Silverstone in 2018 (less than four years after starting in this sport), Nathalie's victory is absolute testimony to the fact that in motorsport, gender and disability are completely irrelevant. The same year she was also awarded the BWRDC Lord Wakefield Trophy, presented annually in recognition of outstanding achievement by women in motorsport. The award couldn't have come at a better time because in 2017 Nathalie almost gave up racing for good. "I had the worst season ever, "she explains, "I crashed my car at Brands Hatch on the test day before the first race of the season. The ABS failed and I hit the wall quite hard. I was only slightly injured and the car, although quite damaged, could be repaired. However, my confidence got completely knocked out.
I spent that season trying to rebuild it but every time I went out in the car I would behave in a way that wasn't right and I started to question whether the problem was me. At the end of the last race of the season, I remember sitting in my car with my instructor and he asked me, "Natalie, what's wrong?" and my answer was "I would rather be anywhere else in the world right now than in this car on this racetrack." So I promised myself that if I still felt that way like this by the end of the following season I'd hang up my racing gloves for good because racing is far too dangerous and too expensive to do unless you absolutely love it."
Fortunately for motorsport, something happened at the eleventh hour. Nathalie went into a race at the end of the year in Silverstone and finished third. "That day I fell back in love with racing again and then, in the 2018 season is when I got all of my podiums and on top of it, I was presented the Lord Wakefield Trophy, which was completely unexpected given the calibre of previous winners, women like Katherine Legge, Claire Williams and Susie Wolff. The cherry on the cake was to present Kimi Räikkönen his trophy at Silverstone."
In motorsport, there are no separate classes for female or for disabled drivers. This means Nathalie's main competitors are able-bodied men. She trains and competes at the highest level, and thrives on the adrenaline. Her car is an adapted Porsche 987 Cayman S, fitted with radial hand controls mounted to the right of the steering column that leaves her left hand free to steer. She actually considers herself a disabled driver before a female driver because as she explains, "my disabilities are much more tangible and people are actually more interested in me as a disabled driver than as a female driver." Fortunately, discrimination hasn't been an issue on the track for Nathalie, "I was very relieved that nobody treated me as extra fragile or anything like that. I love the fact that all other drivers would happily take the nose off the end of my car to get past me."
You are only as strong as your weakest member; everybody from mechanics
to drivers has to pull together
if you are to succeed…

– Nathalie McGloin
Outside the track though, it is a different story. Nathalie has been the recipient of bullying comments on some social media platforms that she doesn't really engage with, like Reddit, where she got people saying that she shouldn't be racing at all or that she was privileged and therefore her stories and aspirations were meaningless. However, most of the time she receives a lot of support from her ever-growing number of followers. Her view on the dangers of social media is clear, "We need to start a conversation about what can be done to make it safer and more responsible, so people are aware of the far-reaching consequences of their posts and comments. Maybe we should start social media education in schools."
Besides the Porsche Club Championship, Nathalie competes in the New Millennium series run by the Classic Sports Car Club. These races take place at all the major national circuits, including the revered GP circuits of Silverstone, Brands Hatch and Donington. There are still some places in her bucket list, with Dubai and Abu Dhabi at the very top. "I love the UAE," she explains, "the weather, the lifestyle… and they have fantastic cars there. Basically, somewhere warm for a 24 hours endurance race would be my ultimate goal so Dubai or Abu Dhabi would be a great place to start."
Nathalie loves the team aspect of motorsport, where "you are only as strong as your weakest member; everybody from mechanics to drivers has to pull together if you are to succeed. My victories are not mine, they are my team's." She has special words of praise for James Webley, her mechanic, of whom she says, "I don't know how he does it but he seems to know what I need even if I can't explain it to him properly."
Her passion for giving back to others is just as strong as her drive for the sport. The generosity of her spirit has taken her to become an ambassador for a number of charities and non-profit organisations aimed at giving opportunities and support to minority groups who are widely under-represented in motorsport: Wings for Life, a charity committed to finding a cure for spinal cord injuries, where she works alongside other racing driver ambassadors Mark Webber and David Coulthard; Girls on Track (previously known as Dare to be Different), devoted to inspiring, connecting and showcasing female talent in motorsport; and with her partner she co-founded Spinal Track, a charity that enables disabled drivers to enjoy track days and rally experiences with the support of Stanley Black & Decker, who also sponsor Nathalie as a driver.
Nathalie is President of the FIA (Fédération Internationale de l'Automobile) Disability and Accessibility Commission, formed two years ago with the goal to make motorsport more accessible to disabled people. The Commission's responsible for all of the global licensing regulations for disabled motorsports, "but we're not just there for the drivers," Nathalie points out, "we're also there for volunteers, officials and marshals, making sure that stadiums and other venues are accessible for disabled spectators. We're trying to promote disabled people working within motorsport teams at all levels."
Slowly, car companies are realising the importance of being more inclusive of women, one of them being Lamborghini, whose Female Advisory Board brings together a network of over 120 influential women in business, culture, creativity and technology around the world) rewards female talent every year with prizes in three categories: Technology, Sustainability and Art. As part of the FAB initiatives, Lamborghini has produced a series of podcasts with influential women from all over the world. The UK subject was Nathalie, who was selected for her ability to inspire and open doors to women and indeed, disabled people who are enthusiastic about motorsports.
"I am passionate about the ethos behind Lamborghini's Female Advisory Board," shares Nathalie, "so I jumped at the opportunity to be part of it, to help instigate change for females in the automotive sector." Lamborghini wanted to give these "fab" women an opportunity to talk about how they set out to change their lives and to change the people around them and Nathalie is a prime example of that kind of far-reaching journey of transformation.
I am passionate about the
ethos behind Lamborghini's
Female Advisory Board…

– Nathalie McGloin
Although motorsport is starting to actively seek people of all kinds and backgrounds to join in, the truth is that from the outside, this is a sector that seems unapproachable and hostile, limited to privileged individuals. In order to make it more accessible, Nathalie thinks that one of the first steps to take is to increase visibility. In the case of women, for example, she says, "Young girls watching Formula 1 on TV at home, will hardly ever see a woman so it is hard to inspire the younger generations if they can't see someone like them doing it. I think more visibility for things like the W series would be good for showing girls that the dream is possible, that women can race.
Le Mans just had two all-female teams competing this year so it seems that slowly we are moving in the right direction." When it comes to the disabled, Nathalie thinks the strategy is pretty much the same although slightly more challenging because "regulations have to be in place for adaptations in homologated racing, what we have done with the FIA, so homologated cars and can be adapted to compete with non-adapted cars." Visibility though seems to be the key factor to bring for motorsport to be more inclusive so Nathalie has started a new Instagram channel @fia_disability_accesibility
There are other initiatives out there like the Electroheads e-kart race series, launched earlier this year by Rob Smedley (a former engineer at Ferrari and Williams and now Formula 1's director of data systems) to help make the entry points to racing more diverse and affordable and encourage the growth at the grassroots level of the number of people that can get involved in the sport. Nathalie believes that this kind of initiative is vital "to discover many hidden talents that otherwise will never be found."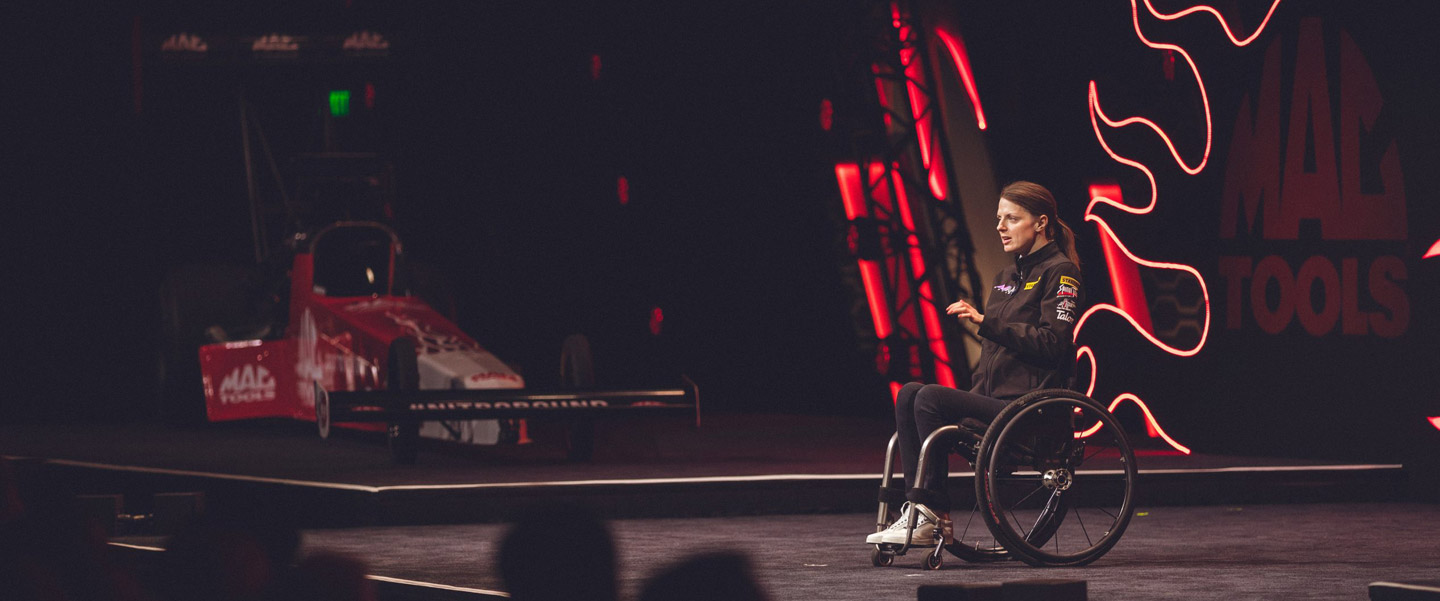 For those who maybe can't afford even karting, Nathalie's advice is that "there is always a way in. Start volunteering, get work experience, become a marshal… even cleaning the circuit; anything that would help you set foot onto the tarmac."
I always like asking my interviewees about their dreams and Nathalie's is quite inspirational. "I dream of being so successful with my commission that disabled kids watching Formula 1 will genuinely believe that they can do it too." From all of us at I-M Intelligent Magazine, we truly hope your dreams come true Nathalie McGloin.
Instagram: @nathaliemcgloin
Facebook: nathaliemcgloinracing
www.spinaltrack.org
@spinaltrack

https://www.wingsforlife.com/en/
#anythingispossible #motorsportforeveryone
Lamborghini podcasts: https://future.fab.lamborghini/