I-M Magazine's Shelley Campbell was recently invited to Sicily to learn more about the Irene Forte Skincare range. First stop was the Rocco Forte Verdura Resort, which comprises 230 hectares of sun-kissed Mediterranean coastline, countryside, golf and spa, and this is where I first met the delightfully engaging and passionate Irene Forte. An Oxford graduate, not only is she the founder, leader and driving force behind Irene Forte Skincare, she is the Wellness Consultant for Rocco Forte Hotels and an Advisory Board Member of the Global Wellness Summit.
Irene's family originates from Italy, a country that has been a home-from-home since her early childhood. She first stepped foot in Sicily in 2003, when she explored the area that later became the Verdura Resort and organic farm from which her principal ingredients are sourced. When it opened in 2009, Irene devoted a year to working there, during which she fell in love with the people, culture, food and the natural spirit of the island. As she learned more and developed her understanding of skin and overall wellbeing, Irene realised that Sicily's rich organic ingredients and the bountiful produce that Verdura's organic farm provided, was the perfect base for a skincare line with health and wellness at its heart.
Irene Forte Essentiali Rigeneranti kit, a luxurious box containing their six regenerating essential products. RRP £250.
Having hypersensitive skin myself, I was a dedicated devotee to a brand which I finally found agreed with me, so I was hesitant to try something new. I pride myself on being an ethical journalist (yes, there is such a thing) and will only support products that I legitimately believe in. I therefore embarked on the Irene Forte Skincare regime seven days before I travelled and continued throughout my time in Sicily. I can say – hand on my heart – that I have become an enormous fan.
The first morning we were treated to a bespoke tour with Luciano Porcu (the Rocco Forte Verdura Spa Director) who guided us through the astoundingly expansive and abundant grounds of the resort. From the olive and almond groves to the prickly pear cacti and helichrysums – I discovered a whole new world of holistic and fortifying ingredients, which have shown profound results in independent clinical and user trials in skincare.
Luciano Porcu, spa director at the Rocco Forte Verdura resort showed us how many ingredients are sourced from plants grown locally such as prickly pear cacti, olives and almonds.
At the end of our tour, we were greeted and treated to a cooking lesson with Fulvio Pierangelini, the enigmatic, captivating and passionate Creative Director of Food for the Rocco Forte Hotel group. Coming from someone whose meals often go "ding" at the end, it was an eye-opening experience learning about the ease of creating traditional Italian dishes using respectful treatment of the simplest ingredients.
"Simplicity is the point of arrival. This has been at the heart of my mission for over 40 years."

– Chef Fulvio Pierangelini
Working closely with renowned chemist Dr Francesca Ferri and her team of biologists and pharmacologists in Trento, Irene developed a range of nutrient-rich skincare based upon the principles of the Mediterranean diet; regarded by many as the healthiest in the world. It is a common misconception that all naturals are kind – in fact, some are actually foreign to the skin and can cause reactivity and irritation. Irene Forte Skincare was created on the principles of 75 exceptionally skin-kind compounds.
Based on 35 years of research, Dr Ferri is a pioneer in the medical use of plant-derived extracts in the treatment of dermatological conditions such as dermatitis and psoriasis, as well as tumours and degenerative diseases. She was awarded the Italian equivalent of a knighthood for her ground-breaking research into the genetic basis of skin issues and, more recently, has discovered a type of melatonin, known as Phytomelatonin, which has shown to have breakthrough potential in anti-ageing cosmetics (these accolades are to name but a few).
Dr Francesca Ferri and Irene Forte's relationship is based on a mutual desire to educate and create products that support health, wellness, and anti-ageing.
Meeting Dr Ferri was a pure joy. She didn't speak English and my Italian is restricted to "ciao, arrivederci, and grazie". However, with Irene's translation, I discovered a warm and wonderful person who is as passionate about the benefits of plant-derived actives as Irene is. I immediately recognised the organic and symbiotic partnership, solidified by a mutual desire to educate and create products that support health, wellness, and anti-ageing.
"Since the brand's inception, it has been hugely important to me that my line is as sustainable as possible, always thinking about governance, community, environment and our customers.

– Irene Forte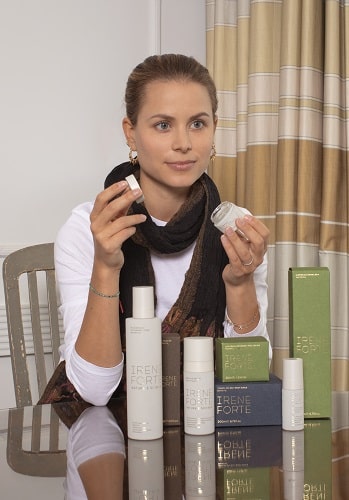 As a businesswoman, Irene embodies her family's entrepreneurial spirit and commitment to ethical business practices. She sees her skincare company as part of a much wider system of people, organisations, nature, and the environment; and is personally committed to doing the "right thing" to ensure that her products and processes are as sustainable as possible. This is further exhibited by the integration of zero-waste upcycled ingredients which are certified vegan. In recognition of these standards, Irene Forte Skincare has already achieved B-Corp status and has been awarded the Butterfly Trust Mark by Positive Luxury for sustainable excellence.
More information on Irene Forte Skincare HERE.
Words: Shelley Campbell
Opening picture: Irene Forte on the grounds of the Rocco Forte Verdura resort.