Nestled at the foot of the Vosges du Nord nature park, Villa René Lalique, in Wingen-sur-Moder, France, has become recognised as a unique destination for epicureans. René is a member of the Relais & Châteaux collection and boasts a five-star luxury suite hotel, that offers the opportunity to be emersed in Lalique and enjoy the hospitality of a private home. The restaurant at Villa René Lalique, which opened its doors in September 2015, is home to Chef Paul Stradner, now at the helm of the establishment's kitchens, assisted by Pastry Chef Nicolas Multon.
Born in Austria, Paul Stradner has worked at some of the finest restaurants in Germany and Eastern France since 2002 and is devoted to a cuisine that remains faithful to the products and flavours of the Rhine. As Lalique's designs were often inspired by the "three Fs" – Fauna, Flora and the Female form, he draws his inspiration from nature, which is very much part of the dining room experience, thanks to the restaurant's large bay windows designed by Swiss architect Mario Botta, famous for his design of the Museum of Modern Art in San Francisco. The restaurant provides a beautiful green setting for a cuisine with emotional resonance that is resolutely forward-looking and inseparable from the region. The chef's desire is to highlight the riches of the surrounding area through its producers, anglers, livestock farmers, and harvesters, echoing the artisanal values and expertise so dear to Maison Lalique. A further dimension is added by the remarkable seasonal variety offered by the Rhine Valley and nearby Alsace, giving an amazing scope to an ever-changing menu. "It is not a question of one ingredient being nobler than another," Stradner explains, "it is how you treat the ingredients that can enhance them and open up whole new perspectives. In this way, I hope to enable those who think they know the region to rediscover it, and to give others the desire to be surprised by a rural uniqueness that is relatively unknown."
Left, Perfect Egg Buckwheat. Right, Red Cabbage Symphony.
An impressive array of signature dishes is available. The selection prepared for me was entitled, 3-Step Waltz Menu, as the three prominent servings are punctuated with interesting additions in-between, making the gastronomic experience seven courses. There are surprising combinations of vegetables and aromatic broths, reductions, and infusions. Red Cabbage Symphony, a combination of raw, cooked, and iced flavours of quince, bergamot, and vanilla, was rather splendid both in presentation and taste. To start, I enjoyed what can only be described as the perfect egg. Cooked at 62°C for two hours, Egg à la Florentine is served in its shell with wilted Alsace spinach and parmesan cream. An elegant comfort-food alliance. I can also highly recommend fresh seafood. I opted for seabass as my second of the three-step menu. Prepared with a Cabernet sauce, shellfish, and celery, it resulted in an explosion of flavours in my palate.
Seabass with Cabernet sauce, shellfish and celery.
Alternatively, there is the Terroir Menu, dedicated to anchoring Villa René Lalique's cuisine in its terroir and the local economy. Stradner has made a point of selecting the region's finest artisans within a limited geographical radius and when a specific ingredient is needed, there is always a way.
Pastry Chef Nicolas Multon, an art lover, presents a selection of the most to die for signature desserts, such as the powerful Opéra – Coffee – Toasted Barley, with art deco lines, inspired by the classic opéra, and complete with an ice-cream made with toasted cereals. In 2020, for the Villa's centenary, he created his first chocolate sculpture in collaboration with Josiane Ruez, a lost-wax model maker and designer at the Lalique factory.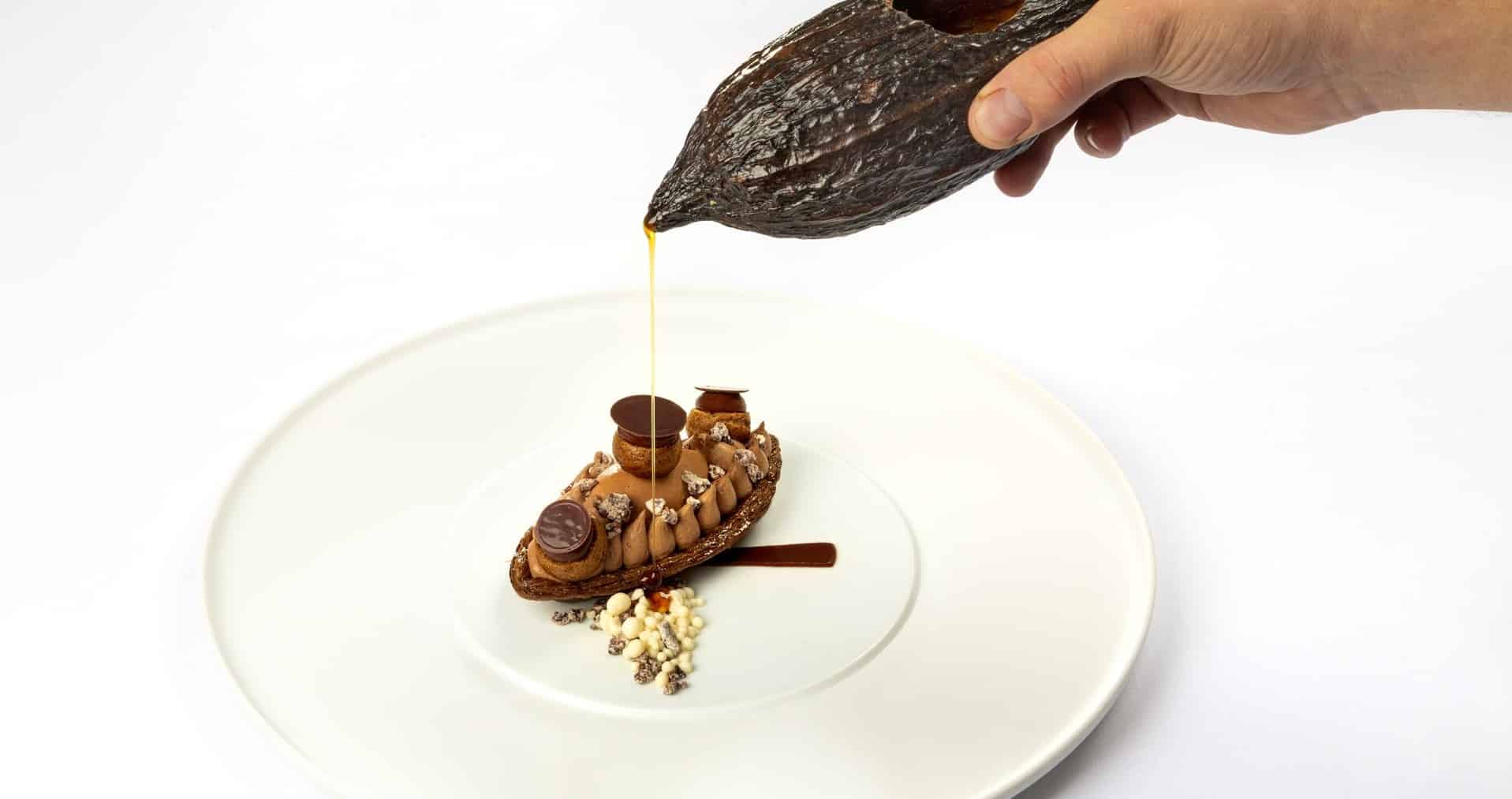 Equator Chocolate dessert by Chef Nicolas Multon, representing the journey from cocoa bean to chocolate.
Well worth a trip below the restaurant is the cellar, under the patient and expert care of Head Sommelier, Romain Iltis, who was awarded Meilleur Ouvrier de France 2015 and Meilleur Sommelier de France 2012. This is not any type of cellar, but also an impressive entertaining space, and with 2,500 different wines available in the 60,000-bottle cellar, it was difficult to choose. 10,000 bottles have been deliberately set aside to await their apogee. I drank the Cuvée Villa René Lalique, a special collaboration between Villa René Lalique and Deutz; it was divine and is my new favourite choice of fizz. Deutz only works with a few selected brands, and this was a natural partnership as René Lalique was born in Aÿ-Champagne, where Deutz is located.
The Wine Cellar at Villa René Lalique is often hired for private receptions.
The table settings show off the glasses and decanters from the 100 Points range, designed for Lalique by the eminent American wine critic, James Suckling. Guests also have an opportunity to observe and dine with other creations made exclusively for Villa René Lalique by Maison Lalique. The restaurant architecture is a stark contrast to the original villa built in the early 20th century which characterises that period. Placed like a glass rectangle in which the various greens of the surrounding six-hectare park are reflected, this 200sqm cube (with room for just 45 diners), is immediately intriguing. The interior offers a 360° experience. On three sides, a green tableau vivant of hundred-year-old beech, spruce, chestnut, and blue cedar trees, and on the fourth, a silent open kitchen. The roof of this airy room, bathed in natural light and adorned with crystal suspended from a cascade of sumptuous chandeliers designed by Windfall for Lalique, is planted with wonderful leafy vegetation.
Bathed in natural light, the restaurant at Villa René Lalique offers spectacular views of the surrounding countryside.
Do plan your visit well in advance, as word is now out, and the restaurant is often fully booked several months in advance. Its relaxed and tranquil ambience – just like the surrounding area of natural French beauty – is the most magnificent way to delight in Stradner and Multon's constantly renewed gastronomic experience. The restaurant is a union and celebration of the fusion of art and creativity, a bridge between cuisine and crystal which has evolved naturally. The French art of living to its highest level in exquisite style.
Villa René Lalique Hotel and Restaurant. 18 rue Bellevue,67290 Wingen-sur-Moder, France
reservation@villarenelalique.com Tel:+33 388719898
Words: Linda Hunting