Ever since the House of Harry Winston was founded in New York in 1932, the name has been synonymous with the finest and most sought-after high jewellery in the world. In fact, Mr Winston earned the moniker of "King of Diamonds" and "Rare jeweller of the World". Maybe part of the reason was his incredible passion for jewellery. "Jewels are more than my love and my life, they are an insatiable obsession," he famously said.
It was Mr Winston who pioneered the custom of lending jewellery to stars. His muse Jennifer Jones wore Harry Winston at the 1944 Oscars gala in which she won the Best Actress award, and since then, celebrities have flocked to Harry Winston for jewels to wear in the most special occasions. But it wasn't just Hollywood stars that were attracted to the New York based jeweller, so was royalty. The Maharajah of Indore, the Empress of Iran, the Duke & Duchess of Windsor and HM Queen Elizabeth II are just a few of the notables who went to Mr Winston for the rarest and finest gemstones, maybe because his collection at some point could rival that of many royal houses. His acquisitions included many famous pieces of royal provenance, including the Arcots, the Hope Diamond, and jewels from Marie Antoinette and Princess Eugenie, in addition to creating bespoke creations for the nobles.
Necklace of one of the three sets Harry Winston designed in 1977 for the 16th birthday of a young princess.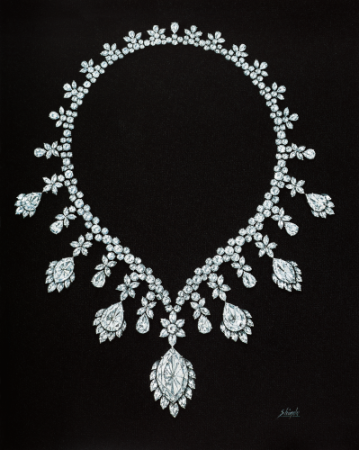 For its latest collection of high jewellery, the House of Harry Winston has created a series of one-of-a-kind suites, entitled Royal Adornments with references to pieces of royal provenance that have been at some point part of the House's collection. Here we present you the Princess suite, which is inspired by a commission Mr Winston received in 1977 to create a series of three spectacular "sweet 16" sets of jewels for a young princess as a birthday present from her father. One of the sets included a spectacular diamond necklace, with impressive pear-and marquise-shaped stones that delicately hung from a small cluster of diamonds, which resembled butterflies in mid-flight. Mr Winston's choice of design could have not been more appropriate for a present from a dad to his beloved daughter in such a cornerstone birthday – which traditionally represented the shift from teenage into young adulthood – as butterflies symbolise transformation, beauty, freedom, and love.
This new interpretation of that suite takes a contemporary spin on this sentimental creation with a multi-strand wide collar necklace, totalling more than 186 carats, consisting of rows of diamonds, deep-blue cushion-cut sapphires and celestial aquamarines. The diamond strand – centre of the three rows – features clusters of marquise-shaped stones recalling the same butterfly motif as the "Sweet 16" necklace. The complementing earrings also recreate the diamond butterfly ornament, suspended between an aquamarine and cushion-cut sapphire stone.
Royal Adornments continues de tradition of the House of Harry Winston of linking the past to the present with creations infused with the quality and craftmanship instilled by Mr Winston himself.
I can't imagine anything that would make you feel more special at that age than the feeling of Harry Winston diamonds on your skin. Sweet 16 indeed. Find out more about the Royal Adornments collection HERE.
Words: Julia Pasarón