Hidden love, shame, pride, youth and death are the stuff of great art, great opera and great literature. They are also the grand, emotionally charged themes that run through Welsh tenor Elgan Llŷr Thomas' recent release, Unveiled, a musical tale of queer British culture from the 20th century to the modern day.
Thomas has already established himself as a modern representative for young, queer singers, performing on some of the most iconic stages across the UK and beyond. But as a gay musician and composer, he has often found himself frustrated by opera's traditional focus on heterosexual relationships. So he resolved to find more LGBTQ+ representation in vocal music. To achieve this, he has crafted an album that sheds new light on works from the UK's most iconic gay composers and poets alongside music by typically marginalised artists.
The album opens with Seven Sonnets of Michelangelo (1940), written by a man some would claim to be Britain's most iconic queer composer, Benjamin Britten. Britten wrote these songs for his life partner, Peter Pears, at a time when homosexuality was still a criminal offence, which may explain why he used Italian poems for his text – to better hide their true meaning from audiences at home.
"I'm trying to find a new audience for classical art song, to show that it isn't elitist, stuffy or boring, but highly relevant and utterly beautiful."

       – Elgan Llŷr Thomas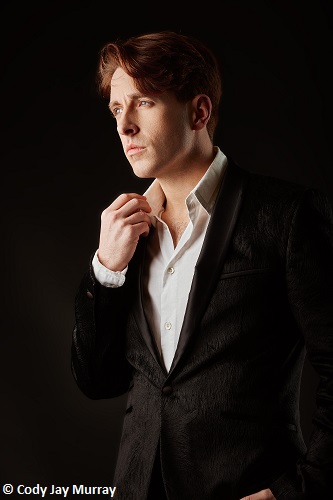 Homosexuality remained illegal for most of Britten and Pears' lives, but after Britten's death, Pears was increasingly open about their relationship. Their love is now an iconic story to much of the classical world and beyond. For this project, Thomas specially commissioned theatre director, lyricist and translator Jeremy Sams to write a brand-new English translation of the songs to highlight their deeply intimate meaning and make plain the romantic nature of Pears and Britten's connection.
This album also features Ruth Gipps' rarely performed 4 Songs of Youth For Tenor and Piano (1940), set to texts written by bisexual war poet Rupert Brooke. Gipps' work remains relatively unknown due to the discrimination she faced as a female composer in her early career – indeed, there is just one catalogued instance of these songs being performed 70 years ago. This album represents the very first time these songs have been recorded commercially.
Michael Tippett's Songs for Achilles (1961) follow, a song cycle by yet another composer known to have wrestled with his homosexuality.
Through Unveiled, Thomas aims to bring queer musical stories of the past into the 21st century.
Thomas concludes the programme with a new piece of his own. Swan is set to poems by Andrew McMillan, a gay English poet and lecturer, who was inspired by Sir Matthew Bourne's famous all-male production of Swan Lake which depicted a human male falling for a male swan. The much-loved music of Swan Lake was, of course, composed by Pyotr Ilyich Tchaikovsky, widely acknowledged as a closeted homosexual. Thomas, as both composer and performer, reshapes this cultural legacy for the modern age, drawing on his own experiences.
Through Unveiled, Thomas aims to bring queer musical stories of the past into the 21st century. "I'm trying to find a new audience for classical art song, to show that it isn't elitist, stuffy or boring," he says. "It's highly relevant and utterly beautiful."
Words: Lisa Hillman
Opening picture: © foxbrush.co.uk