Launched in 1965, Wildlife Photographer of the Year was a competition held by the BBC's Animals Magazine, with the hope of providing an incentive for the field of wildlife photography. The Natural History Museum joined forces in 1984 to create the event as it is known today, and they now fully own and run the prestigious competition, sponsored by green energy company, Ørsted.
From this powerful platform, the 2022 Grand Title holders were selected from 19 category winners that highlight the natural world in all its wonder and diversity. In an intensive process, 38,575 entries from 93 countries were judged anonymously by an international panel of experts on their originality, narrative, technical excellence and ethical practice.
At the exhibition, visitors have the chance to explore the natural world in all its fragility and diversity, with 100 powerful photographs that tell the story of a planet under pressure. Gaze through the lens of some of the world's best wildlife photographers and marvel at the beauty of our planet. Positioning the photographs among short videos, quotes from jury members and photographers, as well as insights from Museum scientists, it invites the public to explore imagery that encapsulates the preciousness of our world.
American photographer Karine Aigner was announced as this year's Wildlife Photographer of the Year for her remarkable image of a buzzing ball of cactus bees spinning over the hot sand on a Texas ranch. In her remarkable close-up, all bees except one are males and they are intent on mating with the single female at the centre. Like most bees, they are threatened by habitat loss, pesticides, and climate change, as well as farming practices that disrupt their nesting grounds.
The Big Buzz, by Karine Aigner, USA – Winner of the Grand Title award.
Karine is the fifth woman in the competition's 58-year history to be awarded the Grand Title award. Chair of the jury, writer and editor, Rosamund 'Roz' Kidman Cox OBE says, "Wings-whirring, incoming males home in on the ball of buzzing bees that is rolling straight into the picture. The sense of movement and intensity shown at bee-level magnifies and transforms what are little cactus bees into big competitors for a single female."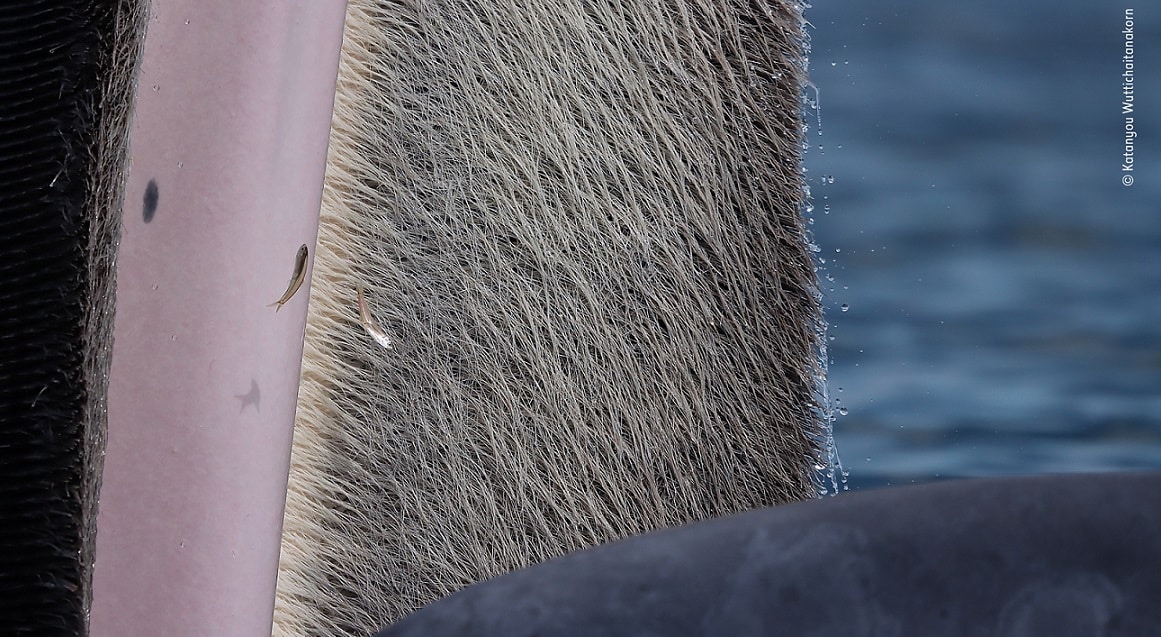 The Beauty of Baleen, by Katanyou Wuttichaitanakorn, Thailand – Winner of the Young Photographer Award – 15-17 years.
When a Bryde's whale surfaced close to his boat, Katanyou was intrigued by the contrasting colours and textures of its dark skin, pink gum and the brush-like mass of baleen hanging down from its top jaw. Like other baleen whales, Bryde's use a technique known as lunge-feeding to capture large numbers of small schooling fish and use the plates of baleen to filter the small prey from the ocean. A keen naturalist and photographer since the age of 12, this dynamic composition is Katanyou's first award in the annual competition. With the pin-sharp detail of tiny anchovies, set against an abstraction of colour and the weave of brown baleen hair rimmed by a cascade of water drops, this dazzling creation was captured from the jaws of this majestic whale. Following government tourism guidelines, the tour boat Katanyou was travelling on turned off its engine as the whale appeared close by. This meant that Katanyou had to steady his hands to photograph this close-up composition as the boat rocked in the swell.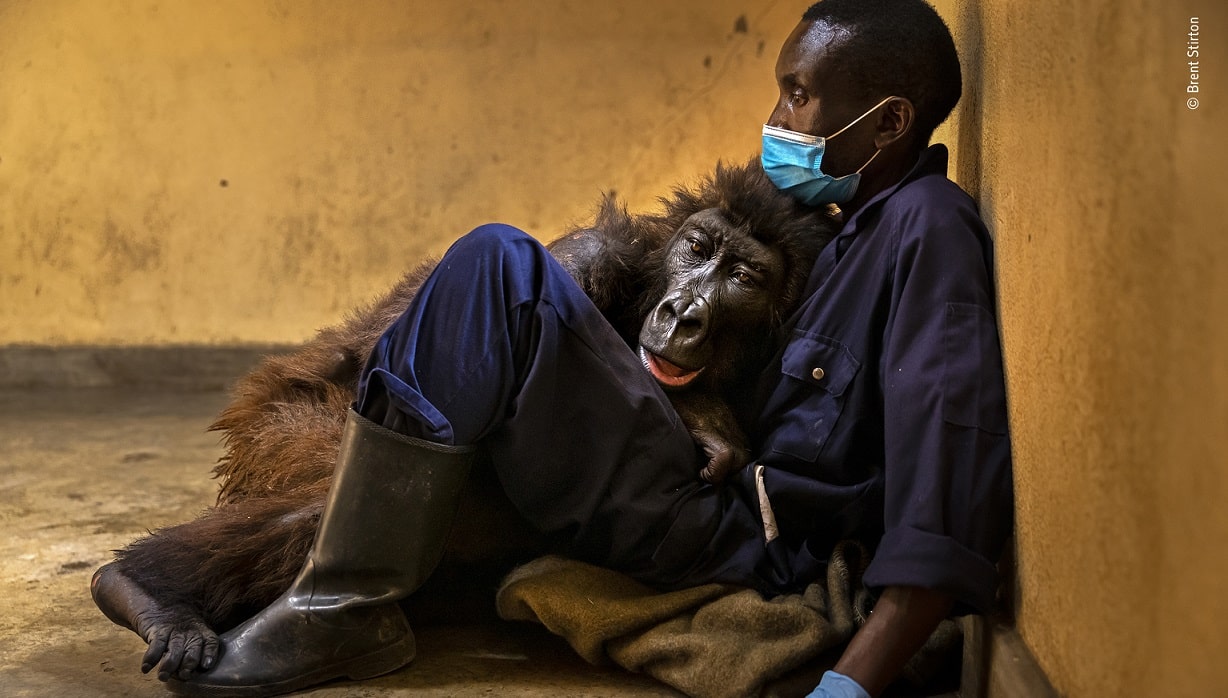 Winner of the Photojournalism category: Ndakasi's passing, by Brent Stirton, South Africa.
Other winning images include an electrifying reproductive dance of a giant sea star in Kinko Bay, Japan; polar bears investigating an abandoned village on Kolyuchin island in Arctic Russia, and the above, which brought tears to my eyes. In this picture, Brent Stirton shares the closing chapter of the story of a much-loved mountain gorilla in Democratic Republic of Congo. Brent photographed Ndakasi's rescue as a two-month-old after her troop was brutally killed by a powerful charcoal mafia as a threat to park rangers. Here, he memorialised her passing as she lay in the arms of her rescuer and caregiver of 13 years, ranger Andre Bauma. As a result of unrelenting conservation efforts focusing on the daily protection of individual gorillas, mountain gorilla numbers have quadrupled to over 1,000 in the last 40 years.
Dr Doug Gurr, Director of the Natural History Museum comments, "Wildlife photographers offer us unforgettable glimpses into the lives of wild species, sharing unseen details, fascinating behaviours and frontline reporting on the climate and biodiversity crises. These images demonstrate their awe and appreciation for the natural world and the urgent need to take action to protect it."
Photographs are positioned among videos, and comments from jury members, photographers and scientists.
To view the winners gallery and book exhibition tickets please visit HERE
The 59th Wildlife Photographer of the Year competition is now open for entries and closes at 11:30 GMT on Thursday, 8th of December 2022. Find out HERE how to apply.
Opening picture: Under Antarctic Ice, by Laurent Ballesta, winner of the Portfolio Award.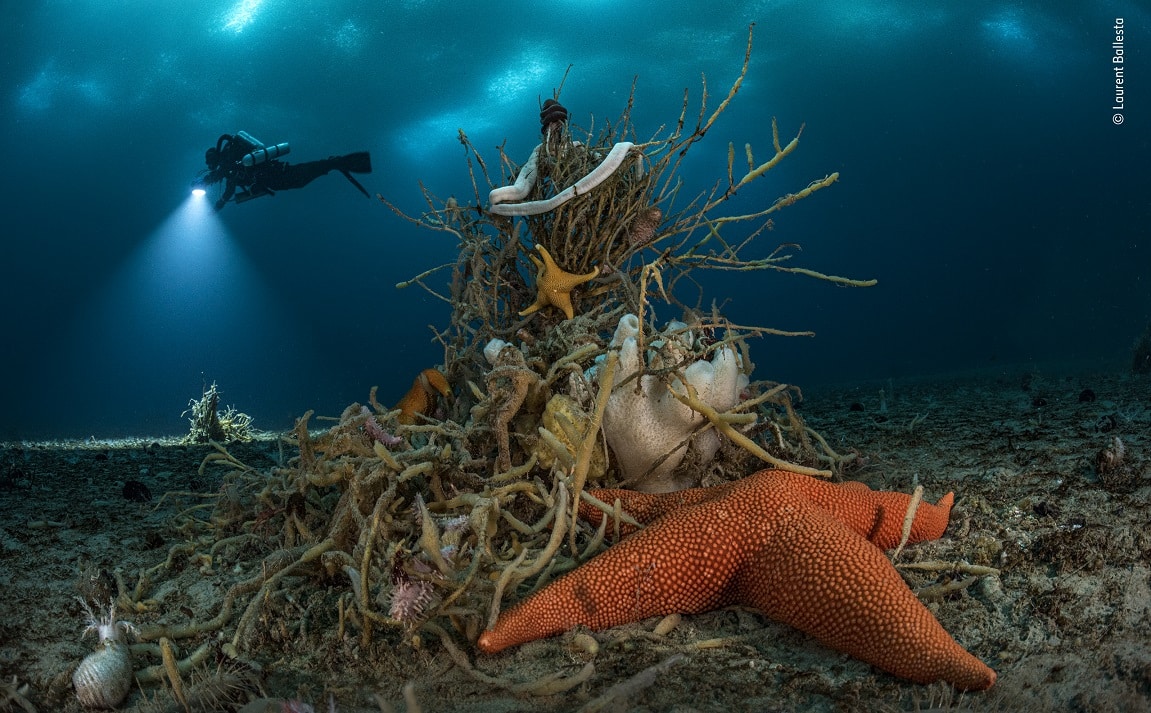 Laurent endures below-freezing dives to reveal the diversity of life beneath Antarctica's ice. An underwater photographer and biologist, Laurent has led a series of major expeditions, all involving scientific mysteries and diving challenges, and all resulting in unprecedented images.He has won multiple prizes in Wildlife Photographer of the Year, including the grand title award in 2021. His expedition to Antarctica, exploring its vast underwater biodiversity, took two years to plan, a team of expert divers, and specially developed kit. His 32 dives in water temperature down to -1.7˚C (29°F) included the deepest, longest dive ever made in Antarctica.
Words: Shelley Campbell