As we are seeing such severe changes in climates across the globe, it is time for us to question our consumer and shopping habits. We should look for brands that are creative, sustainable and committed to be positive agents of change in what concerns the future of our planet.
Circularity, commonly known as a lifecycle approach to sustainability, is gaining momentum among manufacturers worldwide. A circular business model maximises the use of limited natural resources, reduces reliance on the waste economy, and very often, also saves costs. Unlike recycling, the aim of a second life is to circulate products or components in a way that ensures materials are used at their highest value for the longest time possible. It is about extending the life of a specific product through remanufacturing, remodelling and upgrades to create another.
In this article, I present four different examples of companies taking the concept to the next level, enabling consumers to make informed choices about the products they buy and use.
ILLYCAFFÈ & KARTELL
Next time you reach for your morning latte, not only I encourage you to use a reusable cup but also to think about how coffee pods may be reused. Yes, there are initiatives out there to recycle them, but into what? The international coffee company illycaffè (Illy) – still family-owned and with almost a century of history – is committed to making their coffee sustainable at every stage of its life. Illy boasts an impressive range of credentials and innovations in recognition to their high sustainability standards in the world of social and environmental performance, transparency, and legal responsibility.
Expanding their sustainable creativity into the design world, in 2022 Illy began a collaboration with the leading Italian luxury furniture brand Kartell to launch a collection of armchairs made with recycled Iperespresso capsules. The first, Re-Chair, was designed by Antonio Citterio. The plastic components for making Iperespresso capsules undergo a special industrial process before being filled with coffee. These capsules are made from top-quality plastic so the ones rejected from the production process can be transformed into a secondary raw material that is transformed by Kartell into granules that are suitable for injection moulding.
The illycaffè-Kartell Re-Chair designed by Antonio Citterio was the first product from this collaboration to transform rejected Iperespresso capsules into functional design objects.
This year, at Salon di Mobile (Milan Design Week) in Milan, the Eleganza armchair was introduced, designed by Philippe Starck, with a frame in black and terracotta colours, and made using the same recycling process.
The Eleganza armchair by Philippe Starck is the second product in the illycaffè-Kartell collaboration, proving that circularity in design is not only possible, but also desirable.
This is an exemplary partnership that champions sustainability and gives a long-lasting second life to waste products. More about illycaffè HERE and about Kartell, HERE.
REBECCA BRADLEY
My meeting with Rebecca Bradley was my first discussion ever with a furrier. Based in her Archway studio in London, Bradley is somewhat of a humble creator, committed to creating longevity with the furs her clients bring to her. Her work is all about giving a second life to these garments and demystifying the use of fur. An issue well known in the fashion industry to be significantly affecting climate change is landfill. Bradley explains, "By creating a second product for clients, it extends the life cycle of the fur, and also prevents it from ending up in landfill."
I am captured by the relationships that are formed during the process of one of her creations. Bradley must understand exactly what the owner of the fur wants to achieve. As she explains, "The coat was sentimental, however the owner didn't want to wear it and wanted to create something fun to have in her house". The idea of a homeware addition from a fur, seems natural, logical, as well as providing a unique feature in a home.
Example of how Rebecca Bradley gives all fur coats and jackets a second life by transforming them into soft furnishings.
Our meeting leaps from custom designed coats to teddy bears and floor poufs, to throws, cushions, and door stops. There is very little, if anything, when it comes to fur, that cannot be reimaged in some way. As a natural fibre, not only is each pelt distinct, but each individual item created for its owner is totally different.
Teddy bears made by Rebecca Bradley for nine members of the same family from an old musquash coat. Each has different coloured eyes and paws.
I am mesmerised with the commissions she has created, many to preserve family heirlooms, providing keepsakes for future generations, and sentimental items, whether it is in sheepskin, squirrel, musquash, or fox. My favourite is the story about the long cream musquash coat that was made into nine teddy bears for family members. Each one was individually crafted with different coloured paws and eyes, matching the person they were being made for. Bradley is enabling memories and keepsakes to be created, whist maintaining and respecting the importance of these natural fibres and in some cases, the sheer rarity. Find out more about Rebecca Bradley HERE.
BMW GROUP
Who would put Coldplay and the recycling of car batteries in the same sentence? Not me, however, I stood corrected. As I discover, a common awareness of sustainability over the years led to an intensive, creative co-creation process between BMW and Coldplay, which started back in 2014.
BMW has a decade-long experience with electromobility; and more than 1.5 million electrified vehicles on the road affirms the long-term everyday use of their high-voltage batteries. The BMW i3 and i3s, which launched in 2013, were some of the earliest BEVs on the market. Since then, BMW has been considering battery lifespan and novel ways to give them a second lifecycle, took the giant automotive manufacturer to think outside of the box.
The batteries of the BMW i3 and i3s have been the first suitable for second-life applications without additional processing.
Coldplay are well known as an eco-conscious band, who are encouraging their fans to live greener lives and leading by example. Their current Music Of The Spheres World Tour is an spectacular show of light, with a high demand for electricity. Here is where BMW came in as a partner, providing more than 40 recyclable i3 batteries to supply the necessary power during the live performances.
These are the first BMW car batteries rendered suitable for second-life applications without additional processing. The batteries provide the necessary super low emission, electric power, and replace the usual diesel and petrol generators, which in turn results in a significant reduction of the carbon footprint of all the band's live shows during a world tour of this magnitude. The batteries are recharged using a range of renewable sources, including solar installations, a kinetic stadium floor, power bikes and generators powered by Hydrotreated Vegetable Oil. The kinetic stadium floor and the power bikes harness the collective power of the fans themselves at each concert.
Coldplay's Chris Martin explains, "We're proud to partner with BMW to create the world's first tourable, rechargeable show battery – which will allow us to power our concerts almost entirely from clean, renewable energy."
In the band's own words from their hit song 'Higher Power', "This joy is electric." Learn more about Music of The Spheres World Tour and BMW HERE.
ECOALF
The brainchild of Spaniard Javier Goyeneche, Ecoalf was born in 2009 in Madrid; by now, it has stores across Europe, in Tokyo, and of course, a very strong presence online. The whole premise of the company is to be a truly sustainable fashion brand and to stop using natural resources in careless way. Its mantra is to make recycled products as good as the first ones as well as ensuring the same level of quality and design.
The company has developed more than 500 recycled fabrics, one of which especially grabbed my attention because it is made with post-consumer coffee grounds. Given that 2.6 billion cups of coffee are consumed every day, I'd dare say this is an idea with a bright future.
The coffee grounds are collected in collaboration with 7-Eleven in Taiwan, where the fabric is made to avoid moving waste from one place to another, thus minimising CO2 emissions. The coffee grounds are collected at the end of each day, dried at a low temperature / high pressure, and then applied to the recycled polyester yarn. This process changes the characteristics of the filament, providing quick-dry, odour-control and UV-Ray protection properties that substitute the use of harmful chemicals.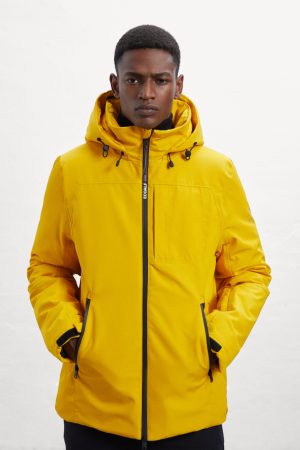 The exterior shell of Ecoalf's Aktua jackets are made from 20 cups of coffee and 23 recycled bottles, the interior is 100 percent recycled polyester, and the lining made from 97 plastic bottles.
Ecoalf uses this incredible fabric for their globally popular Aktua technical jackets, which withstand up to 10 metres of water pressure, are breathable and provide protection that adapts to changeable weather conditions, equally perfect to flaunt on the ski slopes or to wear in the city. The green credentials of this fabulous garment go even further; each of them reduces CO2 emissions by around 62 percent thanks to its recycled materials.
Confronting the myths and misunderstandings about second life products can provide the evidence that is needed to encourage a more widespread acceptance from consumers and investment from companies. As these examples prove, the scope is limitless, all that is required is imagination and willingness. Explore the world of Ecoalf HERE.
Words: Linda Hunting
Opening image: Courtesy of Rebecca Bradley. All other images courtesy of the companies represented.