Towards the end of 2022, Edouard Meylan was awarded the Esprit d'entreprise Prix Gaïa; a prize presented annually – when candidate(s) of sufficient standing are deemed to be available – by the Musée international d'horlogerie. When presenting the award, which is recognised as one of the industry's highest honours, Jean Claude Biver, horology's venerated entrepreneur, stated that "The industry needs more CEOs as innovative as Edouard Meylan."
Biver had a point. In a decade, Meylan has turned the small, relatively unknown firm H. Moser & Cie. into a significant niche player; avidly followed by collectors and competitors alike. In a sense, Edouard was destined for the job. The Meylans have been involved in the watch industry for generations. His father was the noted CEO of Audemars Piguet back in the 1990s and 2000s, although Edouard is quick to point out there are "just as many, if not more, family members who were part of other industries".
Edouard Meylan was initially intent on an engineering career. He graduated from the École Polytechnique Fédérale de Lausanne (EPFL), worked in South East Asia and did an MBA at the Wharton School of the University of Pennsylvania. Edouard notes though that "an MBA doesn't replace good experience in facing actual challenges." Edouard's time in the "school of hard knocks" (how the English describe an education in tough reality) started off in the emerging luxury mobile phone industry in 2010. With backing from a variety of investors, Meylan helped found Celsius, a company that created a device that bridged the digital and mechanical worlds and was intended to rival Vertu in terms of status in the market. The project failed, but Edouard took with him valuable lessons, "Basic things like cash management. Being financed by venture funds, who are very strict and apply a lot of pressure on very limited resources, you learn how to spend money and that once you've done so, it costs a lot to find more."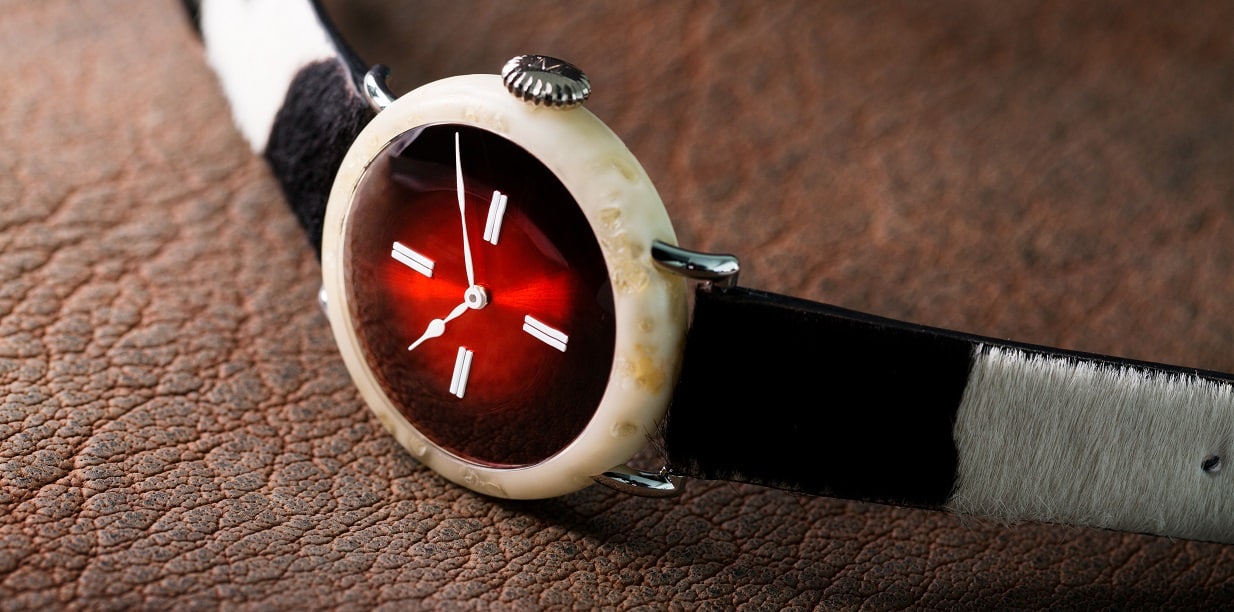 H. Moser & Cie. made a watch case from cheese to protest against the government redefinition of the term "Swiss Made".
Equally, he's learnt other lessons since he began running Moser. Edouard explains that "we made a lot of mistakes but at the same time we learned a lot of things about disruptive communication. How to maximise with a very limited budget, how to create buzz, how to create content that is interesting for media and for watch enthusiasts. It opened my eyes to social media and the power of community as well." Although it could not be seen at the time, designing and manufacturing the bespoke clock mechanism part of the Celsius phone helped him make connections in the independent watchmaking world that would eventually serve Edouard well in his current role. He goes on to elaborate that "you do not find this kind of cooperation with the large brands. The association with the independents is very strong with customers and retailers, as the community sees this as creators of value because of the human dimension."
H. Moser & Cie. was an opportunity that started out as a consulting exercise. The previous owners called in Edouard and his father (as part of MELB Holdings) to assess what could be done to turn the watch brand around. The problem was so large that nobody wanted to do it. The risk was too small for big groups, and too complicated for small ones. "In the end, it was bankruptcy or work with us, so we worked out a deal. The situation was a lot worse than we anticipated; once you start, you find the skeletons under the carpet." In luxury markets, where brand name has a high collateral and the large groups dominate, there is a need to create consumer awareness to draw in collectors and enthusiasts. On the marketing side, Edouard succinctly explains that "when you have no budget, you need to be creative. You need to have something that resonates with people and for me the magic formula for Moser was to find a topic that is relevant to us, where we have something to say and find a way that our voice will be heard because it's different."
Edouard Meylan in the "Vomit Comet" examining one of the tourbillon movements.
Over the last decade there have been a number of instances where an issue was cleverly used to Moser's considerable advantage. As an example, they made a watch case out of cheese! But there was good reason to do so. The government redefined the term "Swiss Made" on watches, to make outsourcing more amenable to production. To protest, Moser, which manufactures almost entirety in Switzerland, removed the term from its dials. To accentuate the point further, it chose to make a watch case out of cheese. Edouard explains that steel, gold, even chocolate have raw materials imported from elsewhere, but cows grazing on the country's alpine pasture would be entirely Swiss made. As impractical as the case was, it nonetheless raised awareness with the watch-buying public and raised the Moser brand name.
Another exercise in disruptive communication was to test a tourbillon escapement in reduced gravity conditions. A well-known problem with the mechanical watch escapement is the differential effect gravity has upon the regulating element. To overcome positional errors, a tourbillon suspends the regular escapement in a cage that rotates in the opposite direction every given time period (usually one minute) to counter the effects of gravity. As a way to gain publicity, and actually test the Moser tourbillon movements, Edouard took them on a reduced-gravity aircraft; otherwise known as the "vomit comet". Apart from its value as a marketing stunt, the flight must have had some telling results as the Pioneer Cylindrical Tourbillon Skeleton won this year's GPHG (Grand Prix d'Horlogerie de Genève).
Two of H. Moser & Cie. outstanding watches. Left: Endeavour Centre Seconds with VantaBlack® dial. Right: Streamliner Perpetual Calendar with black dial.
The successful regeneration of a brand is not the result of marketing alone, there has to be a new product desired by collectors, and Moser has been effective in designing and making some of the most sought-after new watches on the market. In an already overcrowded segment of the market, the integrated bracelet sports watch, the Streamliner, has made an impact with aesthetic codes based on the sleek automotive designs of the 1920s. The Pioneer line was conceived as a contemporary go-anywhere, do-anything watch, so that even the most elegant forms are still water-resistant and robust. Finally, the Endeavour is a minimalistic contemporary reinterpretation of the H. Moser & Cie. classic round watch that accentuates the dial as artwork, from reworking traditional enamelling techniques to the use of Vantablack®, a new space material usually destined, among other things, for NASA telescopes.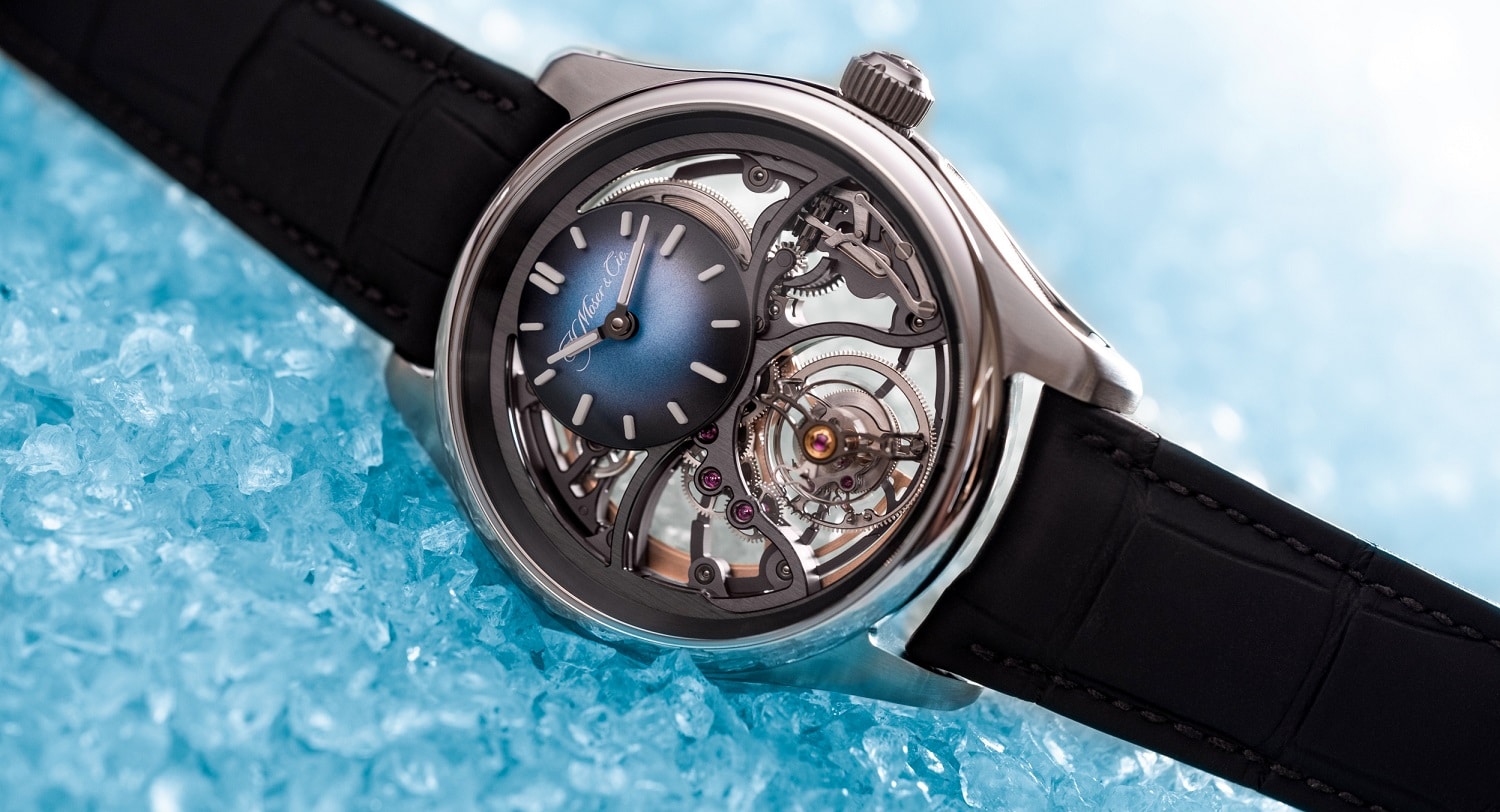 H. Moser & Cie. Pioneer Cylindrical Tourbillon, winner of the GPHG.
New movements and complications have been introduced, such as an ergonomic form for the annual calendar that recognises that a watch dial has 12-hour markers and there are 12 months in the year, the new conical spring tourbillon, and a proprietary form for the automatic movement. Co-branding has been used cleverly and sparingly, with the noted examples being the limited Streamliner Chronograph UNDEFEATED, showcased with Artist Wes Lang at his Los Angeles studio, and a collaboration with MB&F on two limited-edition watches.
For Edouard, this success represents the culmination and accumulation of his experiences and learning from his mistakes. Elaborating further, he explained that "any failure, any challenge you face, you grow from it, and it sticks in your mind. It helps you put things in perspective, question things. Try to find the right people around you who would tell you when you are in front of a wall. When I worked at Celsius, I didn't listen to anyone, and I just continued straightforward; I think your brain protects itself by not seeing when something is a lost cause. I now work with a lot of people who I trust, who I can ask questions of, and I know they will tell me when I f**k up. That gives you the confidence that you're taking the right decisions."
Words: Dr Andrew Hildreth
This is a reduced version of the interview you can read in full in our spring issue, available to order HERE.