Alfred Hitchcock, the master of suspense, always believed in the theory that the bomb must never go off. "There is no terror in the bang," he said, "only in the anticipation of it."
Hitchcock would draw in his audience, setting the scene with stark lighting, deep shadows, an enclosed space, an air of intensity, perhaps even malevolence. And into that space appears a mystery woman, alluring in a cocktail dress and diamonds, or sensuous and authoritative in a trouser suit. There is something thrilling and fascinating about her that makes you want to find out more: who is she, where is she from, why is she here?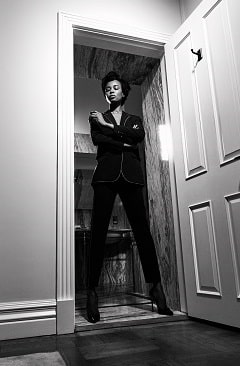 Left, black tuxedo by KOOPLES; shoes by GINA LONDON. Right, black mini dress with feather sleeves by DE LA VALI; shoes by CASADEI.
That is the power of suspense. Pictures with no words, whether on a cinema screen or captured in stills that freeze-frame a moment yet suggest a narrative without the need for dialogue. That is how you build a drama, and how clothes help tell that story, by creating a character.
Left, trench coat dress by AZZI & OSTA; shoes by GINA LONDON. Right, total look by VALENTINO
Actors always talk about how clothes help them get into a role. Fashion can work in the same way, choosing a look to suit your mood, a situation. It is not about following trends, but knowing what works for you, while also creating an air of mystery and sophistication.
Left, dress by PAUL & JOE; jewellery by YOKO. Right, dress by PAUL & JOE; shoes by TERRY DE HAVILLAND.
Pinstripe suit – Temperley London

Shoes – Gina London

Watch Code 11.59 – Audemars Piguet
We'd like to thank The Adria Hotel, London, for their hospitality in hosting this fashion shoot.
Photographer: Benjamin Kaufmann. Creative Direction and Styling: Sascha Lilic. Words: Francesca Fearon.
Make-up: Emma Osborne, Carol Hayes Management. Hair: Keichiro Hirano, The London Style Agency.
Model: Kad Diallo, Body London. Photography Assistant: Jason Lewer.Location: The Adria, 88 Queen's Gate, South Kensington, London SW7 5AB.
Bookings and reservations HERE.
Opening DPS: turquoise dress by PINKO; shoes by TERRY DE HAVILLAND; jewellery by ADLER.