Launched this year, The Spirit of Ecstasy Challenge is a new biennial initiative from Rolls-Royce's Muse programme. It invites emerging artists to design artwork inspired by the Spirit of Ecstasy – the sculptural figurine that adorns the bonnet of every Rolls-Royce motor car. This first edition focused on ​the medium of textile, challenging participants to create textile–based artwork​s pushing the boundaries of design. Our Editor Julia Pasarón attended the presentation of the winning artworks in London and had the chance to speak to both the artists and a few members of the jury, to learn about this new Challenge and its significance.
Jessica Persson Conway, Global Head of the Rolls-Royce Arts Programme, told me how it all started, "In 2019 we decided to take this long-standing relationship to the next level and founded our own Arts Programme, designed to give a platform to rising artists and leave a legacy of artistic achievement. Through the Dream Commission and the Spirit of Ecstasy Challenge initiatives, we ignite a dialogue with creative visionaries of our times and form a gateway to fresh ideas and unbounded innovation."
Watch an introduction to The Spirit of Ecstasy Challenge:
It is all about celebrating craftmanship, as Christine Franck, Head of Colour, Materials & Trim Design at Rolls-Royce explained to me, as we admired the winning sculptures, "With the Spirit of Ecstasy Challenge, we continue to celebrate outstanding craftsmanship and material excellence. It was amazing to discover how many diverse approaches to textiles there are, and how creatively artists experimented with the topic. It is truly inspiring and rewarding to see these extraordinary pieces, representing three completely different design directions."
To start the Challenge, international experts from the creative world nominated a longlist of artists, all of whom were invited to create a proposal for a new piece of work. The nominators included Glenn Adamson, Curator; Anne Marr, Programme Director, Jewellery, Textiles and Materials at University of the Arts London; Nana Ocran, Founding Editor of People's Stories Project; and Mizuki Takahashi, Executive Director and Chief Curator of Centre for Heritage, Arts and Textile, Hong Kong.
An expert jury then reviewed the proposals and selected three winners to bring their pieces to life. The jury included Anders Warming, Christine Franck and Jessica Persson Conway from Rolls-Royce; Yoon Ahn, Director of Jewellery at Dior Men and Founder of Ambush; Tim Marlow, Chief Executive and Director at the Design Museum, London; and Sumayya Vally, Principal at Counterspace Studio, Johannesburg.
"The Spirit of Ecstasy continues to be our muse for the ongoing pursuit of excellence. She embodies what we, as the House of Rolls-Royce, stand for: strive for perfection, attention to detail and timeless beauty," explained Anders Warming. "It is fascinating to see our icon being transformed into these three very unique expressions, pushing technical and conceptual boundaries. These extraordinary masterpieces celebrate a different dimension of our iconic figurine, manifesting the exciting future of textile design."
The winners of the inaugural competition and commissioned by Rolls-Royce to produce their proposed textile-based sculptures were Moroccan artist Guizlane Sahli, Chinese Bi Rongrong and London based multidisciplinary designer, Scarlett Yang.
"The Spirit of Ecstasy to me symbolises freedom and Nissa's Rina is an ode to female freedom…"

 -Ghizlane Shali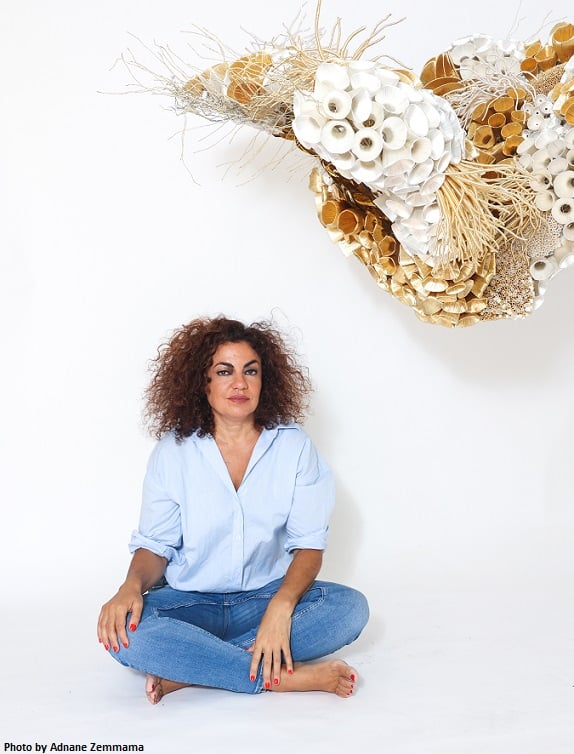 Ghizlane Shali studied architecture in Paris before moving back to Morocco where she started running an embroidery workshop with local artisan producing handmade clothes. Her concerns for the environment, in 2012, Ghizlane co-founded the Zbel Manifesto collective, where she works mostly with another female using primarily waste and repurposed materials. She has a beautifully romantic view of what other people would considered just rubbish. "I think that these materials come with the energy distilled from their previous lives, they come with a soul."
Her understanding of space thanks to her architectural background shows in all her work, including the sculpture she created for the Spirit of Ecstasy Challenge, Nissa's Rina (Woman's song). Ghizlane tells me that she wanted to celebrate women around the world and her own femininity. The three-dimensional sculpture represents two wings, made mostly with recyclable and salvaged materials wrapped in silk and gold, following traditional embroidery techniques. When together, they form what she calls 'alveoles', which remind me of beehives. The feathers are made of gold-plated copper. "The Spirit of Ecstasy to me symbolises freedom and Nissa's Rina is an ode to female freedom, it is about the intimacy of the female body" she says, "I think I became an artist to celebrate women."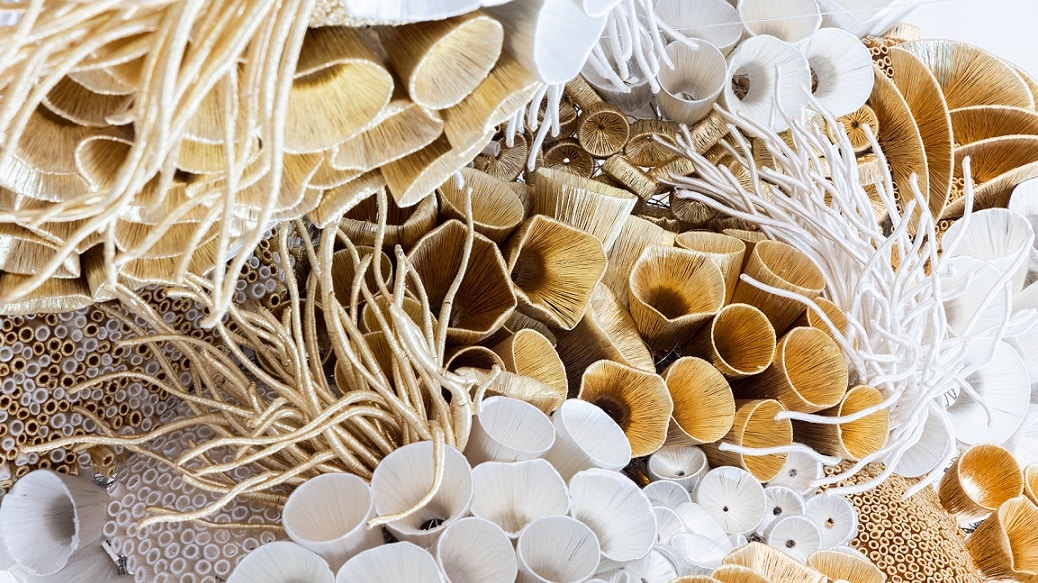 In Nissa's Rina, Ghizlane covered the tops of plastic bottles with silk and gold thread following traditional embroidery techniques.
Bi Rongrong is an artist who 'reads cities'. When travelling, she scans the urban architecture for street art, ornamental patterns, posters – any fragments she can use as visual fodder for her vibrant multimedia works. The way she sees it, "If civilisation is the land, then the cities are the forests which grow on this land." She began her journey as an artist at the University of Sichuan, studying Chinese traditional landscape painting. As well as the streets, Bi also finds inspiration in museums of historic art and architecture, a move that led to her to bring textiles into her work. "Architecture is not only stones, it can be textiles too," she explains, "Nomadic people don't have solid buildings. Where they put down their carpets is where their home is."
Bi Rongrong, Stitched Urban Skin, 2022. Courtesy Muse, The Rolls-Royce Arts Programme.
Upon returning to Shanghai in 2016, she enlisted the help of fashion students at the city's Institute of Visual Art to incorporate knitting and crocheting into her work. In 2020, Bi brought LEDs, architecture and video into her work with textiles. Stitched Urban Skin, the artwork she created for Rolls-Royce's Spirit of Ecstasy Challenge, combines the hard metal of an automobile and the coolness of LED with the softness of textiles and ancient Xiaoshan Lace, crochet and Suzhou embroidery from China, a form of artisan skill that is disappearing. "When I asked for their help," shares Bi, "he local craftswomen first dismissed my idea but once convinced, they loved taking part in it and were very proud."
Detail of Stitched Urban Skin, showing the combination of ancient Chinese crafts applied to textiles with metal, LED and acrylic.
Scarlett Yang uses algae, sea water, and the colour pigments in marine microorganisms. The final result, Transient Materiality, is a kind of biodegradable plastic textile. In form it looks like a translucent lattice, reminds me of a creature from the abyss. The fluidity of this piece was inspired by the fluid movement of the Spirit of Ecstasy.
"I use technology and science to underpin my art pieces, which could be perceived as the opposite to art…"

–  Scarlett Yang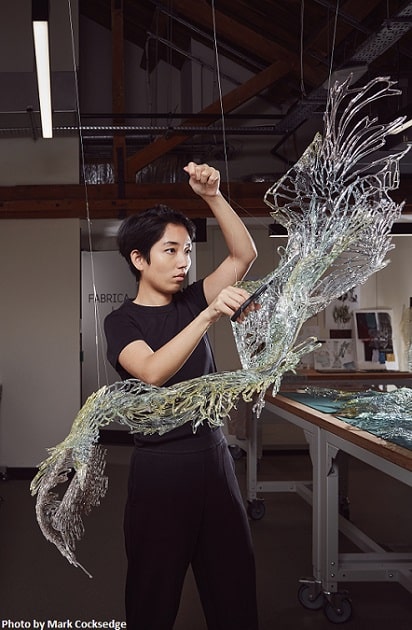 Scarlett has always loved working with technology and to apply science and logic to his work. "I use technology to underpin my art pieces, which could be perceived as the opposite to art. Here for example," she says, pointing at her sculpture, "I use the textiles made of algae to bring nature back to it." Her sculpture feels light and ethereal, with imperfect edges that actually bring a lot of warmth to the piece.
This is not only a stunning piece to look at but also very very clever. The transparency of the sculpture is thanks to the fact that the biggest percentage of the composition of the material is water, bound with photosynthetic algae that are infused into it. Then, with a little bit of help from science, the liquid turns solid.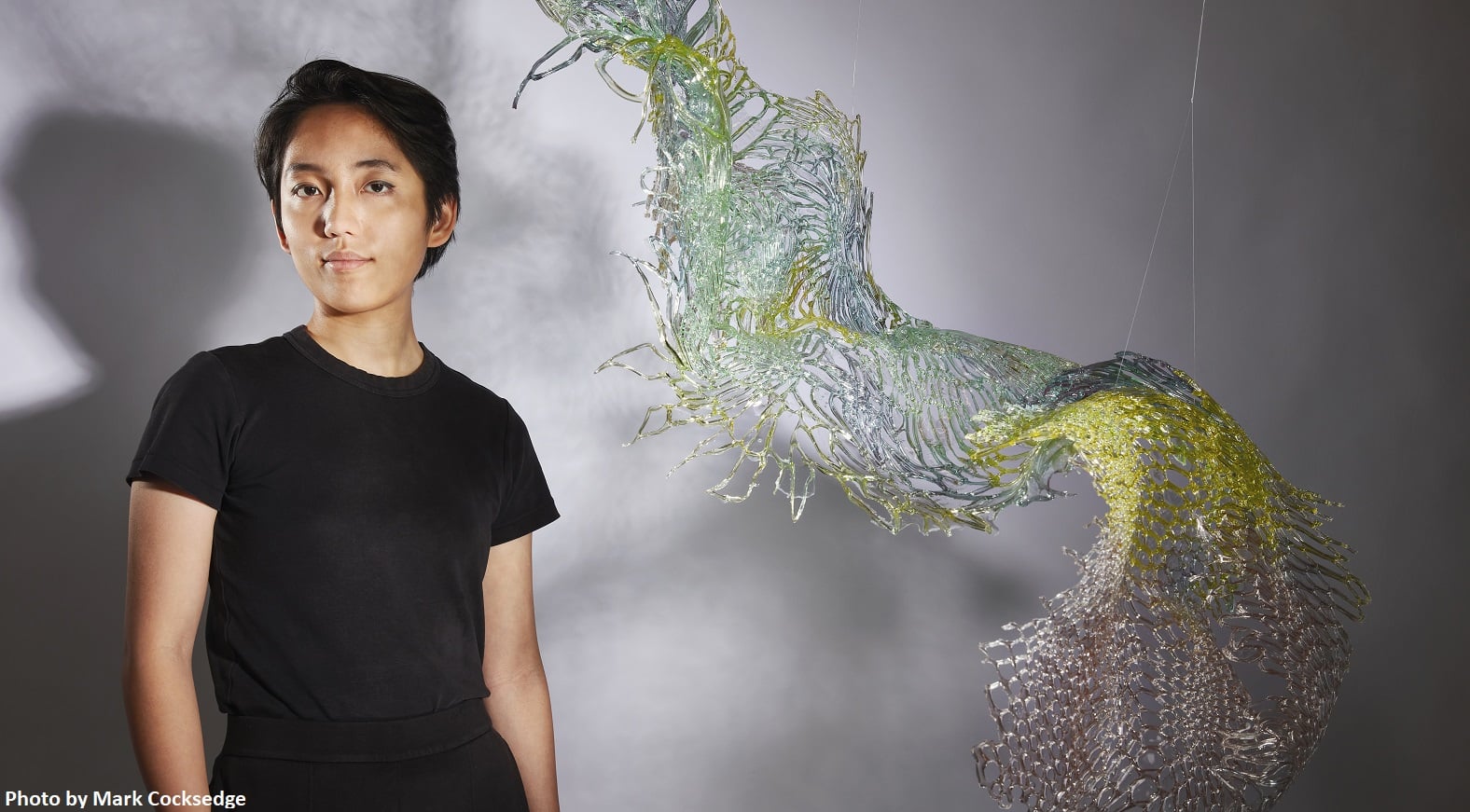 In Transient Materiality, Scarlett created a movement as if it was cloth wrapped around a model's body.
The shape was inspired by her past in fashion, where she played a lot with experimental draping on models' bodies. "For this piece, we casted a model's body and then shaped this form [her sculpture] over it, as it would be if the body was moving around, and this is where its fluidity comes from." Softer versions of this kind of creation by Scarlett have been used in photoshoots, worn by real models.
After their presentation in London earlier this month, the artworks are embarking on a global tour. The locations where the works will be exhibited are still to be announced so watch this space!
Words: Julia Pasarón
Opening picture: Muse Installation View, Spirit of Ecstasy Challenge Exhibition, Cromwell Place. Photo © Luke Walker