For lovers of fashion, the advent of online shopping, social media and the relentless pace of new collections and exclusive collaborations has found us bombarded with novelty and temptations we can find difficult to resist. But there is a big and depressing downside to this: a shocking 64 percent of the 32 billion garments produced globally each year end up in landfill. Ninety-four million kilograms worth of single-use outfits are bought annually with one in two people throwing unwanted clothes into the bin instead of reselling them or repurposing them. According to the Ellen MacArthur Foundation, that is the equivalent of one garbage truck of textiles sent to landfill or burned every second.
And that is just the start of the disturbing statistics. Fifty percent of fast fashion produced is discarded within one year and most of that is stitched from synthetic fabrics such as polyester and nylon, which can take up to 200 years to break down in landfill. When you consider that linen takes two weeks to break down naturally – the environmental impact of the disposal of fast fashion is enormous. Aside from the wastage, the fashion and textile industry is cited as the joint third highest emitter of greenhouse gases globally.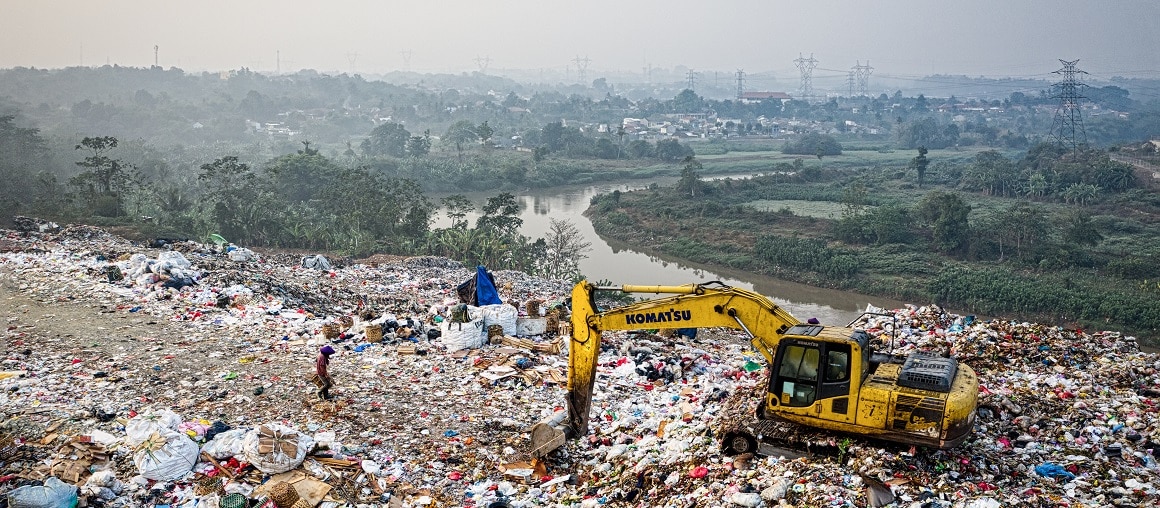 Fifty percent of fast fashion is discarded within a year, ending up in landfills.
The fashion world has been slow to react despite climate activists such as the late Dame Vivienne Westwood's oft-quoted mantra "Buy Less, Choose Well, Make it Last", which urged people to think before they buy. Better quality leads to a longer lifespan and that opens up the opportunity for circular fashion, a buzzphrase in an industry that is trying to look beyond the current take-make-dispose model of fashion consumption.
Brands have to start somewhere, and it is great that the conversation on sustainability is now on the agenda for fashion companies, both large and small. Circular fashion is gaining traction, with investment flowing into services and projects handling rental, repair, resale and recycling, to help avoid waste. There is no one quick fix, however, as the task is so enormous: despite the flurry of climate commitments from brands, change has been slow.
Stella McCartney with HM King Charles III at Cop26.
There are those that have been sustainability warriors from the beginning, such as Stella McCartney, a committed animal rights campaigner, who put sustainability at the heart of her eponymous brand from its outset in 2001. She has continuously collaborated with innovators developing sustainable fabrics, such as leather-like material made from fungi and grape waste. In January she launched her first, commercially available, fully circular garment, a parka made from Econyl® yarn that is 100 percent recycled and recyclable. The close-the-loop garment can be returned to a Stella McCartney boutique to be reused.
Since she began working with Econyl® in 2017, they have prevented 10 tonnes of nylon from going to waste. The yarn is made from fishing nets, scrap fabric and other recyclable plastics. McCartney also uses materials such as Humana denim made from recycled textile waste – a method that some denim brands, such as Levi Strauss and DL1981, are pioneering which uses recycled polyester yarn, and regenerated nylon and cashmere.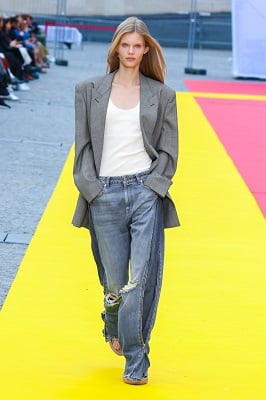 Left: Stella McCartney SS23 collection, recycled denim. Right: Stella McCartney's Econyl recycled/ recyclable parka
As McCartney recently said to Vogue.com: "I think the reason I have been doing this for my entire career now is really that I care. I don't want to kill animals; I don't want to kill the planet. I'm deeply invested in trying to be a good citizen of Mother Earth and a businesswoman and fashion designer."
The designer's innovations with denim are being taken up by others across the industry. A pair of jeans is a staple of our wardrobes but comes with a hidden environmental cost. Denim production has suffered a poor reputation for decades due to the enormous quantity of water required for processing, the harmful chemicals used in its treatment and dyeing processes, and the vast quantity of water and pesticides required for large-scale cotton cultivation. Making jeans is a thirsty process.
Initiatives to counter this waste vary. They include the use of recycled yarn, a technology developed by RecoverTM, a material sciences company that transforms post-consumer waste into new yarn. "Using pre-loved cottons and knitwear in denim creates a more circular manufacturing process," explains Sarah Ahmed, founder of New York-based denim brand DL1961. "To put it simply, those jeans you threw out last year or that tube top that you wore every day in college have been broken down, woven into new cotton fibre, and now have a new life as part of your favourite pair of jeans."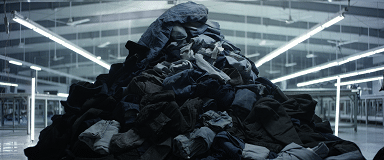 Hillock of random denim jeans at a DL1961 warehouse in Pakistan waiting to be recycled into new jeans.
Sustainability has been at DL1961's core since inception, and the brand prides itself on exploring new initiatives in fabric and sustainability technologies. "Our customers have always appreciated our sustainability, but it [how we can produce recycled and environmentally friendly clothing] has become a much more frequently asked question in the past two years," says Ahmed. "It's nice to see the general market sentiment shifting to demanding more from fashion brands and manufacturers. It inspires us to innovate even further."
Elsewhere, Levi Strauss is heavily invested in creating a circular ecosystem for its jeans marketed under the "Buy Better, Wear Longer" campaign launched in 2021 to encourage more conscious purchasing decisions. Doubling down on its investments in sustainability, the American brand developed a new fibre for its legendary 501s, which contains certified organic cotton, sustainably sourced wood pulp and fibre spun from discarded denim. It also uses cottonised hemp and recycled fibres across the rest of its fashion garments. Meanwhile, its ongoing Water-Less initiative aims to drastically reduce the amount of water used in the production of its jeans, and it has also detoxed the polluting hazardous chemicals used in manufacturing.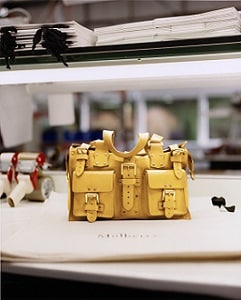 The Mulberry Exchange invites customers to have their Mulberry bags authenticated and restored with the option to trade in for credit towards a new purchase.
Another focus of the circular economy is accessories, especially luxury handbags, which are the most traded items on vintage and pre-loved websites such as Vestiaire Collective, The RealReal and more recently Reluxe, which has helped make the idea of luxury resale cool. Meanwhile, collectible vintage Hermès and Chanel bags sell for eye-watering sums at auction.
Mulberry has long offered a restore service for handbags and was one of the first brands to launch a circular economy programme. In 2020, it introduced The Mulberry Exchange, inviting customers to have their Mulberry bags authenticated and expertly restored, with the opportunity to trade in their existing bag for credit towards either towards a new purchase, or a pre-loved style, ensuring that each and every one of their bags can have many lives. This re-sale service was extended to mulberry.com and Vestiaire Collective the following year. Pre-loved handbags generated an increase of 35 per cent in retail sales last year compared to the previous one and Mulberry is looking to expand the service to new regions globally.
"I could never understand why people were so obsessed with buying new things. Why could we not reuse?"

 

– Charlotte Staerck, Founder, The Handbag Clinic
Ahead of the game was Charlotte Staerck, who founded The Handbag Clinic a decade ago, offering a luxury aftercare and restoration service for handbags and shoes, before opening a pre-loved luxury accessory store in Chelsea in 2015. It's a service she's since expanded to stores and concessions across the country. From a team of two artisans, Staerck now has 44 across restoration and logistics and works with brands and departments stores such as Harrods. "I think that it's always been something that I've really championed," says Staerck of giving accessories a second life. "I just could never understand why people were so obsessed with buying new things. Why could we not reuse? Look now, the whole business model is to be more sustainable with fashion."
She was inspired to launch the clinic because she couldn't afford to go and buy brand new for herself and then it got to a point when it started to seem "so wasteful", she says. "I would always choose to buy pre-owned, especially when handbags are concerned." She was appalled at the throw-away attitude some people revealed should their bags be slightly damaged when they could so easily be fixed. Fortunately, attitudes change. "In 2020 we saw a real shift, when everyone woke up to this thing (sustainability) and it's been really good to see," says Staerck, who insists a leather bag has a lot of potential if it is looked after.
A vintage Chanel CC Flap Flower geometric quilt expertly restored by The Handbag Clinic.
She also points out that "celebrities and influencers can help if they promote a more sustainable behaviour. Repair and re-issue rather than throw away and buy new. We even help them to create content around this concept," she says.
An example of the power of celebrity messaging is the Green Carpet Challenge, which environmental activist Livia Firth (ex-wife of actor Colin Firth) launched in 2010. The glamour and ethics initiative has worked over the years with the support of stars such as Meryl Streep, Zendaya, Julianne Moore, Lupita Nyong'o and Viola Davis seeking to influence other celebrities and their followers to wear vintage and dresses made from sustainably sourced materials on the red carpet. Rising to the challenge, Emma Watson wore a Calvin Klein gown made from recycled plastic bottles to the Met Gala in 2016.
Stella McCartney won the Groundbreaker Award at the Green Carpet Fashion Awards 2019 in Milan. During her acceptance speech, she said she wanted "a better planet for our babies".
Ahead of this year's awards season, Firth launched the GCC Style Handbook for Hollywood stylists and stars as a guide to promoting different routes for achieving environmentally conscious red-carpet outfits. The guide she hopes will "remind stylists and talent about the power that they have to carry the sustainability conversation forward and be a messenger, because red carpets are the biggest communications platforms in the world", she writes. "For the consumers who follow who wore what on the red carpet, the more we educate them, the more they will demand change from brands — and they will start shopping in a different way. It's like a cascade effect."
Words: Francesca Fearon
Opening image: Courtesy of The Handbag Clinic