An array of emerging talent in the UK was showcased on Thursday 4th November at the VIP event for the UK New Artist of the Year Award. The Robert Walters Group and leading national arts charity UK New Artists, ran the event in collaboration with renowned contemporary art platform Saatchi Gallery, Chelsea. The award helps to discover and champion the work of exceptional young artists whose work and vision represent contemporary Britain.
This year, the second edition of the award, saw a record breaking 963 submissions. This was painstakingly narrowed down to ten finalists, Anne von Freyburg, Catriona Robertson, Jarvis Brookfield, Jukka Virkkunen, Lucy Gregory, Maayan Sophia Weisstub, Molly Kent, Sam Tahmassebi, and Wesley George whose work demonstrated a strong and original voice of exceptional quality. The process involved the judges looking for artists who represent the UK's richly diverse population and embody the experiences of their respective communities – artists who create bold, unique pieces of art that reveal their own perspectives and experiences, and who represent original viewpoints that will start new conversations across the UK art scene.
The brief for this year's award was, Where do we go from here? Is there to be a 'new normal'. Judges sought artists and works that explored the impact and aftermath of what has been a globally turbulent and trialling time for all – from our relationship to the things we once held close, right through to the pressure and barriers that the pandemic directly presented on our live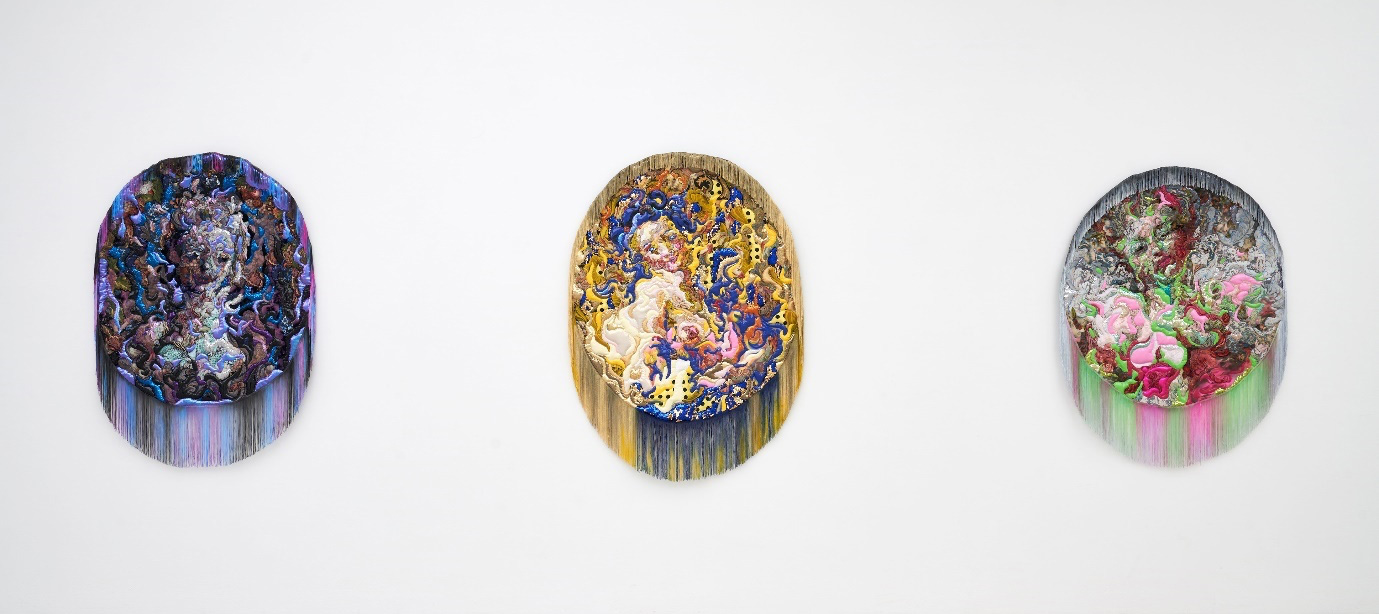 Anne von Freyburg, Feminising The Canvas.
Dutch artist, now based in London, Anne von Freyburg was named as the winner of the Robert Walters Group UK New Artist of the Year Award. Anne wowed the judges with her use of quality materials, technique and commitment to the process for her winning piece, Feminising The Canvas.
Anne presented a series of reconstructed Rococo portraits made from a mixture of tapestry and contemporary fashion fabrics. The imagery focused on a stylised idea around feminine beauty as found in the tradition of Boucher and Fragonard. Her works raised questions about taste, femininity, high and low art, and the constructs of female identity. The portraits were created with acrylic ink and then translated into hand-stitched fabrics and sewing techniques that give the work an almost bodily presence. Whilst on the one hand playful and referencing the decorative quality of their sources, the over-indulgence in these works also points to the excesses of throwaway fashion, selfies, and consumerism. By combining fine art with applied art in a conceptual way, Anne aims at blurring the boundaries between them.

Feminising The Canvas will be on display at the Robert Walters Group head office in Covent Garden for 12 months.
"Historically, craft have been perceived as lesser than fine art… I am challenging this underlying hierarchical system."

– Anne von Freyburg.
Runner-up of this year's award was Catriona Robertson, a Scottish/ British artist living and working in London. Robertson impressed the judges with her use of raw materials in her installation – Burrow Sprout Grow – which explores the architecture and the hidden spaces interwoven above and below ground within the fast-changing rising concrete landscape and urban geology. Her work was to identify the idea of being confined to the city during lockdown and with it, the lack of space and the idea of seclusion. It also focusses on the production of waste materials being accelerated during lockdown, with knock-on effects on climate change. Her message is clear: as humans we need to become more aware of our resources rather than just throw them away and re-use materials to re-make the spaces we have. The artist commented, "Having this support platform has given me the much-needed encouragement to keep making and the opportunity be able to share my work with a wider audience after my graduation."

"Sustaining a sculptural practice feels much harder to sell work or to show it in different spaces"

– Catriona Robertson.
Judges of this year's award included Robert Walters – art enthusiast, collector, and CEO of Robert Walters Group; Michael Forbes – artist and chair of Primary; Conor Rogers – artist and winner of the 2019 award; Cindy Sissokho – Curator at New Art Exchange and Associate Curator of Casablanca Biennale; Michelle Bowen – Director of UK New Artists; and Paul Foster – Interim Gallery Director of Saatchi Gallery. The awards ceremony and shortlist exhibition at Saatchi Gallery were curated by Garth Gratrix, an international artist, curator, and studio director.
Robert Walters commented, "The results from this year have been outstanding, and to see a 96% increase in the number of entries compared to 2019 is testament to why this award is so important."
The exhibition is currently on display at the UK New Artist's virtual gallery space until 5th December, designed and built by Ronan Somerville. During this time, where the public will be able to vote for their favourite artist to receive the "Public Choice Award".
Opening picture: Winner – Anne von Freyburg, Runner-up – Catriona Robertson, Judges – Michael Forbes; Conor Rogers; Cindy Sissokho; Michelle Bowen; Paul Foster, and Curator – Garth Gratrix , of the UK New Artist of the Year Award 2021.
Image credits: Reece Straw
Words: Linda Hunting