One could say that Barcelona has it all – Mediterranean charm, months of endless sunshine, unbeatable food, flowing traffic, friendly people and the cultural and design clout of the best cities in the world – and in my humble opinion, you would be right
Barcelona's patchwork of architectural styles displays dark, Gothic façades next to the harlequin buildings of the Modernistas and the skyline-piercing modern constructions. What's more, a day of soaking in these wonders can be topped off with a cocktail on one of the city's many beaches before dining at one of the plethora of Michelin-starred eateries or charming family-run tapas bars.
We started our trip with a waltz around the Sagrada Familia; Gaudí's unfinished cathedral. Love it or loathe it, one has to agree it is like no place on earth. Naturally, it is hugely popular, so book online before travelling to avoid disappointment.
For supper that evening, we headed to Flash Flash, a hidden gem loved by actors and footballers alike. It's famous for its tortilla and options for this dish are endless, as is the cava served from a pump. Stick to the tortilla and tapas. The main dishes were slightly disappointing. However, the chic monochrome wall art and the place's ambience more than make up for it.
Day two was dedicated to more Gaudí – Barcelona was his playground and his touch can be felt across the city, from Güell Park to his crown jewels on Passeig de Gracia: Case Batlló and La Pedrera. Casa Batlló sits like a stooped, scaly, colourful dragon – Gaudí's homage to Catalunya, whose patron saint is St George. The building itself is an apartment block, dramatically remodelled by Gaudí in the early 1900s. It is now open to the public, who can finally appreciate his love of nature, attention to detail and creative control-freakery.
It is still privately owned, and the family have undertaken an ambitious redevelopment programme, which sadly means that the façade is current covered by scaffolding. The upshot is that you can pay to walk across it (with hard hats and safety equipment) and get a bird's eyeview of the stunning roof and surrounding area. This is not for the faint hearted, but well worth it if heights are your friend.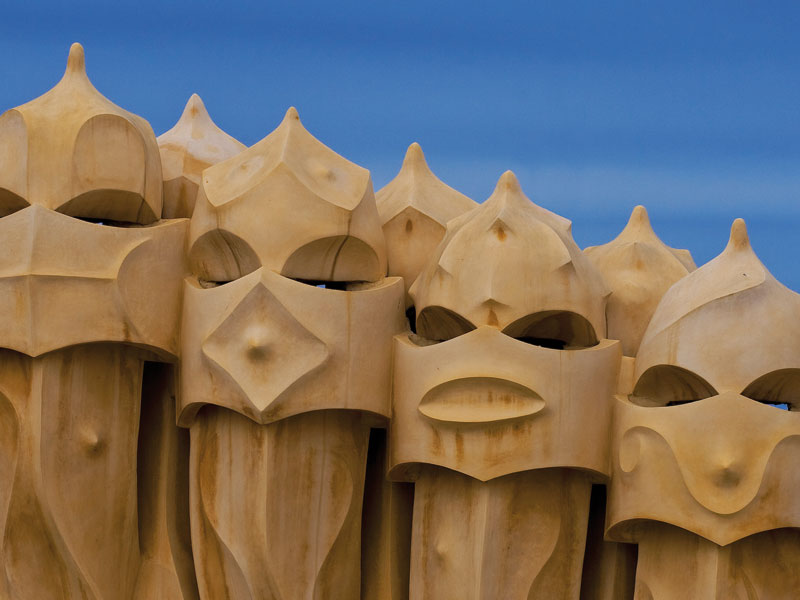 Further along the charming Passeig de Gracia, La Pedrera can be found. The building has a distinctive, maritime feel to it, which almost feels as if the whole building was breathing under water. Added to this, are the twisting columns and undulating wrought-iron balconies that look like they're fashioned from swathes of seaweed. The eaves are shaped like the inside of a vast whale, another nod to the maritime feel, house an exhibition of the architect's life and work. The real reason for visiting his unique edifice is its stunning roof, complete with almost phallic, yet strangely beautiful, vast sculptures. This roof is one of Barcelona's most instagrammable locations.
Our final day was a day of two halves – Camp Nou, Barcelona's most visited attraction and Miró. I won't bore you with the details of the vast home of Barcelona FC. There's a pitch, some seats and two goals. In-depth tours are available, but if you want to see the place in its full glory. go to a game there!
The Fundació Joan Miró contains a truly exceptional collection of art by Barcelona's other famous son, Joan Miró. Despite the vast age gap between them, Miró and Gaudí actually attended life drawing classes together towards the end of Gaudí's life. The gallery not only houses stunning works by Miró and other artists, but it also boasts a breath-taking view across the entire city. We know Miró's paintings for their joyful celebration of life and colour and this collection does not disappoint. It was a truly glorious experience, complete with a rather marvellous gallery café serving divine little cakes to extend the euphoria further.
We only skimmed the surface of this magnificent city on our short trip, but we loved nearly every moment. It is a city with a proud sense of identity and its language, culture and traditional festivals are all fiercely guarded, which makes the place feel very special. We will be back to eat more tapas, see more art, spend time on the beach and perhaps take in a Barça game!
Thanks to Barcelona Turisme for facilitating access to galleries and attractions.