Despite the increased awareness of film-industry sexism spearheaded by the #MeToo movement, women still fall short in terms of representation in cinema. Indeed, back in April, Variety reported  that female crew members are far from achieving parity with their male counterparts.
Shining a light on these advancements (while pushing towards further progress) is the Woman with a Movie Camera programme and annual summit. The series launched on International Women's Day (8th March) 2016 with the aim of celebrating women's contribution to film and TV, both behind and in front of the camera. What started as a monthly event at BFI Southbank has now grown to include a collection on BFI Player's subscription service and an annual summit at BFI Southbank in June. This year it returns for a special online edition from 17th–18th July. Reflecting on the past year, the programme is focusing on revitalization and confidence, and upskilling and throwing open film and TV industry doors. The packed short film programme includes a variety of Q&As and panel discussions with filmmakers, curators and creatives, interactive talks and workshops.
Woman with a Movie Camera is just one part of the BFI's ongoing commitment to a programme that re-appraises and celebrates women's contribution to film and TV. Some recent seasons and events at BFI Southbank that have celebrated the work of women in the film include those dedicated to: Claire Denis, Agnès Varda, Joan Crawford, Jane Fonda, Hedy Lamarr, Angela Bassett, Muriel Box, Mable Normand and many more.
Launched in 2018, the Summit is not just about women in film but also about the wider discourse around feminism, gender and representation – a conversation that has been going on for decades and has recently been given a new platform and shape thanks to social media. Woman with a Movie Camera offered an opportunity for people to get together and talk about how this conversation is reflected within, as well as absent from, film.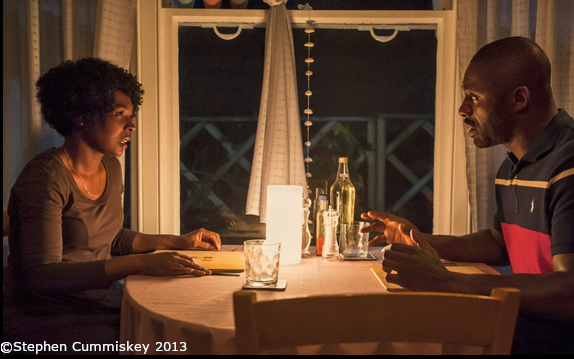 Second Coming with Nadine Marshall (Jax) & Idris Elba (Mark).
The Woman with a Movie Camera programme focuses on helping women filmmakers, ensuring their work is seen on big and small screens. With screenings at BFI Southbank (the UK's national cinematheque) and online via the BFI's streaming platform BFI Player, movies are followed by Q&A sessions with the key women involved in the making of the film.
Heather Stewart, Creative Director BFI said, "The BFI has championed women filmmakers for nearly a century and Woman with a Movie Camera has galvanised women to both confront the challenges and barriers they face as filmmakers and spotlight overlooked directors of the past."
The monthly series of events at BFI Southbank (of which there have been almost 50 so far), has welcomed a hugely diverse set of films – from previews and premieres of new work to classic films and rediscoveries. Special guests – and their films that screened during the series include Agnieszka Holland (A Woman Alone), Sarah Gavron (Suffragette), Alison Anders (Gas Food Lodging), Alice Lowe (Prevenge), Gurinder Chada (Bhaji on the Beach), Samantha Morton (The Unloved), Carla Simón (Summer 1993), Nelly Ben Hayoun-Stépanian (I Am (Not) a Monster), Carine Adler (Under the Skin), Haifaa Al-Mansour (The Perfect Candidate), Karyn Kusama (Girlfight), Billie Piper (Rare Beasts) and more.
Lena Dunham and Billie Piper at the screening of Rare Beasts, May 2021.
The British Film Institute, in partnership with Jaguar and Everyman Cinema have joined forces to bring to the public a series of independent film projects that celebrate women's contribution to the film industry, both on and behind the camera. Apart from showing at BFI Southbank, a selection of Woman with a Movie Camera screenings will take place at Everyman Cinemas venues nationwide in an effort to bring independent filmmaking to a broader audience in 2021. Anthony Bradbury, Marketing Director, Jaguar Land Rover UK, said: "As a brand, Jaguar exists to help make life extraordinary; the role of film and cultural experiences that the arts provide, do just that. Our partnerships with BFI and Everyman Cinema help to celebrate the remarkable women in film, ensuring their work is showcased to as many people as possible."
On International Women's Day 2021, the BFI released a new series of introductions to films in the Woman with a Movie Camera collection on BFI Player available to subscribers (two-week free trial, then £4.99 a month). It features more than 60 films, all directed by women. The introductions from exceptional women working across the industry all reveal why they passionately feel their film is an essential watch; how it has influenced them, their lives and their careers. Introductions include:
• Actor Ruth Wilson (His Dark Materials) introduces Céline Sciamma's coming-of-age tale Tomboy
• Actor Natalie Dormer (Game of Thrones) selects the British coming-of-age drama Me Without You, directed by Sandra Goldbacher
• Actor Susan Wokoma (Chewing Gum) introduces Prevenge, directed by and starring, Alice Lowe
• Actor Lydia West (It's a Sin) picks Debbie tucker green's Second Coming
• Perfect 10 director Eva Riley introduces Carine Adler's Under the Skin
•Actor Marli Sui (Anna and the Apocalypse) introduces Naomi Kawase's Sweat Bean
•Filmmaker Zeina Durra, who has recently directed Luxor, picksLucrecia Martel's The Headless Woman
• Film writer Hanna Flint introduces Clio Barnard's The Arbour
• Film writer Hannah Strong selects Andrea Arnold's Red Road
Natalie Dormer (Game of Thrones) picked the British coming-of-age drama Me Without You, by Sandra Goldbacher.
The Woman with a Movie Camera collection comprises almost 60 inspirational and diverse films made by females from around the world, all focusing on women's experiences. Highlights include:  
• Jessica Hausner's cool, witty sci-fi Little Joe, starring Emily Beecham and Ben Whishaw.
• Appropriate Behaviour, a fearless comedy following the misadventures of a bisexual Brooklynite, directed by and starring Desirée Akhavan.
• Joanna Hogg's Unrelated, in which a fortysomething woman finds herself drawn to the company of a group of partying teens, including a young Tom Hiddleston.
• The Idris Elba led family-drama Second Coming, directed by Debbie Tucker Green.
There are now around 500 films available to watch with a BFI Player subscription, ranging from contemporary to classic and cult. Many of them are grouped within collections to help guide film fans through this huge offer.
Screenings at BFI Southbank this summer include:
20 June – Wildfire + Q&A with director Cathy Brady
UK-Ireland 2020. Dir Cathy Brady. With Nika McGuigan, Kate Dickie, Nora-Jane Noone, Martin McCann. 85min. Digital. Cert tbc
Kelly (McGuigan) was missing, believed dead, but now she's back and the whole town is talking. Angry and confused, her sister Lauren (Noone) takes her in but finds herself increasingly torn between family loyalty and damage limitation: Kelly is unpredictable and the spectre of mental illness that dogged their late mother hangs thick in the air. As their bond intensifies, historic resentments give way to a shared need to confront the events that scarred them as children, and they soon find themselves on a collision course with everyone around them. Brady's debut – a hit at the 2020 BFI London Film Festival – is both a masterclass in unease and a superbly performed study of sibling relations.
1 July – Censor + Q&A with director Prano Bailey-Bond
UK 2020. Dir Prano Bailey-Bond. With Niamh Algar, Michael Smiley, Nicholas Burns, Sophia La Porta. 84min. Digital. Cert tbc. Courtesy of Vertigo Releasing
In mid-1980s UK, at the height of the "video nasty" hysteria, a young woman working for the censorship board assesses a film that shares disturbingly similar details with her sister's real-life disappearance. As she attempts to investigate the link and track down its mysterious director, her life and reality start to unravel in gruesome ways.
10 July – World Restoration Premiere: Riddance Szabad lélegzet + pre-recorded extended intro by Márta Mészáros
Hungary 1973. Dir Márta Mészáros. With Erzsébet Kútvölgyi, Gábor Nagy, Mariann Moór, Ferenc Kállai. 77min. Digital 4K. EST
Jutka is an independent young textile worker – free, but mindful of social prejudice. When she falls in love with a university student she faces a test of honesty. Informed by her experiences researching a documentary, Mészáros examines youthful identity and integrity. The beautifully observational camerawork from Lajos Koltai is often in close-up, but never with judgement.
With such an incredible variety of live screenings, online events and on-demand films, this is certainly a summer to learn about and celebrate the many women that have influenced cinema so far and those who are shaping its future.
Woman with a Movie Camera is powered by Jaguar and generously supported by Jane Stanton.
The Summit can be enjoyed for just £5 for a weekend pass, £3 for those aged 25 & under.
Opening picture: Marta Meszaros. ©István Jávor