The video was ordinary enough, a female competitor in the Asian Mountaineering Championships in South Korea climbing up a steep indoor wall, reaching from one hold to another, her long dark hair held back in a ponytail. This is Elnaz Rekabi, a rock climber from the Islamic Republic of Iran, and her simple act of appearing in the competition without the mandatory headscarf has made this one of the most defiant and personally dangerous acts that an Iranian woman could commit.
The world interpreted her competing without a hejab as a show of solidarity for the protests that have erupted in Iran in the past month, and as an act of quiet civil disobedience, the likes of which have been mushrooming all over the country. The women of Iran – supported and surrounded by men – have been rising up in their mases to reject the compulsory hejab imposed by the Islamic Republic's Sharia law, to protest the death of Mahsa Jhina Amini, and to chant for an end to the Islamic Republic itself.
Elnar Rekabi, 33, at the final of the Asian Climbing Championships in Seoul, 16th October, 2022, wearing a black headband rather than the hejab.
The protests erupted spontaneously after the death of Mahsa Jhina Amini, a 22-year-old Iranian Kurd, who was taken into custody on the 13th of September because of "bad hejab". She was visiting relatives in Tehran when the Morality Police had challenged her about hair showing from her standard hejab of headscarf and long loose coat. She was in custody for two hours before being taken to hospital, where she lay in a coma. She died three days later. The authorities claimed that she had a heart attack from a pre-existing condition. Her family deny this, and state that her body showed signs of being beaten. Protests broke out in Iranian Kurdistan, Mahsa's homeland and, in spite of a brutal crackdown by the authorities, they soon spread throughout the country, the Kurdish freedom cry of "Woman, Life, Freedom" the dominant chant to what has become the biggest protests that Iran has seen since the revolution of 1979, recorded in 350 locations. In the rest of the planet, people are coming together in support – on the first of October, 500,000 people marched in solidarity across the world.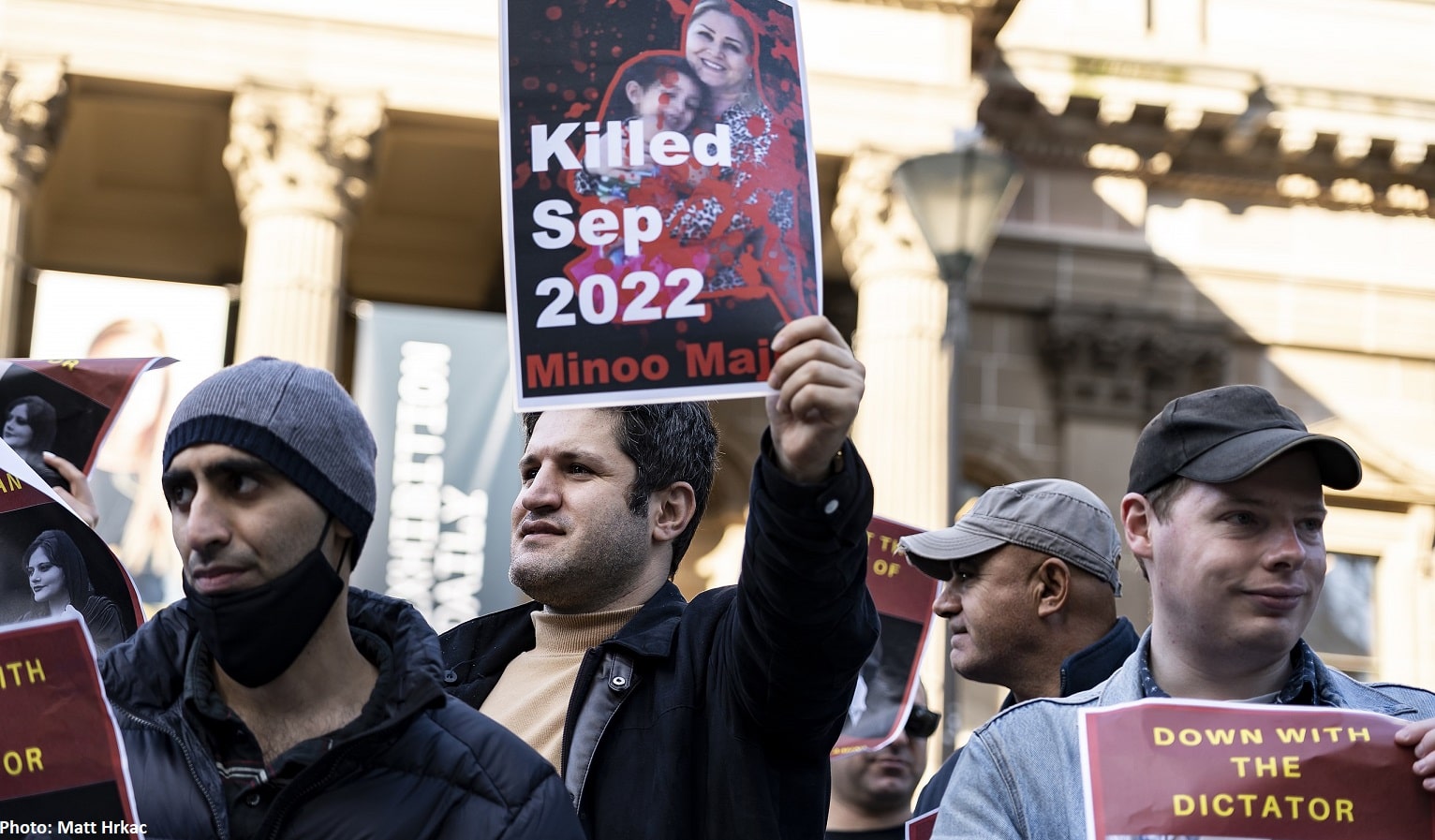 Thousands turn out in Melbourne to stand in solidarity with protests in Iran following the death of Mahsa Jhina Amini.
What started as a protest against the mandatory hejab soon became a demand for freedom. While the brutal treatment of Mahsa Jhina Amini was the spark that lit this conflagration of rage, the real heat comes from decades of oppression of any viable opposition to the hardline clerical regime, a free falling economy, the mass corruption and hypocrisy of the ruling elite, which refuses to engage with Iranians' simplest demands even as their own children post pictures of the parties they hold in mansions in LA, bought with the pilfered resources of our country.
This is not a call for the end of Islam, it is a call for the end of the symbols of state power and abuse, a call that even devout Iranians have joined. Religious women in hejab are in the protests alongside the girls who have so courageously whipped off their headscarves to face the regime's forces with their hair flowing. The women of Iran have been demanding freedom ever since Ayatollah Khomeini took power in 1979 – the first demonstration against mandatory hejab was three weeks after his arrival. Before the revolution, Iranian women had some of the most liberal laws in the Middle East, and they had been voting since 1964. Significant uprisings led by women have taken place since. From 2009 onwards, men have joined women in these protests, often adopting hejab themselves to express their equality with women.
The demonstrations all around the world supporting Woman, Life, Freedom (Jin, Jîyan, Azadî) have encouraged Iranian women to keep strong and defiant.
These demonstrations feel different to those which have come before in significant ways. In spite of a brutal crackdown which has seen live and rubber bullets being shot into protesters, mass rounding up of university students, dystopian scenes of school children being beaten by security forces in their own schools, a mass attack on Kurdistan with drones and shelling directly into people's houses, and a massacre in another ethnic monitory province of Sistan and Baluchistan, the people of Iran are not giving up. There are increasing instances of quiet civil disobedience – women going about their daily lives without the mandatory hejab.
Elnaz Rekabi's appearance in Seoul without hers was the latest instance of women taking back their power and losing their fear. But the regime continues to fight back: Elnaz went missing in Seoul for two days after which she stated on her Instagram that she had appeared without her hejab as a mistake and apologised for doing so. It's assumed that the Iranian authorities exerted enough pressure on her to make her write this. Yet, when she flew back into Iran at an ungodly hour, nonetheless the people of Iran congregated at the airport in their thousands to welcome her back, calling her "champion". Whatever happens now to Elnaz and the many thousands like her that are being held in custody, tortured, raped and brutalised, something important has changed in Iran, and whatever violent repression is used to send people back home, Iran and its people will never be the same again.
Kamin Mohammadi is an exiled Iranian writer living in Italy. She is also a broadcaster and journalist specialising in Iran related topics, among other things.
Kamin Mohammadi's The Cypress Tree: A Love Letter To Iran, published by Bloomsbury is available HERE.
Words: Kamin Mohammadi @kaminmohammadi
Opening picture: Raymond Hill