Natural History Museum. London.
Words: Rebecca Dickson
The public have spoken! David Lloyd's image 'Bond of Brothers' is the winner of 'Wildlife Photographer of the Year LUMIX People's Choice Award' This extraordinary image shows the most powerful of human emotions – love. Is it a moment of family bonding and love?
The year's winning image is an extraordinary image that captures a single moment of comfort and mutual knowing shared between two male lions,  nose to nose in greeting. It demonstrates how emotions are felt thoughout the animal kingdom.  David Lloyd's image "Bond of Brothers' stood out amongst 45,000 entrances to win this award, with 16,000 nature lovers voting this year, it made this powerful image the public's choice. Their faces locked in deep understanding and shared memories. It is unusual for two lions to act like this and rub faces for so long.  We all understand the power of deep requited love, and we can sense the strong emotion being shared between these two powerful creatures.
David says 'I'm so pleased that this image did well because it illustrates the emotion and feeling of animals and emphasises that this in not limited to humans.  It is something I think more people need to be aware of for the sake of all animals.'
The Director of the Natural History Museum, Sir Michael Dixon, says 'Lions are individuals with complex social bonds, and David's winning picture provides a glimpse into their inner world, A truly stunning photograph, this intimate portrait reminds us that humans aren't the only sentient beings on this planet.  I hope the empathy and wonder garnered by this image will inspire more people to become advocates for nature.'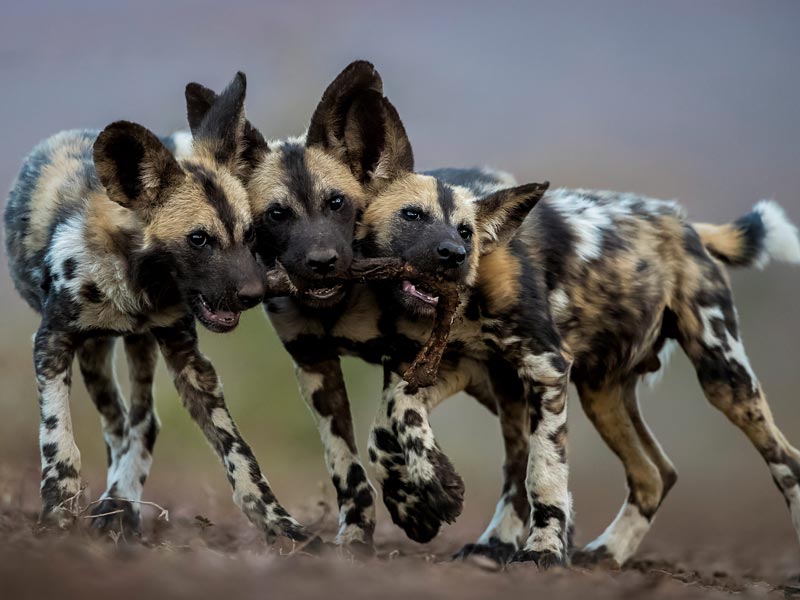 The winning theme of the people's choice has been empathy and the humanisation of animals, as it shows all the Highly Commended pictures. The Hungarian photographer, Bence Mate's photograph 'Three dogs, One Toy' is an image of three painted wolves that look like teenagers hanging out, playing with the leg of an impala.  They are pulling and shoving, but not an ounce of aggression is apparent as they tussle over their lunch.
Wim Van Den Heever fascinating and rather human group of King penguins, 'Three Kings' seem to be gossiping as the sun rises on the beach in the Falkland Islands. These are actually two male penguins demonstrating their male prowess to a female during a mating ritual, while circling the female and using their flippers to fend off their rival.
Michale Maran's image 'Fox meets Fox' shows how nature and mankind can live in harmony, as the urban fox struts past a portrait of its cousin on a street in Bristol. The final tragic image of the starving polar bear makes you wonder if this a turning point of the human race.  Are we about to stop our whole sale destruction and work with nature?
The Natural History Museum exists to inspire a link between nature and the world and help unlock answers to the big question that face our planet. These images represent the humanisation of the animal kingdom and let us hope they are the beginning of our salvation, echoing the wonder and bond that links this museum to the natural world.