Fashion is one of the major polluting industries, with the textile industry accounting for an estimated 25% of the total carbon emissions by 2050, making it the second-largest polluter in the world after the oil industry.
If you wonder how this is possible, just think of all the steps required in the production and distribution of the crops, fibres, and garments used in fashion.
For starters, in most of the countries in which garments are produced, untreated wastewater from textile factories containing many toxic substances (among them lead, mercury and arsenic) empties directly into rivers and from there, into our oceans, harming both aquatic life and humans; not to mention all the fertilisers used in the production of cotton, which heavily pollute runoff and evaporation waters.
The textile industry consumes 23% of all chemicals produced worldwide. They are used during fibre production, dyeing, bleaching, and wet processing of each of our garments, causing diseases and premature death among cotton farmers, along with massive fresh and ocean water pollution and soil degradation.
According to a 2019 report by UNICEF, 780 million people in the world don't have access to clean water. The fashion industry uses huge amounts of it for the dyeing and finishing process of clothes. A ton of dyed fabric can take up to 200 tons of fresh water. On the other hand, cotton requires vast quantities of water to grow. The ecological consequences are terrifying. For example, cotton production has entirely drained the waters of the Aral sea.
A pair of jeans requires 10,000 litres of water to be produced.
But that's not all. Synthetic fibres (used in 72% of our clothing), such as polyester and nylon are made of plastic and therefore non-biodegradable. In fact, they can take up to 200 years to decompose. Every time we wash a synthetic garment about 1,900 individual microfibres are released into the water, making their way into our oceans. Small aquatic organisms ingest them. They are eaten by small fish, which are eaten by bigger fish, introducing plastic in the food chain. In total, it is estimated that every year 190,000 tons of textile microplastic fibres end up in our oceans and that 85% of human-made debris in our shorelines are microfibres.
The fashion industry plays a major part in degrading soil in different ways: overgrazing of pastures through cashmere goats and sheep raised for their wool; the massive use of chemicals to grow cotton; and deforestation caused by wood-based fibres like rayon, viscose, and modal, with 30% of them coming from ancient and endangered forests. Every year, 70 million trees are cut to produce clothes. This loss is threatening the ecosystem and indigenous communities all over the world.
The exponential growth of fast fashion means that consumers can buy many cheap trendy clothes (the average price per garment in a woman's wardrobe in the UK is £32) and discard them after just one season, which has dramatically added to the pollution generated by the textile industry. Our Editor Julia Pasarón had a long chat with renowned sustainable stylist Sarah Kate Byrne about the threat that the fashion industry poses for our planet and how second-hand garments are an obvious solution to this increasingly troubling problem. "Fast fashion is the worst of all the textile industry in terms of pollution but most people don't realise. I remember when I was younger, buying cheap bikinis and underwear that I would toss away after just one season. It never really occurred to me to think of where those garments will end up or how many people had worked in very poor conditions to produce them."
A survey conducted by Saveonenergy.com/uk/ revealed that women in the UK have an average of 103 items in their wardrobe, of which 24% have not been worn in at least a year. Clothing has clearly become disposable. As a result, we generate more and more textile waste. A family in the western world throws away an average of 30 kilos of clothing each year. Only 15% is recycled or donated and the rest goes directly to landfills or is incinerated.
What children see at home has a strong influence in their attitude to over-consumption when they grow up. "My journey towards vintage and second-hand fashion started with my father," explains Sarah, "he was an engineer specialised in architectural salvage so he taught me to find value and beauty in things that others will consider just old junk. In a way, I've never really liked new things so I suppose it is not that strange that I ended up becoming a sustainable fashion stylist."
Sarah has been a sustainable fashion stylist for many years. It all started when she found an e-commerce platform for vintage and second-hand clothes (Open for Vintage). During this time, she reached out to someone she knew who covered horse racing for TV and offered her help. "In the end, I landed a job as a fashion stylist for ITV racing's main presenter Francesca Cumani. This gave me the chance to use second-hand and vintage pieces on people that were very much in the public eye."
Francesca Cumani at Ascot dressed in vintage with a Jess Collett hat.
At the start, she came up against a lot of opposition for using vintage clothes, even if they were from top designers like Dior or Balenciaga. She was asked to "stop using old clothes and perhaps use some more high street fashion." Sarah agreed to it if they could point out which ones they thought were new and which ones old from the last 10 looks she had created. "Needless to say they couldn't see the difference" she comments with a smile. This sort of eco-warrior crusade was unchartered territory especially in television where not following the trend of a new piece on the weather girl every day might alienate their mainstream audience. Audiences often go out and buy clothes they see on TV but, Sarah argues, "Six months later, how many of these purchases end up in a landfill?"
Clothing has clearly become disposable. As a result, we generate more and more textile waste. A family in the western world throws away an average of 30 kg of clothing each year. The UK in particular disposes of 350,000 tonnes (£140 million worth) of clothing in landfills every year (Greenpeace, 2017).
"I grew up in a house where nothing was thrown away," admits Sarah, "everything was repurposed. When I moved to London I found myself with very little disposable income. I couldn't afford new clothes so instead, I went to charity shops where I knew I could find many beautiful and useful things of quality but really cheap. Surprisingly, I started getting compliments and I felt encouraged to keep shopping that way until, at some point, I couldn't remember the last time I had bought newly made clothes. Even when I was working in a law firm during my first year in London, I was buying and selling vintage clothes on the side."
By her own admission, Sarah doesn't read fashion magazines. "I find inspiration in architecture and interiors, especially Queen Anne and Georgian. I like structured styles and glamour so Art-Deco is a personal favourite. For example, I am fascinated by the Irish architect and furniture designer Eileen Gray, a pioneer of the Modern Movement in architecture, associated with artists like Kathleen Scott, Le Corbusier, and Jean Badovici, with whom she was romantically involved. In 1926, she designed the famous E-1027 house for them in Monaco, today considered a masterpiece of Modernist architecture. She was also a great furniture designer. In 2009, Gray's Dragons armchair was sold at auction in Paris for €21.9 million, setting an auction record for 20th-century decorative art."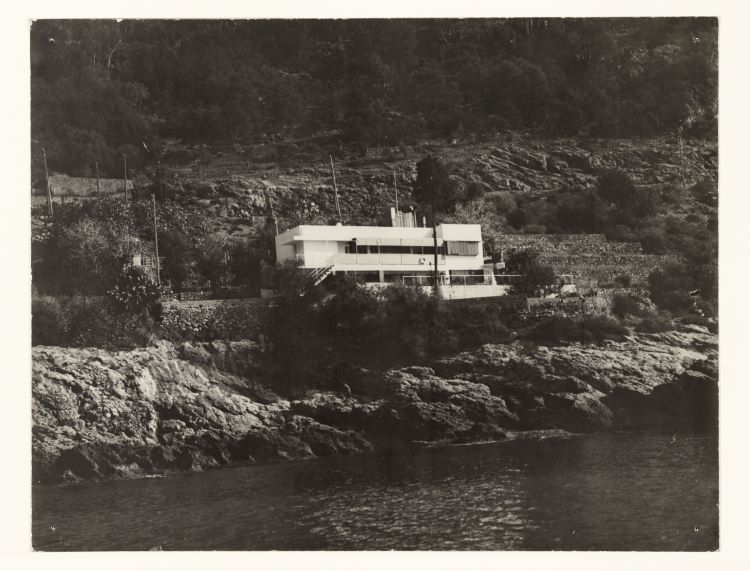 All these influences have resulted in Sarah favouring classical, feminine looks. As she says, "I don't understand fashion for the sake of it. I like dressing people so they look better, not just because it is that season's look."
Sarah mostly works with women who attend numerous race-days or events every year and need help to dress throughout the season. "It can be difficult to push sustainable style," she admits, "but by showcasing only vintage in my own choices, as well as on my high profile clients, slowly I got more and more requests from people that admired the vintage pieces I wore and wanted my help to find their own. That said, there are many wonderful small British or Irish contemporary designers available now with very high standards of production and I favour these where I can too." These smaller designers have a very small carbon footprint and as Sarah says, "You are unlikely to see another hundred women dressed like you that season. Each year there is a "must-have" dress that is mass-produced. Where is the joy in wearing that? Wearing couture made '50s or '60s piece that you know nobody else could possibly have with its own unique story – priceless!
Shopping sustainable though is not for the faint-hearted. "In general, if you want to dress sustainably, you have to roam the markets, charity shops, and find websites like Wolf & Badger, who offer new clothes and accessories, but all of them ethically produced," Sarah explains. "It is true that this requires a bit of effort at the beginning but soon you get the hang of it and if you are anything like me, will feel delighted when you find unique pieces of costume jewellery maybe by Dior or Yves Saint Laurent. However, clothes by Haute Couture designers are extremely rare. With the invention of Google, everybody more or less knows what brands are valuable. Although I once found a Christian Dior suit for £200 in a charity shop in Putney! An issue with vintage clothing though is sizing. People used to be smaller so you cannot find the larger contemporary sizes in anything vintage."
As the interest in sustainable fashion is growing so are the prices, a matter that worries Sarah because "as vintage clothes get more expensive, the trend will reverse as many women would not be keen to spend a lot of money for clothes that are second hand even if those garments are better made, ethical and don't harm the environment. As we mentioned earlier, often people don't realise that the dress they are buying for £80 was probably made in Bangladesh by a teenager."
Most of our clothes are produced in China, Bangladesh, or India, countries essentially powered by coal. This is the dirtiest type of energy in terms of carbon emissions. Actually, fashion accounts for 10% of global carbon emissions. The global fashion industry generates an incredible amount of greenhouse gases due to the energy used during its production, manufacturing, and transportation of the millions of garments purchased each year. To give you an idea, 23kg of greenhouse gases are generated for each kilo of fabric produced.
The synthetic fibres used in the majority of our clothes are made from fossil fuel, making production much more energy-intensive than with natural fibres. In the case of polyester, 70 million oil barrels are used each year to produce it. Cheap synthetic fibres also emit gases like N2O, which is 300 times more damaging than CO2. The increasing popularity of fast fashion makes things worse. 400% more carbon emissions are produced if you wear a garment five times instead of 50.
Increasingly brands are being called out for waste.
In 2018 Burberry burnt £28.6million worth of clothing, accessories, and perfume to prevent unsold stock from being stolen or sold cheaply. The news created a massive uproar among the public and although initially, Burberry claimed that the energy generated from burning its products was captured, making it environmentally friendly, by September that same year they announced they'd stop that practice.
Sarah adds, "Equally, big brands are starting to realise that they can't keep producing a bag in China, applying the last touches in Italy and say it is Made in Italy, claim craftsmanship and heritage and charge a king's ransom.
"Vintage and second-hand is not for everybody but all indicators suggest that second hand will eventually outgrow fast fashion," says Sarah confidently, "that means that if a garment is good enough, it may have three or four lives before it is finally discarded. Online resale and vintage platforms will play an important role in how we move forward, as well as social media and sustainable brands making new clothes. Like with food, we also need to get used to buying local. If you can buy a coat produced in England, don't buy it from Italy, and if you can buy it from Italy, don't buy it from China."
Resale website thredUP claims that if we shopped second-hand exclusively for one year, we could save over £1,600. Add this to the £2,966 worth of saleable clothes that they estimate each woman has in her wardrobe and you could end up with £4,618 in the bank – and help save the planet. In fact, if everyone bought just one second-hand item instead of new, thredUP believe we'd save enough energy to light up the Eiffel Tower for 141years.
Fashion magazines have been influencing for decades the tastes of the public in what it comes to which brands are desirable and trendy, often promoting non-sustainable, incredibly overpriced clothes and accessories because of the advertising they get from those big brands. In general, Sarah comments, "They don't want stylists to choose one-off vintage pieces simply because they can only be sold once; but if you feature a dress by D&G for example, there will probably be hundreds of the same in their boutiques and other retailers across the globe."
When asked if she is advocating for nothing but vintage in the next issue of Vogue, Sarah smiles and answers, "I am not saying that everything featured must be vintage or second-hand but at least mix and match a bit, especially nowadays, when all fashion magazines want to be seen as having ecological values. This would be their opportunity to promote longevity and the avoidance of waste, but unfortunately, vintage and second-hand are still seen almost like dirty words in the business of fashion magazines. One of the few ones that use quite a lot of vintage is LOVE. In my opinion, we should see a sustainable fashion shoot in every edition of every fashion publication out there".
Contemporary and Sustainable:
Opening Picture: Sarah Kate wearing a vintage `70s dress.